June 1, 2015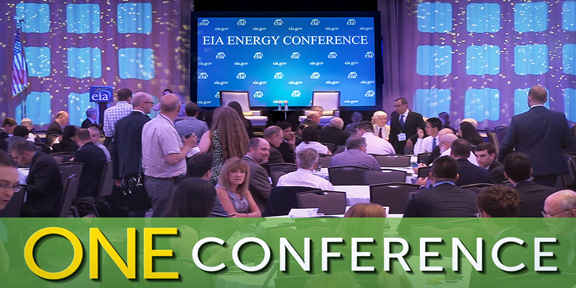 Source: U.S. Energy Information Administration
---
The U.S. Energy Information Administration (EIA) will hold its 2015 Energy Conference on June 15 and 16 in Washington, DC. This two-day event provides the opportunity to meet and network with energy analysts, decision makers, and EIA staff. Last year more than 900 people from industry, government, and academia attended EIA's conference.
Session topics include:
Effects of changing world oil prices: production, economy, and geopolitics
North American energy markets
The role of emerging electricity storage technologies
Natural gas: domestic and global markets
Greenhouse gas emissions: power and methane
Developments in hydrocarbon gas liquids markets
Electricity distribution markets in the 21st century
Energy by rail and water
Energy infrastructure needs and options
New data in residential and commercial energy consumption
Government keynote speakers include:
Dr. Ernest Moniz, U.S. Secretary of Energy
Pedro Joaquín Coldwell, Secretary of Energy, Mexico
John Hoeven, U.S. Senator
Industry keynote speakers include:
Matthew K. Rose, Executive Chairman, BNSF Railway Company
Harold Hamm, Chairman and Chief Executive Officer, Continental Resources
JB Straubel, Co-Founder and CTO, Tesla Motors
Monday features a post-session reception where participants can network and see demonstrations of EIA products and tools, including the redesigned International Energy Portal, the Excel Data Add-In, and data on movements of crude oil by rail.
Registration for the conference is open now. Questions can be directed to conference@eia.gov.
Principal contributor: Kelsey Brasher