May 19, 2015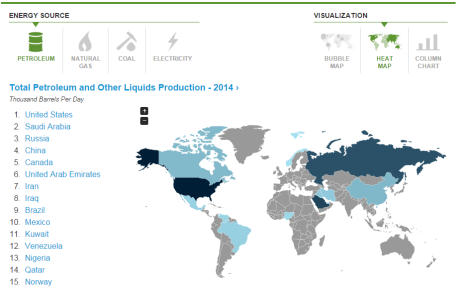 Source: U.S. Energy Information Administration, International Energy Portal
---
On May 18, EIA launched a beta version of a redesigned International Energy Portal designed to help users access international energy data and to provide new and expanded tools and capabilities to examine trends in global energy markets.
Increased access to data. The International Energy Portal includes a powerful data browser that provides country-level energy data; many countries have at least 30 years of historical data. The data browser provides users the ability to view and download complete datasets for consumption, production, trade, reserves, and carbon dioxide emissions for different fuels and energy sources.
New user-driven customization. The portal's data browser, as one example, provides users with the ability to convert between U.S. and European common units of measurement for energy. Users can also compare data across different energy sources by converting to British thermal units, terajoules, and tons of oil equivalent. The portal also provides users with the ability to choose specific countries, regions, and data series for review and comparison.
New data visualization features. These features include summary graphics of the world's top producers and consumers of all fuel types, including oil, natural gas, coal, and electricity. Users can plot their own data visualizations by energy source and series. This feature enables users to quickly see how energy production, consumption, reserves, imports, and exports have changed over time. An example of the new data visualization can be seen below, showing global carbon dioxide emissions over a 20-year period.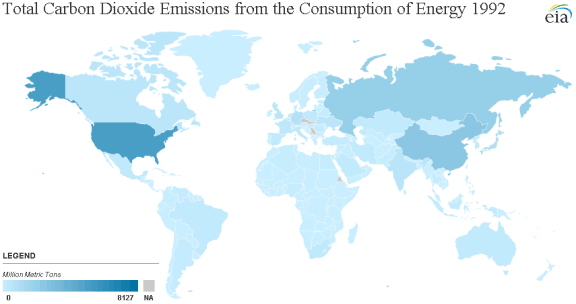 Source: U.S. Energy Information Administration, International Energy Portal
---
Improved access to international analysis. The International Energy Portal links to international forecasts and projections such as EIA's Short-Term Energy Outlook and International Energy Outlook. It also provides access to EIA's entire library of international reports and analyses. These reports include analytical documents such as Country Analysis Briefs and Country Analysis Notes that contain detailed information on more than 100 countries significant to world energy markets as well as on critical issues in global energy trade, such as world oil transit chokepoints and OPEC (the Organization of the Petroleum Exporting Countries) revenues.
Enhanced data downloads. The International Energy Portal incorporates a complete application programming interface (API) that provides access to EIA's historical international data. Users can retrieve international datasets as they are updated, or use the EIA Excel Data Add-In tool to download the data directly into spreadsheets.
Principal contributors: Alexander Metelitsa, John Krohn