June 14, 2011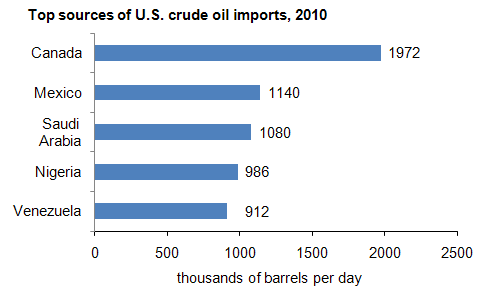 ---
Canada is the leading source of crude oil imports to the United States, according to the U.S. Energy Information Administration's latest Country Analysis Brief for Canada. Canada supplied about 1.9 million barrels per day, or 22% of all U.S. crude oil imports in 2010. Oil derived from oil sands accounts for more than one-half of Canada's average daily crude production of 2.9 mb/d and nearly all (97%) of their oil reserves are unconventional bitumen (i.e., oil sands) deposits.
Canada has vast energy resources and is a leading supplier of other forms of energy.
In 2008, Canada ranked fifth globally in total energy produced, generating 19.11 quadrillion British Thermal Units (Btu) of primary energy.
Canada's 175.2 billion barrels of proven reserves of oil places it third globally, behind Saudi Arabia and Venezuela, and is the only non-OPEC member in the top five.
Canada is the world's third largest natural gas producer and exporter. The Oil and Gas Journal (OGJ) estimates that Canada's proved natural gas reserves amount to 61.95 trillion cubic feet (Tcf) as of January 2011, a 7% increase from the previous year.
TransCanada operates the largest network of natural gas pipelines in North America. The network includes some 37,000 miles of gas pipeline in operation, comprising thirteen major pipeline systems, both in Canada and the United States.
Canada is one of the world's largest producers of hydroelectricity. Hydropower provided over 60% of Canada's total power generation in 2009 and over 55% of its electric generation capacity in 2008.
Canada has substantial potential oil and natural gas shale resources. Technological advances in extraction techniques, such as horizontal drilling and hydro-fracturing, have increased the accessibility of these resources.

For more details see the full Country Analysis Brief for Canada.