August 6, 2014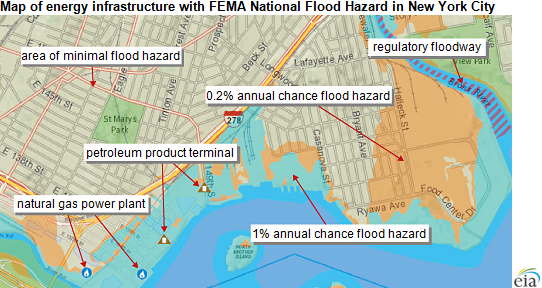 Source: U.S. Energy Information Administration
---
A new component of EIA's Energy Mapping System allows users to view critical energy infrastructure that may be vulnerable to coastal and inland flooding. These new map layers enable the public to see existing energy facilities that could potentially be affected by flooding caused by hurricanes, overflowing rivers, flash floods, and other wet-weather events.
The mapping tool combines flood hazard information from the Federal Emergency Management Agency (FEMA) with EIA's existing U.S. Energy Mapping System that shows power plants, oil refineries, crude oil rail terminals, and other critical energy infrastructure. The maps can help readers understand what energy infrastructure assets are currently exposed to flood risk.
The maps show areas that have a 1% and 0.2% annual chance of flooding (essentially a 1-in-100 and 1-in-500 chance, respectively). The tool also contains regulatory floodways, levees, areas with levees (and therefore reduced flood risk), and areas with conditions that might be identified in the future as having a 1% annual flood hazard. To determine if a specific area is vulnerable to flooding, users can input an address, town, or county name and see street-level results. They also can zoom in on areas of the United States highlighted with flood hazard information.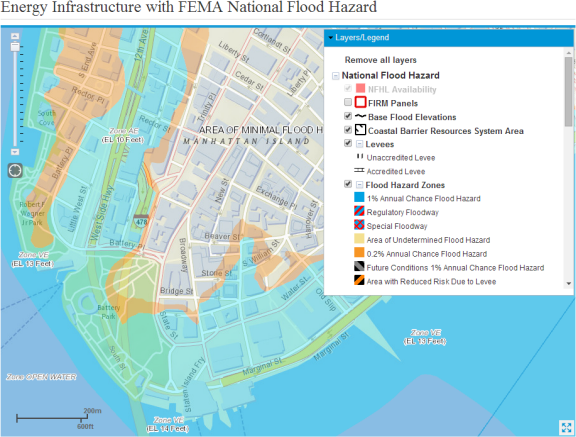 Source: U.S. Energy Information Administration
Note: See the interactive map.
---
Principal contributors: Tom Doggett, John Krohn