February 17, 2011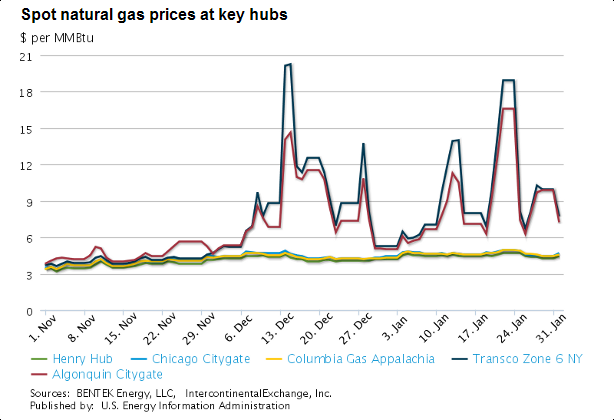 ---
Through January of this winter, spot natural gas prices at Atlantic Coast trading points are up $0.90-1.20 per million British thermal units compared to the same period last winter - although prices are lower at Henry Hub and in other traditional consumption areas like the Midwest and western Pennsylvania. The main reason is congestion on pipelines into the Northeast.
The chart shows that spot natural gas prices for Henry Hub, Chicago, and the Appalachians have been fairly stable, averaging between about $4 and $5/MMBtu. By contrast, prices at the Algonquin Citygate (Boston) and Transco Zone 6 NY (New York City) trading points have been higher and far more volatile. Twice prices have topped $18/MMBtu in New York City. New York City prices have generally been slightly higher than those for New England because New England has access to liquefied natural gas (LNG) both from terminals near Boston and via pipeline from New Brunswick in Canada. When the LNG deliveries were not present early in the winter, New England prices exceeded New York City prices for part of November.
Pipelines moving gas into these Northeast markets this season have been fuller than last winter. According to BENTEK Energy, downstream Northeast pipelines have been 87% full compared to 78% full last winter. Growing constraints within the Northeast have limited the ability of pipelines simultaneously to deliver new gas production from Marcellus shale, inflows from other regions, and gas from Pennsylvania storage fields on to Atlantic coast markets.
High prices on the Atlantic coast occur during cold periods, but weather does not entirely account for the price differences. Prices have remained fairly stable in other regions that are not subject to major pipeline and storage constraints, even during very cold weather.