June 18, 2014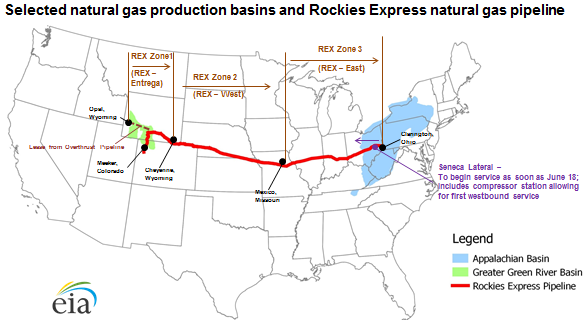 Source: U.S. Energy Information Administration
Note: Appalachian Basin includes Marcellus Shale, Utica Shale, and Devonian Shale formations.
Note: Click to enlarge.
---
Republished June 18, 2014, 3:01 pm, to correct the timing of the Zone 3 East-to-West Project and provide additional details for the Clarington West Project.
The Rockies Express Pipeline (REX) announced on Monday that it expects service to commence as soon as today for the first 0.25 billion cubic feet per day (Bcf/d) of capacity on its 0.60 Bcf/d Seneca Lateral pipeline in southeast Ohio. The 14.3-mile lateral will flow gas north from the MarkWest Seneca natural gas processing plant to the REX mainline, where a newly built compressor station will allow this gas to be delivered to points west in Ohio, Indiana, and Illinois. No new pipelines will be added to the mainline; the project will allow gas that is received from the Seneca Lateral to flow both east and west on existing portions of the pipeline, where until now natural gas could only flow east, predominantly from western basins (see map above).
According to pipeline operator Tallgrass Energy, the remaining capacity on the Seneca Lateral is fully booked and will come into service in the fourth quarter of this year. In addition, REX has received binding commitments to deliver another 1.20 Bcf/d of Appalachian production west on its existing mainline as part of the Zone 3 East-to-West Project, which REX plans to bring into service in mid-2015. Upon completion of this project, REX will have capacity to ship 1.80 Bcf/d of gas both east and west in a significant portion of Zone 3, which extends from Clarington, Ohio, on the Ohio-West Virginia border, where it interconnects with the Dominion Transmission (DTI) pipeline and the Texas Eastern Transmission Company (TETCO) pipeline, to eastern Missouri. There are a number of important interconnects that would be able to receive flows of Appalachian natural gas on REX, including:
REX is also holding a non-binding open season for the Clarington West Project, which would provide additional east-to-west capacity on REX, through either new compression, new pipelines, or a combination of the two, beginning in 2016 or 2017. It is not yet known whether the Clarington West Project will allow for an expansion of westward natural gas flows to cover all of Zone 3 or just a significant portion of it. There are plans to add five new receipt points to provide REX with the capacity to receive at least 2.35 Bcf/d of Appalachian production by the end of 2016.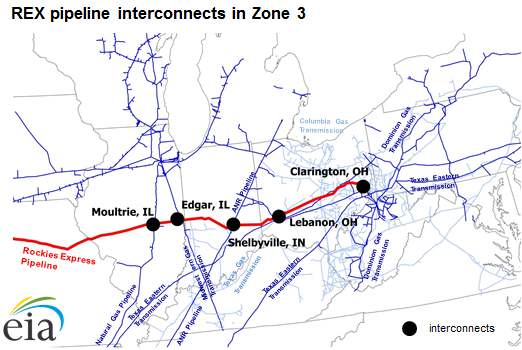 Source: U.S. Energy Information Administration
Note: Columbia Gas Transmission and Texas Gas Transmission pipelines shaded light blue for visibility purposes only.
Note: Click to enlarge.
---
In addition to REX expansions, a number of other projects are planned to provide capacity to flow Appalachian production west. These include Tetco's Ohio Pipeline Energy Network (OPEN) project to flow additional gas to REX at Clarington, and Tetco's TEAM 2014 project to flow gas to Lebanon and the Gulf Coast on existing pipelines from western Pennsylvania. They also include a DTI project to ship 0.25 Bcf/d to its interconnects with REX and Tetco in eastern Ohio and to ship another 0.25 Bcf/d directly to the Lebanon hub.
Principal contributors: Mike Ford, Katie Teller