June 6, 2014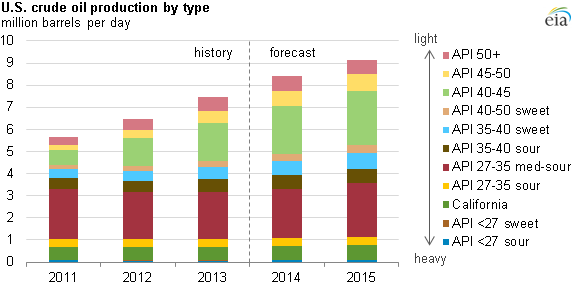 Source: U.S. Energy Information Administration, DrillingInfo, Colorado DNR, Texas RRC
Note: Higher API numbers indicate lighter crude oil.
---
U.S. crude oil production has grown rapidly in recent years, primarily from light, sweet crude (a characteristic of crude quality, as measured by API gravity and sulfur content) from tight resource formations. Roughly 96% of the 1.8-million-barrel per day (bbl/d) growth in production from 2011 to 2013 consisted of light sweet grades with API gravity of 40 or above and sulfur content of 0.3% or less.
EIA's new forecast of U.S. crude production by quality indicates that the U.S. supply of light, sweet crude will continue to outpace that of medium and heavy crude through 2015. More than 60% of EIA's forecasted production growth for 2014 and 2015 consists of sweet grades with API gravity of 40 or above.
The growth in this particular type of crude oil (as well as many forecasts for a continuation of this trend) has sparked discussion of how rising crude oil volumes will be absorbed into the market. Given the likelihood of continued growth in domestic crude production, and the recognition that some absorption options, such as like-for-like replacement of import streams, are inherently limited, the question of how a relaxation in current limitations on crude exports might affect domestic and international markets for both crude and products continues to hold great interest for policymakers, industry, and the public.
This new production forecast along with a series of analytic papers will provide a starting point for further EIA analyses on the market outlook and the effects of a possible relaxation of existing restrictions on crude oil exports.
Principal contributor: Hannah Breul, Jozef Lieskovsky, Sam Gorgen