June 1, 2011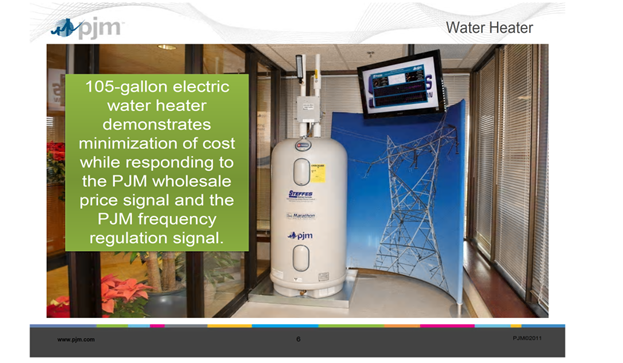 ---
PJM Interconnection (PJM), a regional transmission organization that operates the electric system in all or parts of 13 states and the District of Columbia, is demonstrating a water heater that responds to price and operating signals from PJM's control center, reported Andy Ott, PJM's Senior Vice President of Markets, in remarks at the 2011 EIA Energy Conference on April 26. The device heats water when PJM's real-time electricity prices are low. When it is heating water, it also turns on and off to help correct for short-term imbalances between electricity use and supply.
This function, called frequency regulation, is now almost exclusively performed by generators. Applied to enough end-use appliances, this smart grid technology would allow generators to operate without moment-to-moment adjustments in output, thereby saving money.
Mr. Ott told the audience at the session on Intelligent Electric Systems that PJM is also testing the participation of mobile and stationary batteries in PJM's frequency regulation market.