April 24, 2014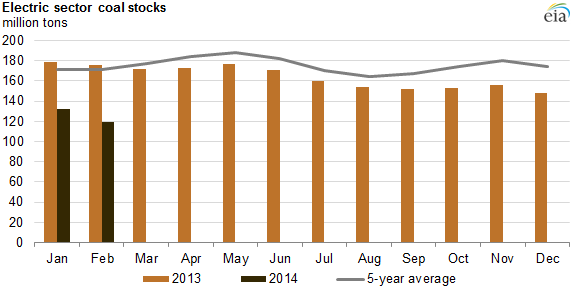 Source: U.S. Energy Information Administration, Electric Power Monthly
---
Coal stockpiles at electric power plants experienced a steep drawdown this winter, falling 24% between November 2013 (156 million tons) and February 2014 (119 million tons), ending at the lowest level since March 2006. A main reason for this reduction was increased electricity demand because of the colder-than-normal weather. Total U.S. net electricity generation was 5.3% higher this winter (November-February) than last winter, with 59% of the increase supplied by coal generation, which was up 8% year-over-year, or by 40,000 gigawatthours.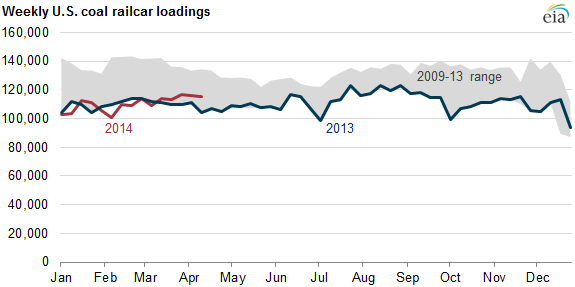 Source: U.S. Energy Information Administration, based on Association of American Railroads
---
At the same time that electricity demand was up, coal deliveries by rail were lower than normal. Total coal railcar loadings were 9% to 15% below the five-year average levels from November 2013 to February 2014. Coal railcar loadings bottomed out in February at just over 100,000 carloads for the week ending February 8. However, coal railcar loadings have rebounded considerably since then. Year-to-date, coal railcar loadings are now 0.5% ahead of where they were at this time last year as severe cold weather has abated and rail service has improved.
The recent increase in railcar loadings, coupled with traditionally lower electricity demand during the shoulder months of March and April (and May, if weather conditions remain mild), is an indication that coal stockpiles should improve before the peak electricity demand season during the summer, although isolated problems are always possible.
Stockpiles of fossil fuels, generation, consumption, and receipts data through February are available in the Electric Power Monthly, which was released on April 22.
Principal contributors: Timothy Shear, M. Tyson Brown