February 13, 2014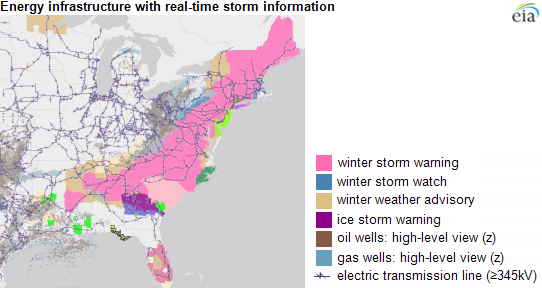 ---
The National Weather Service predicts that the major winter storm that dropped significant snowfall and ice on the Southeast yesterday will intensify as it moves up the Eastern Seaboard today. The accumulation of ice can damage the electric distribution system and make road conditions unsafe, which could hamper power restoration efforts. As of 3:30 p.m. yesterday more than 450,000 customers were without power from Florida to Pennsylvania, according to the Department of Energy's Energy Assurance Daily.
States of emergency have been declared in Alabama, Georgia, Louisiana, Mississippi, North Carolina, South Carolina, Virginia, and Maryland.
The U.S. Energy Information Administration provides real-time storm information on an interactive map that shows key layers of energy infrastructure, including oil refineries, power plants, and major electric transmission lines, and storm-related warnings from the National Weather Service. This web page also contains links to relevant Department of Energy websites that provide updates to the impact of severe weather on energy infrastructure.
Principal contributor: M. Tyson Brown