December 5, 2013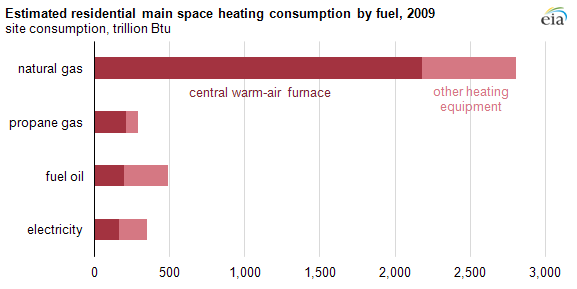 ---
About 40% of the energy delivered to the residential sector is attributed to space heating, and natural gas- and propane-fired furnaces account for almost half of that, making them a large target for potential energy efficiency gains. Yet the minimum efficiency level of gas furnaces has changed little over the past 20 years. A Department of Energy (DOE) standard that would have updated minimum gas furnace efficiency standards for the first time since 1992 has been challenged in court and delayed many times. As a result, the minimum efficiency standard for one of the highest energy-consuming residential appliance types may remain unchanged for almost three decades.
Gas furnaces were among the equipment types first covered by appliance standards in the National Appliance Energy Conservation Act of 1987, which set the minimum efficiency level at 78 annual fuel utilization efficiency (AFUE) starting in 1992. This rating means that it's 78% efficient: for 100 units of energy input, there are at least 78 units of heat output.
In 2007, DOE proposed raising the minimum efficiency to 80 AFUE, effective 2015—a change that would have little impact because almost all gas furnaces on the market already meet or exceed that level. Before that rule could be implemented, however, a group of states and efficiency advocates challenged it in court, encouraging DOE to arrive at a more stringent standard. By law, the federal standards-setting process must arrive at the highest efficiency level that proves technologically feasible and economically justified.
In 2009, a group of efficiency advocates and equipment manufacturers prepared a consensus agreement to advocate for upcoming efficiency standards levels for furnaces, heat pumps, and central air conditioners. The basis of the consensus agreement was to establish separate regional standards—a new concept because previous standards applied the same minimum efficiency levels across the country. Because heating needs vary across the nation, what is cost effective in Massachusetts may not be cost effective in Mississippi; the reverse is true for cooling.
The DOE rulemaking issued in 2011 that was slated to go into effect in May 2013 generally reflected the consensus agreement, establishing a regional standard at 90% efficient in colder climates and remaining at 80% efficient in warmer and drier climates.
But before the effective date this year, an association of natural gas utilities and, later, a group of equipment distributors tried to challenge the rule, explaining that DOE had not accounted for certain issues when upgrading to more efficient furnaces. Unlike changing out a dishwasher or refrigerator, going from an 80 AFUE to a 90 AFUE furnace requires switching technologies (see graph below).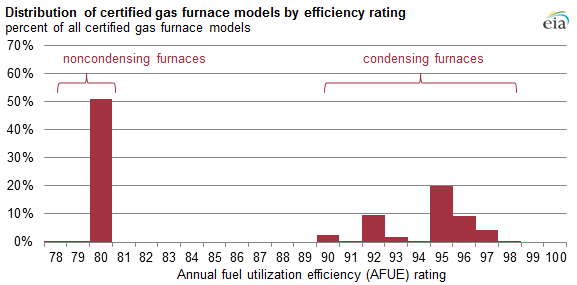 ---
The more efficient furnaces are condensing furnaces, meaning they reuse some of the heat that normally would have been vented out of the home. According to a survey of manufacturers, about 35% of gas furnaces sold in 2012 were ENERGY STAR® qualified, meaning at least 90 AFUE. (The ENERGY STAR program has since updated its specifications so there are different qualifying efficiency levels in the North and South.)
Switching from a noncondensing to condensing gas furnace often requires modifying the furnace ventilation at additional expense. In some cases the switch may require retrofitting or abandoning a gas-fired water heater because the existing exhaust flue would be poorly sized for the existing water heater and new furnace.
The most recent rulemaking is now being reviewed in the courts, where it will either be upheld or sent back to DOE for reconsideration. Given the timeline of the standards-setting process, it could take several more years before an updated efficiency standard would be made effective.
Principal contributor: Owen Comstock