October 24, 2013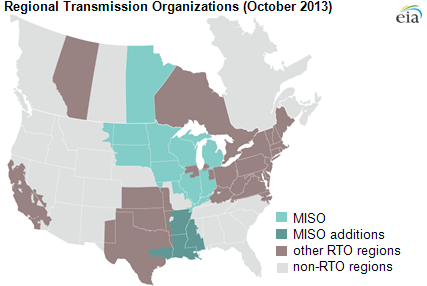 ---
The Midcontinent Independent System Operator (MISO) plans to integrate the operations of the transmission systems owned by four electric companies in the Gulf Coast region starting this December. The four operators joining MISO are: the Entergy Corporation, which owns several transmission companies throughout Arkansas, Mississippi, and Louisiana; the South Mississippi Electric Power Association (SMEPA) in Mississippi; the Cleco Corporation in Louisiana; and the Lafayette City-Parish Consolidated Government, also in Louisiana. Regional transmission organizations (RTO) like MISO already deliver about 60% of the total U.S. electric supply. The addition of these four electric systems to MISO will raise that number to 68%.
Larger geographic footprints allow grid operators to take advantage of economies of scope and scale by increasing the diversity of electric capacity and demand resources, which helps to increase the overall flexibility of their electric system. MISO is the second largest electric system in the United States after the PJM Interconnection system, in terms of electric demand served. It will cover the largest geographic area—stretching from Canada to the Gulf Coast. MISO and Entergy both operate electric systems with high reserve margins, 19% and 45% for summer 2013, respectively. The electric capacity in MISO is made up primarily of coal-fired units, with significant capacity from nuclear, natural gas, hydroelectric, and, increasingly, wind. Entergy and SMEPA own electric capacity that is predominantly natural-gas fired, with significant nuclear capacity as well.
MISO began operation in 2002 and was the only RTO to not grow out of an existing power pool organization. Changing footprints of RTOs is fairly common. MISO has lost member systems to PJM, such as American Electric Power (2004), Commonwealth Edison (2004), Cinergy (2011), and FirstEnergy Corporation's operating companies (2011). MISO has also added systems, such as MidAmerican Energy (2010), Muscatine (2010), Big Rivers Electric Coop (2011), and Dairyland Coop (2011). Entergy is by far the largest electric system joining MISO since its inception.
Entergy considered other options in recent years, such as joining the Southwest Power Pool (SPP) or continuing to operate as an independent transmission owner. In 2006 the Federal Energy Regulatory Commission (FERC) required that Entergy appoint an independent coordinator of transmission to ensure open access to the company's transmission system and to avoid "unjust or preferential" transmission rates. Entergy initially appointed the SPP to serve as the coordinator but transferred this task to MISO last December.
This past summer, FERC approved plans for Entergy to spin off its transmission assets owned by its companies in Texas, Louisiana, Mississippi, and Arkansas and merge them with another company, ITC Global Holdings, which owns transmission assets in the MISO territory. The new company will continue as the transmission owner once the operation of these assets is fully integrated into MISO.
Principal contributor: M. Tyson Brown