September 12, 2013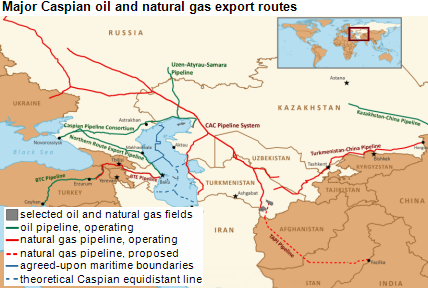 Source: U.S. Energy Information Administration, U.S. Geological Survey, IHS EDIN
Note: See table for pipeline details.
Note: Click to enlarge.
---
Update: The long-delayed Kashagan field reportedly has produced its first oil, according to the North Caspian Operating Company.
The Caspian Sea region has the potential to export oil and natural gas to European, South Asian, and East Asian markets. With rising energy prices and growing global demand for oil and natural gas, Caspian region countries (which include Russia, Azerbaijan, Kazakhstan, Turkmenistan, Uzbekistan, and Iran) are developing several approaches for increasing exports of oil and natural gas. Some countries cooperate and jointly develop oil export capacity, while others focus on attracting enough investment to create their own routes.
Traditionally, Caspian oil and natural gas went directly to Russia through Soviet infrastructure, such as the Central Asia-Center (CAC) gas pipeline system, where some could go to Western markets. Kazakhstan and Azerbaijan have had the most success in developing Caspian oil and natural gas export capacity through the construction of several major pipelines, which have become the main transit routes for Caspian hydrocarbons. The biggest export route to bring oil directly from Caspian fields to European markets is the Baku-Tbilisi-Ceyhan (BTC) pipeline, which was commissioned in 2006. The BTC pipeline runs from the Caspian Sea to the Black Sea and carries an average of 1 million barrels of oil per day. A parallel pipeline built around the same time transports up to 280 billion cubic feet of natural gas per year.
With growing oil and natural gas production in Kazakhstan and Azerbaijan, the two countries are working to develop new export routes, such as the Kazakhstan-Caspian Transportation System (KCTS). This network will take oil from Kazakhstan's largest fields, Kashagan and Tengiz, and move it to the Caspian coast where it will go by ship to Azerbaijan and then on to the BTC pipeline. KTCS is expected to supply 300,000 barrels per day through BTC to global markets, gradually increasing to 800,000 barrels per day. Foreign investment will fund part of the project, estimated to cost $4 billion.
The main avenue for delivering Caspian oil to East Asian markets is the Kazakhstan-China oil pipeline, built through a joint venture between the China National Petroleum Company (CNPC) and Kazakhastan's KazMunaiGas in 2009. The pipeline is currently upgrading to accommodate expected oil from the Kashagan oil field. The Turkmenistan-China gas pipeline, commissioned in 2009, transports up to 1.4 trillion cubic feet of natural gas per year from Turkmenistan to China's Xinjiang region. Kazakhstan plans to link this pipeline to its own production sites to export more natural gas to China.
Caspian countries have supported a project to build the Turkmenistan-Afghanistan-Pakistan-India (TAPI) pipeline to supply South Asia with natural gas. The pipeline would have a capacity of 1 trillion cubic feet per year. Most recently, however, tensions between Pakistan and India have threatened to stall the project, which a variety of energy companies are interested in funding. Caspian oil currently moves through South Asia primarily via Iranian oil swaps: Iran imports oil from Central Asian countries that is sent to refineries in Tehran and Tabriz and then delivers an equivalent amount of oil to potential buyers in the Persian Gulf, bypassing the challenge of getting Central Asian oil to global markets.
For more information, see EIA's regional analysis brief on the Caspian Sea.
Principal contributor: Alexander Metelitsa