August 20, 2013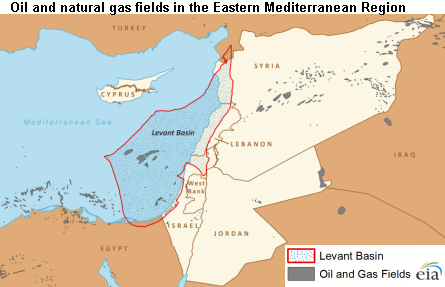 ---
Republished August 20, 2013, 1:30 p.m. to correct a source for the map.
Offshore natural gas discoveries in the Levant Basin have the potential to significantly alter energy supply dynamics in the eastern Mediterranean region and could spur natural gas exports in the near future. Uncertainty over the location and configuration of export infrastructure persists, but several proposals are making progress despite complications posed by regional security problems, territorial disputes, and macroeconomic uncertainty.
There have been a number of significant discoveries of natural gas in the Levant Basin since 1999. Large fields in Cyprus and Israel contain most of the recently discovered natural gas reserves. Together the estimated recoverable reserves in the these fields total more than 40 trillion cubic feet.
Recent natural gas discoveries in the Levant Basin
Country
Discovery date
Field name
Estimated recoverable reserves (Tcf)
Year of first production
Cyprus
2011
Aphrodite
7
2017
Israel
1999
Noa
0.04
2012
2000
Mari-B
1.5
2004
2009
Dalit
0.5
2013
2009
Tamar
10
2013
2010
Leviathan
18
2016
2011
Dolphin
0.08
unknown
2012
Shimshon
0.3
unknown
2012
Tanin
1.2
unknown
2013
Karish
1.8
unknown
Palestinian Territories
2000
Gaza Marine
1
unknown

Sources: EIA estimates, IHS, Oxford Institute for Energy Studies, Oil & Gas Journal, company reports, trade press
A large share of the newly discovered energy resources will help meet domestic demand in the countries of the eastern Mediterranean region, but there could be enough surplus natural gas to spur exports from Cyprus and Israel. Determining how and where to export natural gas remains a topic of continued debate, with several proposed export routes competing for political and economic support.
There are proposals, at varying stages of development, to export gas via pipeline and as liquefied natural gas (LNG) from both Cyprus and Israel (for a more detailed discussion of the proposed export routes, see EIA's regional brief Oil and Natural Gas in the Eastern Mediterranean). An LNG terminal in Cyprus already began pre-front-end engineering design work and could begin construction in 2015. Cyprus hopes to incorporate volumes from fields in offshore Israel into its plans, but Israel appears to prefer its own facility at this point.
Other natural gas export options include
A new pipeline from the eastern Mediterranean to Crete (where the volumes could flow into the European grid)
A new pipeline from the eastern Mediterranean to Turkey
Use of existing infrastructure to send volumes to Egypt for export via its LNG facilities
Several factors may influence how and when exports may came online: regional insecurity, such as the ongoing conflict in Syria and the recent unrest in Egypt; territorial disputes, such as that between Israel and Lebanon; and the status of economies in both potential exporting countries and destination markets like Europe and Asia.