May 15, 2013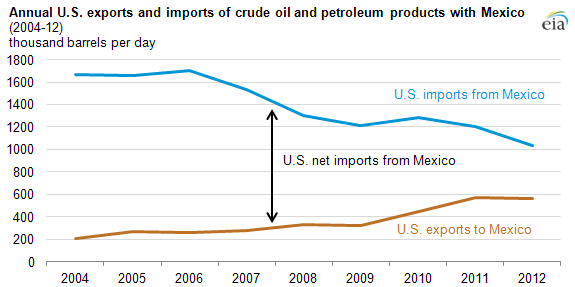 ---
This is the third in a series of five articles on U.S.-Mexico energy trade.
The United States and Mexico conduct a significant amount of trade in crude oil and petroleum products, with the United States primarily importing crude oil from Mexico and exporting refined petroleum products to Mexico. In 2012, the United States imported nearly one million barrels per day (bbl/d) of crude oil from Mexico, while exporting 600,000 bbl/d of petroleum products to Mexico (see chart above). The drivers for recent trends in crude oil and petroleum product trade between the two countries include rising crude oil production in the United States, falling Mexican crude oil production, and rising demand in Mexico for petroleum products such as gasoline and diesel fuel.
Mexico is the third largest supplier of crude oil imports to the United States. However, the 972,000 bbl/d of U.S. crude oil imports in 2012 was the first time since 1994 that imports from Mexico were below one million bbl/d.
Meanwhile, Mexico's use of refined petroleum products rose 20% over the past 10 years, while its capacity remained the same. Mexico increasingly looks to the United States to meet its growing need for petroleum products. Since 2004, U.S. exports of petroleum products to Mexico—primarily motor gasoline and diesel fuel—have nearly tripled (see chart below).
As a result of declining U.S. crude imports from Mexico and rising U.S. product exports to Mexico, net U.S. imports of crude oil and products combined have declined by about 70% since 2006.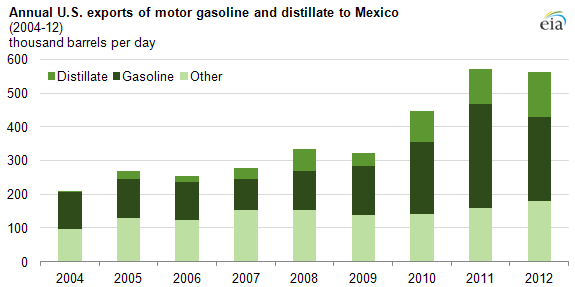 Source: U.S. Energy Information Administration.
---
On Thursday, Today in Energy will address Mexican natural gas imports.
For more information, see EIA's Country Analysis Brief for Mexico.