2018 Manufacturing Energy Consumption Survey Consumption Results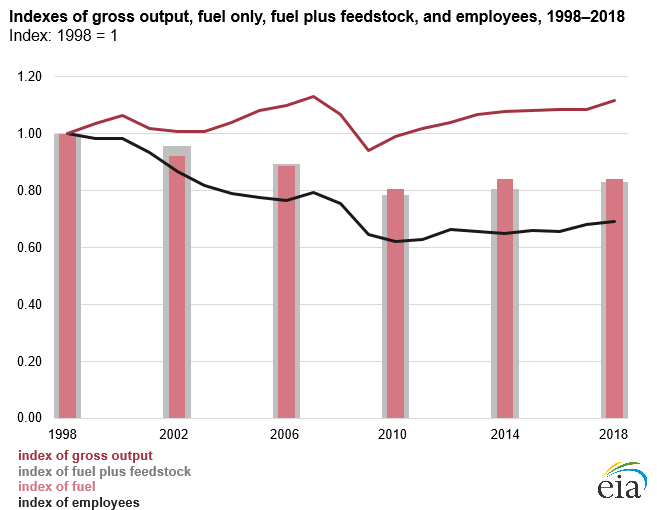 U.S. manufacturing is becoming more fuel-efficient and less labor-intensive since 1998. Manufacturing gross output grew by 12% while fuel consumption decreased by 16%. Labor productivity—measured as gross output divided by the number of employees—also improved by 62% in the same period. In addition, fuel intensity—measured as fuel consumption divided by gross output—decreased by 25% from 3.2 quadrillion British thermal units per billion dollars in 1998 to 2.4 quadrillion British thermal units per billion dollars in 2018.
---
Features
Release Date: March 31, 2021
More information about the 2018 manufacturing consumption data and analysis are available in our data tables and analysis report .
---
Release Date: September 6, 2018
Preliminary estimates show that the total U.S. manufacturing energy consumption increased about 3.7% between 2010 and 2014. This is the first measured 4-year increase in manufacturing energy consumption since 2002 (Figure 1). Energy source shares have changed modestly since 2002, with natural gas rising from 29% to 33% of all manufacturing energy consumption. Conversely, during this same period, the share of delivered energy to manufacturing from coal, coke and breeze declined from 10% to 8%, while the share of fuel oils and naphtha together decreased from 7% to 5%.