September 21, 2012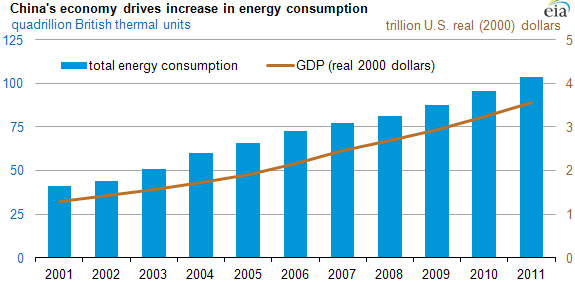 ---
China is the world's largest energy consumer. China's economy, which has grown at an average real rate of about 10 percent per year over the last 10 years, is a key driver of the increase in energy consumption, both in China and internationally. Economic growth in China is still robust—China's gross domestic product grew an estimated 7.8% in the first half of 2012—but its growth is slower than in recent years, as is its growth in energy consumption. EIA's China Country Analysis Brief details its energy use, production, and industry.
Electricity
China had the most installed generating capacity in the world in 2011, at 1,073 gigawatts, slightly higher than the United States.
About 80% of China's electricity generation came from conventional thermal sources, primarily coal, in 2011.
Both China's electric generating capacity and its electricity generation doubled between 2005 and 2011.
Coal
China was the largest producer and consumer of coal in the world in 2011, and accounted for almost half the world's coal consumption.
China became a net coal importer in 2009 for the first time in over 20 years.
China has the third-largest coal reserves in the world.
Oil
China was the world's second-largest consumer of oil and liquids in 2011, as well as second-largest oil importer (trailing the United States in both categories).
China's total oil consumption is slated to continue increasing; EIA forecasts that growth in China's demand for oil will represent 64% of projected world oil demand growth during 2011-2013.
Natural gas
China was the fourth-largest global consumer of natural gas in 2011.
Use and production of natural gas in China is rapidly increasing; natural gas production more than tripled over the last decade.
Consumption of natural gas in 2011 was nearly 50% higher than in 2009.
Nuclear
Nuclear power made up only 2% of total electricity generation in 2010. As of mid-2012, China had 15 operating reactors, with a total capacity of nearly 13 gigawatts, and 26 new reactors under construction, with a capacity of about 29 gigawatts.
Renewables
While renewables made up a small fraction of the country's total electricity generation, China was the world's leading producer of hydroelectric power in 2010, and the second-largest producer of electricity from wind power.
For more information on China, see EIA's Country Analysis Brief on China.