December 1, 2011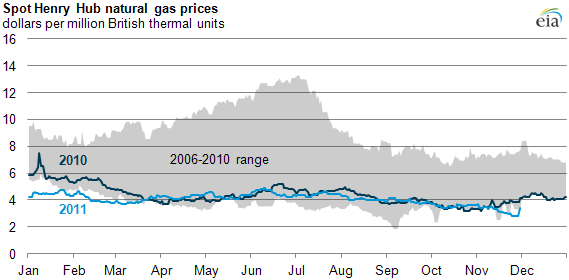 Source: U.S. Energy Information Administration, based on Bloomberg.
Note: Data included through November 30, 2011.
---
Spot natural gas prices at the Henry Hub in Erath, Louisiana fell to $2.83 per million British thermal units for delivery on November 24, 2011, the lowest price since November 17, 2009. Henry Hub is the benchmark location for key natural gas financial instruments on the New York Mercantile Exchange and the IntercontinentalExchange such as futures contracts, swaps, and options.
Key factors affecting natural gas prices include:
Growing domestic production. U.S. domestic marketed production averaged 65.4 Bcf/d through September, based on EIA data, an increase of about 7% from the same period in 2010, while demand for the corresponding period was up 2% this year.
High natural gas storage levels. For the week ending November 25, 2011, natural gas storage inventories were 3,851 billion cubic feet (Bcf), down one Bcf from record inventory levels set the prior week but over 7% above the five-year average.
Seasonal weather. Warmer-than-average weather across most of the United States has delayed the start of winter weather and the corresponding increased natural gas demand for heating. Through November 28, cumulative U.S. population-weighted heating degree-days in the 2011-2012 winter season are 8% below the 30-year average and are down 16% in the natural gas heating-intensive Northeast region.
Spot prices at Henry Hub rose about $0.70 per million British thermal units after the Thanksgiving Holiday weekend due to cooler temperatures and higher demand.