September 26, 2018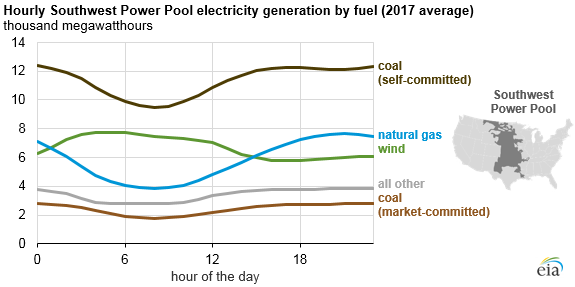 ---
Electricity generation in the Southwest Power Pool (SPP), a regional transmission organization (RTO) covering all or part of fourteen Midwestern states, is mostly provided by three fuels: coal, natural gas, and wind. Several states in SPP have the highest shares of wind generation in the country. In SPP, unlike in other regions, some coal-fired generators are operated similar to natural gas units and are used to balance fluctuations in wind output throughout the day.
In SPP, generating units in a power plant are scheduled by one of two commitment types: market-committed or self-committed.
Market-committed generators offer into a day-ahead market at a price that covers the unit's marginal costs. The generating unit is scheduled if its offer is equal to or lower than the other generating units selected to fulfill that day's electricity demand. A market-committed generating unit will then receive revenue for its generation at the market-clearing price.
Self-committed generators choose to operate and generate electricity regardless of whether or not the market-clearing price is sufficient to cover the generating unit's marginal costs. Although this decision could lead to a loss in revenue, a plant may choose to self-commit if the cost of restarting the generating unit could exceed the cost of continued operation while taking the lower market-clearing price.
Some power plant technologies operating in SPP tend to favor one type of commitment. For example, wind turbines, nuclear power plants, and most hydroelectric generators are usually self-committed. Natural gas-fired generators tend to be market-committed. Coal-fired generators, which represent the largest share of electric generating capacity in SPP, often have several units in both self-committed and market-committed schedules.
Coal-fired generators may self-commit to fulfill contract terms or because lower natural gas prices may prevent coal-fired units from economically clearing the day-ahead market. In 2017, self-committed coal generators accounted for 82% of all coal-fired generation in SPP.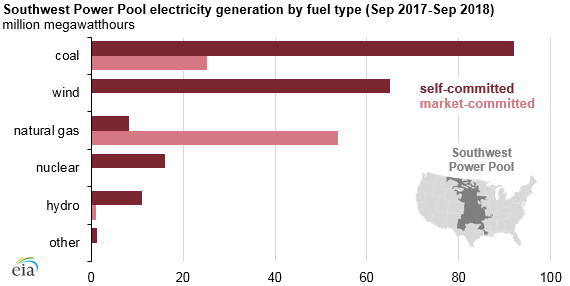 ---
Self-committed coal resources in SPP may operate at varying generation levels throughout the day, a pattern referred to as cycling. This cycling behavior appears to be in response to changes in generation levels from wind generators, which vary throughout the day based on the current wind speed. Generator output also varies across seasons, reflecting changes in overall electricity demand and wind resources.
In this way, self-committed coal power plants in SPP tend to operate similarly to natural gas-fired generators. In other areas served by regional transmission organizations or Independent System Operators (ISOs), natural gas-fired power plants are typically cycled throughout the day while generation from coal-fired remains relatively constant.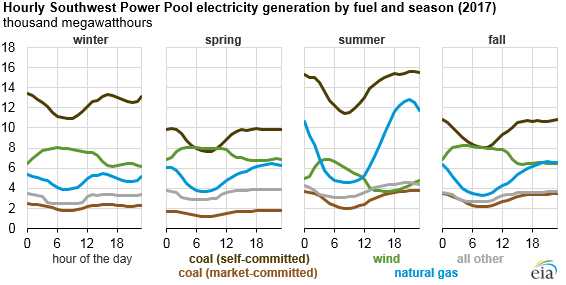 ---
Principal contributor: Richard Bowers