May 30, 2017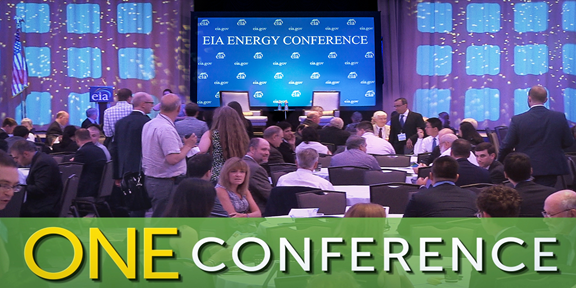 Source: U.S. Energy Information Administration
---
The U.S. Energy Information Administration (EIA) is hosting its 2017 Energy Conference on Monday, June 26, and Tuesday, June 27, in Washington, DC. This two-day event provides an opportunity to meet and network with energy analysts, decision makers, and EIA staff. In previous years, about a thousand people from industry, government, and academia have attended the conference.
Session topics include:
The future of U.S. nuclear power
Petroleum exports: Competing in the global market
Coal–natural gas competition: The current state of play
Global transportation, electric vehicles, and fuel demand
Gasoline fuel quality: The looming octane shortage
Renewable project financing: Current and future
The energy-water nexus and induced seismicity
Natural gas infrastructure to serve growing markets
Human behavior and energy use in buildings
Electrification in developing countries
"Big Data" and energy information
Energy data transparency
Keynote speakers include:
Following the sessions on June 26, EIA will host a reception where attendees can network and see demonstrations of EIA data and tools, including information on EIA's Open Data efforts. The reception also features information on EIA's Residential Energy Consumption Survey, State Energy Portal, and the U.S. Electric System Operating Data tool.
Register for the EIA Energy Conference now.
Principal contributor: Dennis Mesina