August 23, 2011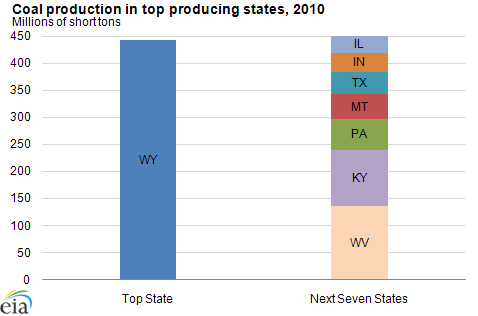 Source: U.S. Energy Information Administration, EIA Form 7A, "Coal Production and Preparation Report," and U.S. Department of Labor, Mine Safety and Health Administration, "Quarterly Mine Employment and Coal Production Report." Data for 2010 are preliminary.
Download CSV Data
---
Wyoming has consistently been the top producing coal state, with 2010 production of 442.5 million short tons—41% of total U.S. production and approximately the same as the next seven largest coal producing states combined.
EIA coal production data for 2010 show the top eight producing mines in the United States are located in Wyoming. Black Thunder Mine led production with a total of 116.2 million short tons, followed by the North Antelope Rochelle Mine, with production of 105.8 million short tons. Individually, each of these two mines produces almost as much coal as West Virginia (135.5 million short tons), the nation's second largest coal producing state. Collectively, the top 10 mines produce 40% of total U.S. production, while the top two produce 21%.
Thick beds and large-scale operations make Wyoming's subbituminous mines the lowest-cost mines in the United States. While Wyoming produces the most coal in the United States, long rail transport distances, limited Pacific Ocean coal export capacity, and the lower energy content of subbituminous coal place some limits on utilization.
The two mines in the top 10 that are not located in Wyoming are the Spring Creek Mine in Montana and the Freedom Mine in North Dakota. Freedom Mine is the only top 10 mine not in the Powder River Basin, and is also the only lignite mine, while the other nine mine subbituminous coal. All of the top 10 producing coal mines in the United States are surface mining operations.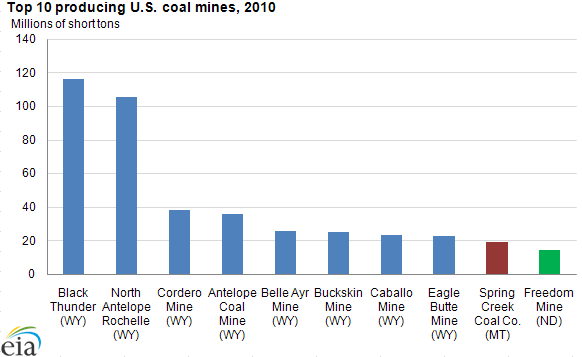 Source: U.S. Energy Information Administration, EIA Form 7A, "Coal Production and Preparation Report," and U.S. Department of Labor, Mine Safety and Health Administration, "Quarterly Mine Employment and Coal Production Report." Data for 2010 are preliminary.
Download CSV Data