December 16, 2015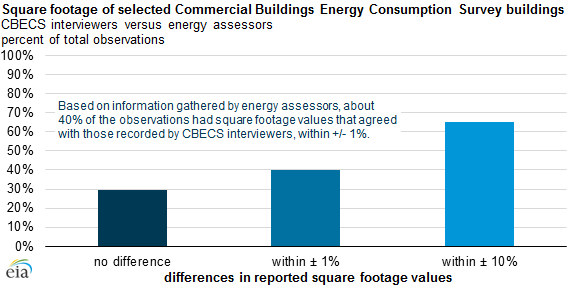 Source: U.S. Energy Information Administration, Energy Assessor Experiment in the 2012 Commercial Buildings Energy Consumption Survey
---
Independent energy assessments of a subset of the buildings surveyed in EIA's Commercial Buildings Energy Consumption Survey (CBECS) have largely confirmed the quality of data gathered by interviewers. For instance, 65% of the square footage values collected by the interviewers agreed within +/- 10% with the square footage data collected by professional energy assessors.
EIA's CBECS has been conducted 10 times since 1979, largely with a consistent methodology that allows for the comparison of commercial building metrics over time. The stock of commercial buildings in the United States includes building types such as offices, restaurants, hotels, stores, movie theaters, hospitals, schools, grocery stores, and many more, making it challenging to create a comprehensive survey that captures the variety of building activities and energy-related characteristics that could be associated with those buildings.
As part of an effort to make EIA's energy consumption surveys as accurate and efficient as possible, EIA invited the National Research Council (NRC) to review the CBECS data-gathering process and make recommendations for improvements. CBECS is traditionally conducted by survey interviewers who are skilled at gaining cooperation from building occupants and at collecting survey data, but they may not have subject-matter expertise in terms of commercial building energy characteristics. The NRC suggested sending professional energy assessors to some sites and comparing the data obtained from the survey to the data collected by the assessors in order to determine whether energy assessors should work in tandem with, or even replace, trained survey interviewers for data collection.
The energy assessments were fielded between June 2013 and March 2014, targeting 200 commercial buildings across a diverse set of cities and climate zones. The level of building detail collected by the assessors was similar to that of a Level 1 walkthrough audit from the American Society of Heating, Refrigeration, and Air-Conditioning Engineers (ASHRAE).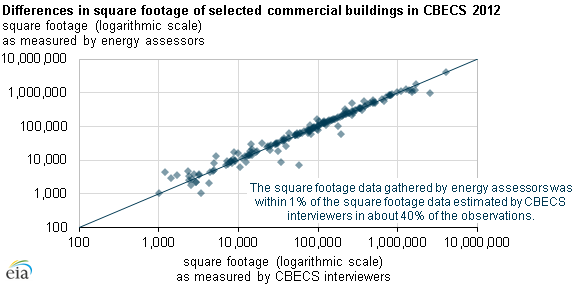 Source: U.S. Energy Information Administration, Energy Assessor Experiment in the 2012 Commercial Buildings Energy Consumption Survey
---
Fortunately, EIA found high levels of agreement between the assessments and CBECS data on key variables, such as square footage, principal building activity, operating hours, and energy sources, indicating a high level of quality in the CBECS data, and generally validating that the existing CBECS data-gathering process produces satisfactory results. Where there were differences, EIA gained insight into improving certain sections of the CBECS questionnaire for the next survey cycle, such as the collection of information on heating and cooling equipment.
More information regarding this data validation effort is available in EIA's Energy Assessor Experiment in the 2012 Commercial Buildings Energy Consumption Survey.
Principal contributor: Carolyn Hronis