March 25, 2015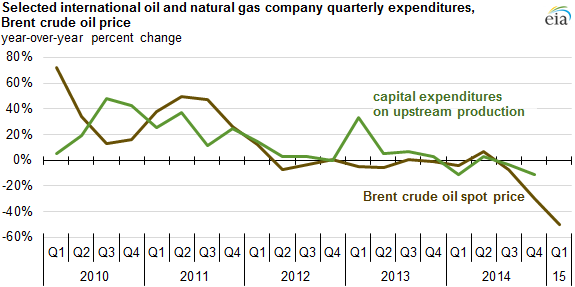 Source: U.S. Energy Information Administration, based on Thomson Reuters and Evaluate Energy
Note: Q1 2015 prices are through March 16.
---
Based on financial statements from selected international oil and natural gas companies, spending on upstream investments was 12% lower in fourth-quarter 2014 compared to the same period in 2013. Upstream spending on exploration and development typically accounts for the bulk of these companies' investment expenditures.
Aggregating the reports of 23 global oil- and natural gas-producing companies, upstream capital expenditure totaled $77 billion in the fourth quarter of 2014, which was $10 billion, or 12%, less than in fourth-quarter 2013. Three of the four quarters in 2014 had year-over-year declines in spending, bringing full-year 2014 upstream capital expenditure to $297 billion, 6% less than full-year 2013 spending for these companies.
Much more so than midstream and downstream investments dealing with the refining, distribution, and sale of oil and natural gas, spending in the upstream segment tends to correlate with changes in crude oil prices, because prices are a significant factor in any project's potential rate of return. Average crude oil prices, such as the North Sea Brent benchmark, were 30% lower in fourth-quarter 2014 compared to the same quarter in 2013, likely contributing to the postponement or curtailment of some upstream projects. Quarterly investments are compared with the same quarter of the previous year to reduce any seasonal effect of comparing quarter-over-quarter changes.
Lower oil prices reduce expected returns from future production, decreasing incentives for upstream investment spending. As a result, new exploration and development projects may be delayed or canceled, and reduced investments in producing fields can ultimately slow the growth in production. The effects may not be immediate, as some projects can have lead times of many years. However, if the trend continues, future production growth could be lower than originally anticipated. With crude oil prices continuing to fall from last year's levels, some companies have already announced further capital expenditure reductions for 2015.
In considering the future impact of reduced upstream capital spending, it is important to consider changes in the cost of upstream activities, which have historically been positively correlated with both oil prices and upstream investment spending. As oil prices and upstream investment spending fall, reduced demand for rigs and other oilfield services will tend to reduce the price of those services. Lower costs for oil services can make upstream investment more attractive and partially offset the effect of reduced upstream budgets on the level of upstream activity.
Principal contributors: Jeff Barron, Laura Singer