Released: August 4, 2011 at 2:00 P.M.
Next Release: Thursday, August 11, 2011
Overview (For the Week Ending Wednesday, August 3, 2011)
Nearly all pricing points were down modestly for the week following passage of the heat wave that had earlier gripped most of the country. The Henry Hub price decreased 20 cents per million Btu (MMBtu) over the week (down 4.5 percent) to close at $4.26 per MMBtu on August 3.

At the New York Mercantile Exchange (NYMEX), the downward price response was somewhat more pronounced (down 5.3 percent) with the September 2011 natural gas contract losing ground over the week, closing at $4.090 per MMBtu on Wednesday.
Working natural gas in storage rose last week to 2,758 billion cubic feet (Bcf) as of Friday, July 29, according to the U.S. Energy Information Administration's (EIA) Weekly Natural Gas Storage Report (WNGSR). The implied increase for the week was 44 Bcf, leaving storage volumes positioned 186 Bcf under year-ago levels.

The natural gas rotary rig count, as reported July 29 by Baker Hughes Incorporated, fell by 12 to 877 active units. Meanwhile, oil-directed rigs were up 4 to 1,025 units, expanding the diversion between the two drilling strategies.
More Summary Data
Prices
At the NYMEX, the price of the September 2011 contract mirrored the price response of other market points and decreased 22.8 cents (5.3 percent) over the week from $4.318 per MMBtu last Wednesday to $4.090 per MMBtu yesterday. Since last Wednesday, expectations of cooler temperatures with the attendant diminished cooling load has likely been the chief catalyst propelling futures to a string of losses accounting for the decrease.

The Henry Hub price echoed the week's general price decline by falling 4.5 percent from $4.46 per MMBtu during the week to close at $4.26 per MMBtu yesterday. As the accompanying table shows, the Henry Hub cash price began its descent starting last Wednesday with price losses totaling 20 cents during the midst of the cool down.

End-market natural gas prices generally followed the lead of their wholesale counterparts and responded to moderating temperatures with similar losses. The New York citygate, which started the week at $4.93 per MMBtu (following a dramatic price spike the previous week), lost ground every day of the week except one. The New York citygate decreased by $0.31 per MMBtu over the period (Wednesday to Wednesday) to close at $4.62 per MMBtu (down 6.3 percent). During the same period, the Chicago citygate fell a more mundane $0.19 per MMBtu and ended the week at $4.32 per MMBtu (down 4.2 percent).

Spurred by the easing heat trend, consumption registered a modest decrease. According to estimates from BENTEK Energy Services, LLC, domestic gas consumption decreased this week by 1.3 percent over last week. The power sector led the decline with a loss of 1.4 percent, mostly reflective of a reduction in cooling load for air conditioning. Likewise, the residential/commercial sector also posted a loss. However, running counter to the overall consumption downtrend, the industrial sector rose 0.4 percent.

In the midst of the generally softening price environment, overall supply was down slightly. According to BENTEK Energy estimates, the week's average total nominal gas supply posted a 0.8 percent decrease from last week's level. Domestic weekly dry gas production hovered around 61 Bcf per day (up 0.2 percent) from the previous week despite Tropical Storm Don which briefly skirted the Offshore Gulf of Mexico and caused a small amount of production to be shut-in. Domestic dry gas production now stands 6.5 percent above this time last year. The week's slight production gain was offset somewhat by a 7.9 percent decrease in Canadian imports which averaged 6.7 Bcf per day. Canadian imports remain 7.3 percent below year-ago volumes. Supply again abated for liquefied natural gas (LNG) where imports slid to just over 0.4 Bcf per day during the week, and remain 44.0 percent below year-ago levels.

More Price Data
Storage
Working natural gas in storage rose to 2,758 Bcf as of Friday, July 29, according to EIA's WNGSR (see Storage Figure). After a 44 Bcf net build, stocks are now 68 Bcf below the 5-year average and 186 Bcf below last year. The build was less than the 5-year average build of 47 Bcf, making this the fourth consecutive week of below average builds. Last year saw a net stock build of just 29 Bcf during the same week.

The Producing Region registered its third week in a row with a net draw. While draws during hot summer weather occur, they are not typical. The region remains 69 Bcf above the 5-year average due to a string of larger than normal builds earlier in the year.

Temperatures in the lower 48 States during the week ending July 28 were warmer than normal for the fourth week in a row and warmer than last year. The National Weather Service's degree-day data show that the temperature in the lower 48 States last week averaged 79.4 degrees, 4.0 degrees warmer than normal, and 1.1 degrees warmer than last year (see Temperature Maps and Data). All regional temperatures were above normal levels with the exception of the Pacific region for the third week in a row. Cooling degree-days were about 35 percent above normal.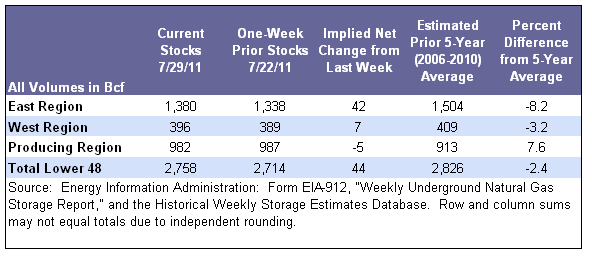 More Storage Data
Other Market Trends
EIA Releases Natural Gas Data for May 2011. EIA released the July 2011 Natural Gas Monthly this week, with data through May 2011. Total natural gas consumption averaged 53.5 Bcf per day in May, a decline of about 12 percent from April. Residential and commercial consumption dropped from April as temperatures warmed up. These declines were partially offset by an increase in consumption of natural gas for power generation as warmer temperatures necessitated increased electricity use for cooling. Despite the month-to-month decrease in consumption, natural gas wellhead prices increased in May to $4.01 per MMBtu, an increase of about 14 cents from the previous month. Pipeline exports to Mexico fell slightly, from 1.43 Bcf per day in April to 1.41 Bcf per day in May, but still remain at historically high levels as abundant production in the United States has been serving gas demand in Mexico.

Natural Gas Rig Count Falls to 877. The natural gas rotary rig count, as reported on July 29 by Baker Hughes Incorporated, fell by 12 to 877. For the past few months, the natural gas rig count has oscillated in the high-800s. The natural gas rig count is down 5 percent from the beginning of 2011, and 10 percent from the same time last year. On the other hand, the oil rig count has risen for 15 consecutive weeks, likely in response to this year's increase in oil prices, and at 1,025 is currently at its highest level for the 24 years for which Baker Hughes reports data. The rise in oil rigs could bring with it additional associated natural gas production. The horizontal rig count (including both oil and natural gas rigs) fell this week from a record-high level of 1,102 to 1,080, and remains close to historically high levels despite the drop of 22 rigs. Vertical rigs rose by 12 to 582, and directional rigs rose by 2 to 246.
See Weekly Natural Gas Storage Report for additional Natural Gas Storage Data.
See Natural Gas Analysis for additional Natural Gas Reports and Articles.
See Short-Term Energy Outlook for additional Natural Gas Prices, Supply, and Demand.