Released: August 7, 2008
Next Release: August 14, 2008
Overview (Wednesday, July 30, to Wednesday, August 6)
Natural gas spot prices decreased this report week (Wednesday—Wednesday, July 30-August 6), marking a fifth consecutive week of declines at many trading locations after the unprecedented run-up in prices earlier this year. During the report week, the Henry Hub spot price decreased $0.31 per million Btu (MMBtu) to $8.70.

At the New York Mercantile Exchange (NYMEX), prices for futures contracts were also lower relative to last week. After reaching a daily settlement high price for the week of $9.389 per MMBtu on Friday, August 1, the price of the near-month contract (September 2008) on Monday decreased by $0.663 per MMBtu to $8.726 following forecasts of cooler weather for the Lower 48 States. On the week, the near-month contract decreased $0.475 per MMBtu in value, ending trading yesterday (August 6) at $8.773.

During the week ending Friday, August 1, estimated net injections of natural gas into underground storage totaled 56 billion cubic feet (Bcf). Working gas in underground storage as of August 1 was 2,517 Bcf, which is 0.2 percent below the 5-year (2003-2007) average.

The price of crude oil dropped more than 6 percent during the report week. The West Texas Intermediate (WTI) crude oil price had climbed above $125 per barrel on Friday. Price declines in the next 3 trading days resulted in a cumulative decline of $8.17 per barrel since Wednesday, July 30. The WTI average spot price yesterday was $118.57 per barrel, or $20.44 per MMBtu.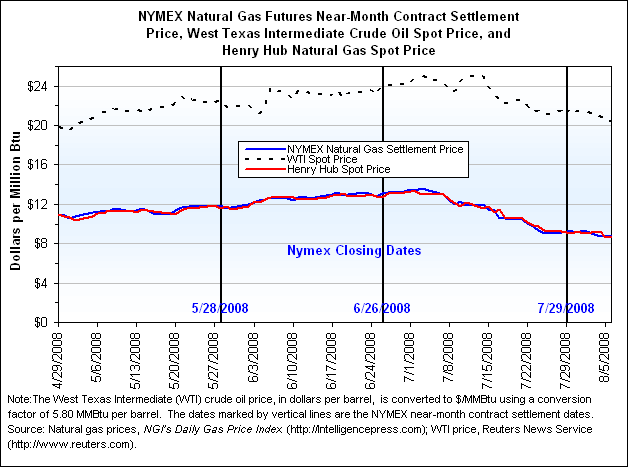 Prices
Price decreases during the report week were significant in the majority of trading locations in the Lower 48 States, as mid-summer temperatures were relatively moderate and a threatening tropical storm system did not significantly interrupt supplies in the Gulf of Mexico. Unlike storm systems that form in the Atlantic Ocean and track through the Caribbean, Tropical Storm Edouard formed in the Gulf of Mexico last weekend, giving the industry very little time to implement emergency precautions such as evacuations. However, the threat of interruptions to offshore supplies proved short-lived despite the storm's proximity to infrastructure along the Louisiana-Texas border. Shut-in production never exceeded 1 Bcf per day and all affected platforms and rigs are expected to be re-populated soon, according to the Minerals Management Service. To a certain extent, Edouard served to reduce demand and perhaps lower prices this week, as it temporarily brought cooler temperatures to Texas, much of which experienced temperatures exceeding 100 degrees in the prior days. These factors, along with a decline in the price of crude oil, resulted in a net decrease in the Henry Hub spot price of $0.31 per MMBtu, or 3 percent. Spot markets along the Gulf Coast in Louisiana and East Texas registered an average price decrease of $0.39 and $0.26 per MMBtu, respectively. The average regional price yesterday was $8.64 in Louisiana and $8.50 in East Texas.

Recent price decreases also are related to an improved outlook for supplies, particularly because of reported increases in domestic production at unconventional fields such as the prolific Barnett Shale in Northeast Texas. Updated production data in EIA's Natural Gas Monthly show continued domestic production increases. Through the first 5 months of 2008, domestic production increased 8.7 percent in comparison with the same time period in 2007. Through May 2008, domestic production totaled 8.88 trillion cubic feet (Tcf). In May alone, production was 1.8 Tcf, which was about 8 percent higher than in May 2007. However, liquefied natural gas (LNG) imports, which had been expected to grow this year, appear to be on course to set a new 5-year low point for 2008. Deliveries are estimated to have averaged about 1.1 Bcf per day in July and somewhat less in the first part of August. This is substantially less than the average import level of 2.6 Bcf per day in July 2007. To the extent LNG cargos are available for flexible delivery, LNG supplies are heading to Europe and Asia, where buyers continue to purchase LNG at prices higher than those that have prevailed in U.S. markets.

On a regional basis during the report week, trading at markets in the Northeast resulted in the largest weekly price decline of any region in the Lower 48 States. Temperatures in the Northeast were mild during the report week as storms moved through the region, contributing to reduced demand for natural gas as a fuel for power production (to meet air-conditioning demand). The average price in the Northeast region yesterday was $9.11 per MMBtu, which was $0.64 lower than the previous Wednesday. In the Southeast (Alabama/Mississippi and Florida trading regions), price decreases were relatively steep as well, reaching as high as $0.54 per MMBtu. As often is the case in the summer, the cost on the spot market for delivery to Florida was the highest in the Lower 48 States yesterday at $9.92 per MMBtu, although this was 40 cents lower than the previous week. Florida Gas Transmission currently has implemented procedures for ensuring proper deliveries of supplies because of temperatures exceeding 90 degrees in the States. The pipeline issued an Overage Alert Day, which requires shippers to avoid deliveries or consumption of the pipeline without proper nominations (see Natural Gas Transportation Update).

In contrast to the significant declines in the East, prices in the Midcontinent, West Texas, and the Arizona/Nevada regions were equal to or slightly higher in comparison with the previous week. Prices in West Texas increased the most of any region at 9 cents per MMBtu (for a regional average of $7.77), while prices in the Midcontinent were equal to last week on an average basis at $7.59. Further west, the spot price for delivery in Southern California increased by 3 cents per MMBtu, or less than 1 percent. Prices in the West were likely supported by extreme heat in the U.S. Northwest, as well as parts of British Columbia, Canada, as temperatures climbed above 90 degrees in the region's major population centers such as Portland, Oregon.

At the NYMEX, the price of the near-month contract (for September delivery) decreased $0.475 per MMBtu during the report week to $8.773, as the outlook for supplies continued to improve, prices for competing products decreased, and the weather outlook appeared to limit demand by electric power generators in the near-term. Nonetheless, natural gas prices continue to trade at $9.665 per MMBtu for delivery contracts for the next winter heating season, which is considerably higher than previous years. For example, this time last year, futures prices for the winter months averaged $8.153. The highest-priced contract in the 12-month futures strip is the February 2009 contract, which closed at $9.88 per MMBtu yesterday. At the end of trading yesterday, the 12-month strip, which is the average for futures contracts over the next 12 months, was priced at $9.34 per MMBtu, a decrease of about $0.32 since last Wednesday.

Storage
Working gas in storage increased to 2,517 Bcf as of Friday, August 1, 2008, according to EIA's Weekly Natural Gas Storage Report Weekly Natural Gas Storage Report (see Storage Figure). This report week's implied net injection of 56 Bcf is more than both the 5-year average injection of 50 Bcf and last year's injection of 52 Bcf. As a result, current inventories are estimated to be 0.2 percent (6 Bcf) below the 5-year average level. The deficit between current inventories and levels last year at this time narrowed slightly to 12.3 percent (353 Bcf). Despite being slightly higher than average, the net injection was the lowest weekly increase in storage since the week ending April 18, when space-heating demand was still likely affecting storage activity.

The estimated net injection exceeded the 5-year average and last year's level despite increased demand from the electric power sector. The injection came during a week of warmer-than-normal temperatures in the Lower 48 States, particularly in the East South Central, West South Central, and Mountain Census Divisions, which contributed to weather-related demand by power-generators for air-conditioning needs. Cooling degree-days (CDDs) were 10 percent above normal in the West South Central Division, likely increasing natural gas usage in Texas which is home to a significant number of natural gas-fired electric power plants. As indicated by National Weather Service degree-day data, the number of CDDs totaled 6.7 percent above normal for the Lower 48 States as a whole (see Temperature Maps and Data).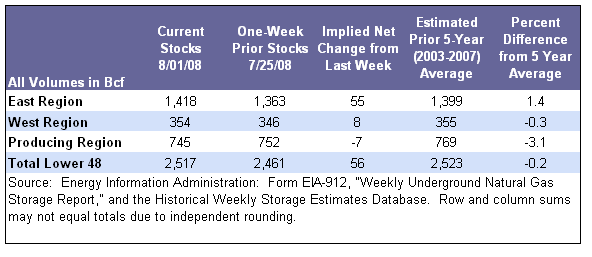 Other Market Trends
TransCanada Corporation Awarded a License for Construction of the Alaska Natural Gas Pipeline. On Friday, August 1, the Alaska Legislature approved a natural gas pipeline license for TransCanada Corporation, which would make TransCanada eligible for a State subsidy of up to $500 million to help with development of Alaska's North Slope pipeline. An initial open season is expected by July 2010 for a project that will move natural gas to lower 48 markets and potentially to international markets via a liquefied natural gas (LNG) component. TransCanada expects to have the pipeline in service by September 2018. This project is the largest construction project in North America. The pipeline is expected to have the capability to move 4.5 billion cubic feet per day (Bcf/d) through a 48-inch diameter pipe, as well as have the capability for expansions up to 5.9 Bcf/d through the addition of compressor stations in Alaska and Canada. Most of the pipeline will be underground, extending for about 1,715 miles from the Prudhoe Bay gas plant located on the North Slope to the Alberta Hub located in Canada. The Alaska portion of the pipeline would be about 750 miles long with six compressor stations at startup and five gas delivery points in Alaska. The Canadian section to Alberta would be approximately 965 miles, with 10 compressor stations at startup and 8 intermediate delivery points in the Yukon.

Forecast of Active Hurricane Season for the Atlantic Basin from August-November. Colorado State University (CSU) on Tuesday, August, 5, released the report "Forecast Of Atlantic Seasonal Hurricane Activity, August Monthly Activity and U.S. Landfall Strike Probability for 2008," indicating that the remainder of this year's Atlantic hurricane season is expected to be very active. The forecast is based on 106 years of past data. The hurricane season began on June 1 and will last until November 30. The CSU report forecasts that after August 1 there will be 9 hurricanes, 17 named storms, 90 named storm days, 45 hurricane days, 5 intense (Category 3-4-5) hurricanes, and 11 intense hurricane days (average is 5.0). The latest forecast has been raised from the forecast issued in April and early June, because of a combination of a very active early tropical cyclone season in the deep tropics and a more favorable hurricane-enhancing sea surface temperature and sea level pressure pattern in the tropical Atlantic. According to CSU, the influences of El Niño conditions are doubtful, but there is a possibility that an El Niño could develop this fall.
Natural Gas Transportation Update
Tennessee Gas Pipeline Company (Tennessee) announced that it was required to take line sections 13-3 to 14-3 of the 100 Line in South Texas out of service. The outage began on Saturday, August 2, and will require that pipes at four sites be replaced as a result of found anomalies in the sections. The company, however, expects that the section will be back in service by the end of gas day August 25. During the outage, three meters will be shut in and capacity through Station 17, which is located in East Bernard, Texas, will be limited.

Tennessee also announced on Wednesday, August 6, that it was resuming all production behind the Grand Chenier and Sabine processing plants in Cameron Parish, Louisiana, which were shut in as a result of Tropical Storm Edouard on Monday.

Florida Gas Transmission Company issued an overage alert day (OAD) for Monday, August 4, setting the tolerance at 25 percent for negative daily imbalances. An OAD signals that taking excess quantities offline would harm system integrity. The OAD was issued as a result of excessively high temperatures in the pipeline's service area.

Both Enbridge Energy Partners and Transcontinental Pipeline Company announced limited services as a result of Tropical Storm Edouard, which prompted a mandatory evacuation of Cameron Parish, Louisiana. Enbridge reported shutting down and evacuating West Cameron 509 compressor station, while Transco reported that the Cameron Meadows Gas Plant was shut down on Monday. Transco continued to accept nominations, but adjusted plant thermal reduction requirements.

As a result of partial exposure of the pipeline across Calcasieu River in Louisiana and the potential for a storm surge associated with Tropical Storm Eduard, ANR Pipeline Company shut in the SE 1 D segment along the Cameron Meadows Lateral in Louisiana on Monday, August 4. During the outage, which lasted until Wednesday, August 6, ANR was unable to accept nominations at three meters located in the area.

Northwest Pipeline reported that as of August 6, it has reduced available capacity at the Boise, Idaho, compressor station from 499,000 decatherms (Dth) per day to 425,000 Dth per day as a result of damage to Unit #2 over the August 2-3 weekend. Emergency repairs are ongoing, and the compressor station unit is expected to be in service on August 8.
See Weekly Natural Gas Storage Report for additional Natural Gas Storage Data.
See Natural Gas Analysis for additional Natural Gas Reports and Articles.
See Short-Term Energy Outlook for additional Natural Gas Prices, Supply, and Demand.