Overview: Thursday, June 22 (next release 2:00 p.m. on June 29, 2006)
Since Wednesday, June 14, natural gas spot prices increased at most market locations in the Lower 48 States. On Wednesday, June 21, prices at the Henry Hub averaged $6.51 per MMBtu, increasing 41 cents per MMBtu, or about 7 percent, since the previous Wednesday. The NYMEX futures contract for July delivery at the Henry Hub settled at $6.588 per MMBtu, on Wednesday, June 21, posting a slight decline from the settlement price of $6.590 last Wednesday, June 14. Natural gas in storage was 2,476 Bcf as of June 16, which is almost 35 percent above the 5-year average. The spot price for West Texas Intermediate (WTI) crude oil increased 95 cents per barrel, or about 1 percent, on the week (Wednesday-Wednesday) to $70.07 per barrel or $12.08 per MMBtu.
<![if !vml]>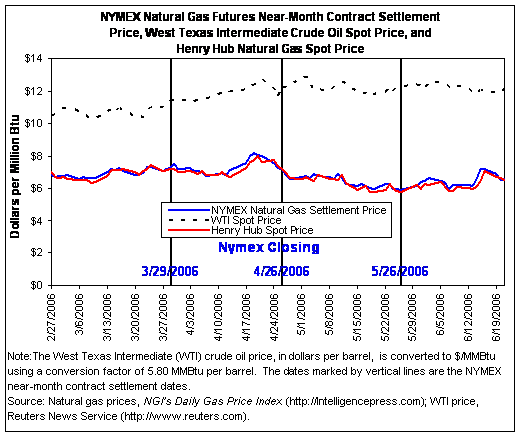 <![endif]>
Spot prices increased at most market locations since last Wednesday, June 14, between 29 and 77 cents per MMBtu.Increased cooling load resulting from the hot temperatures that prevailed in most of the Lower 48 States likely contributed to the price hikes. Price increases were most pronounced in the Northeast, where large swings from relatively mild high temperatures in the 70s to highs in the 90s contributed to average price increases of about 63 cents per MMBtu, or 10 percent. Furthermore, the largest price increase since last Wednesday, June 14, occurred at the New York citygate, where prices climbed 77 cents per MMBtu, or about 12 percent, to $7.32 per MMBtu. Elsewhere, price hikes were widespread but less pronounced without a strong, discernible geographic pattern. Despite the price increases since last Wednesday, June 14, prices are below last year's levels, with differences mostly ranging between $0.65 and $1.18 per MMBtu, or about 10 to 16 percent. Prices at the Henry Hub are about 97 cents per MMBtu or about 13 percent below last year's level. As of June 16, the level of working gas in storage remains significantly above the 5-year average and last year's level at this time, which likely is mitigating injection demand for natural gas. This year's lower price level doubtlessly reflects an improved natural gas supply situation relative to last year at this time.
<![if !vml]>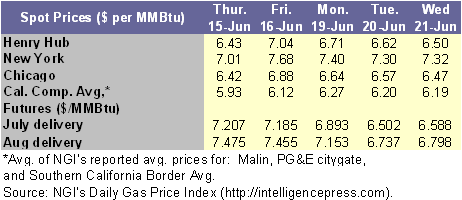 <![endif]>
At the NYMEX, the futures contract for July delivery at the Henry Hub settled yesterday (June 21) at $6.588 per MMBtu, declining less than 1 percent since Wednesday, June 14.Similarly, prices for the futures contracts from August through November 2006 declined by less than a dime or about 1 percent for the week. In contrast, the futures contracts for delivery in the heating season months from December 2006 through March 2007 increased from about 9 to 23 cents per MMBtu. These contrasting price movements on the futures markets likely reflect the high level of working gas in storage at this time, which temporarily may allow storage operators to defer their injections into storage as the 3-month strip (July 2006 through September 2006) is trading at a 30-cent premium to the Henry Hub spot price.However, owing to storage capacity limitations and uncertainty about high temperatures or hurricane-related production disruptions later this summer, the storage overhang may not persist through the 2006-2007 heating season.This is reflected in the futures contract prices for the upcoming heating season months (November 2006 through March 2007), which are about $3.53 per MMBtu higher than the Henry Hub spot price on average.Overall, the 12-month futures strip (July 2006 through June 2007) traded at a premium of $2.07 per MMBtu relative to the Henry Hub spot price, averaging $8.57 per MMBtu as of Wednesday, June 21.Differentials of this magnitude between the spot price and the futures contract prices provide suppliers strong economic incentives to inject gas into storage.However, the elevated levels of working gas stocks provide operators increased flexibility in the timing of their injections into storage and the pattern of prices for future delivery contracts during the next few months provide an incentive to delay some storage injections.
Recent Natural Gas Market Data
Estimated Average Wellhead Prices

Dec-05

Jan-06

Feb-06

Mar-06

Apr-06

May-06

10.02

8.66

7.28

6.52

6.59

6.19

Price ($ per MMBtu)

9.76

8.43

7.09

6.35

6.42

6.02

Note: Prices were converted from $ per Mcf to $ per MMBtu using an average heat content of 1,027 Btu per cubic foot as published in Table A4 of the Annual Energy Review 2002.

Source:Energy Information Administration, Office of Oil and Gas.
Working gas in storage totaled 2,476 Bcf as of Friday, June 16, which is about 35 percent above the 5-year average inventory level for the report week, according to EIA's Weekly Natural Gas Storage Report (See Storage Figure). During the week, the implied net injection of 79 Bcf was 17 percent less than the 5-year average of 95 Bcf and equal to last year's injection of 79 Bcf. As of June 16, stocks exceeded last year's level by 451 Bcf and the 5-year average by 643 Bcf. With working gas levels well above historical levels for this time of year, lingering uncertainty about the sustainability of the current price level may have contributed to the below-average injection. During the report week, temperatures in the Lower 48 States were moderate.However, cooling degree days were above normal in the western and southern regions of the Lower 48 States. Overall, cooling degree days (CDD) were about 4 percent below normal on average in the Lower 48 States. (See Temperature Maps)
<![if !vml]>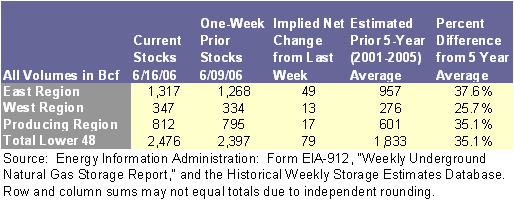 <![endif]>
Other Market Trends:
EIA Releases the IEO2006: On June 20, the Energy Information Administration (EIA) released its International Energy Outlook 2006 (IEO2006), which provides an assessment of international energy markets with projections of worldwide energy production and consumption by fuel type and region through 2030. The report also discusses projections of energy-related carbon dioxide emissions by source. Natural gas is expected to trail coal as the fastest growing primary energy source. Consumption of natural gas is expected to increase from 95 trillion cubic feet (Tcf) in 2003 to 182 Tcf in 2030, amounting to an average increase of 2.4 percent per year. The natural gas share of total world energy consumption (on a Btu basis) is expected to grow from 24 percent in 2003 to 26 percent in 2030. The IEO2006 projects that, as was historically the case, the volume of natural gas reserves worldwide will for the most part trend upwards. Natural gas production is expected to increase in both the OECD and non-OECD countries over the projection period. In the OECD nations, however, the increase in demand is expected to outpace the increase in supply, and thus the OECD countries increasingly will rely on imports to meet natural gas demand, with a growing percentage of supplies in the form of LNG. OECD countries will rely on natural gas produced in other parts of the world to meet more than one-third of their natural gas consumption in 2030, up from 22 percent in 2003. In 2004, there were 12 LNG exporting countries; however, the number of exporting countries is expected to increase. Furthermore, the number of LNG import facilities also is increasing as more countries install the necessary infrastructure. The regional growth rate of natural gas demand in North America is expected to be at a slower rate than in the past owing to the higher prices and concerns regarding supply.
FERC Announces Policy on Natural Gas Quality and Interchangeability: The Federal Energy Regulatory Commission (FERC) released a policy statement on June 15, 2006, that addresses the increasing number of disputes over natural gas quality and interchangeability.Although FERC will continue to review these disputes on a case-by-case basis, the policy offers five principles the Commission will use in order to meet the needs of consumers while assuring safe and reliable operation of interstate natural gas pipelines.The five principles relating to gas quality and interchangeability are:
Only specifications contained in a Commission-approved gas tariff can be enforced;
Pipeline tariff provisions must be flexible in order to balance safety and reliability with supply concerns;
The specifications developed by pipelines and customers should be based on technical requirements;
To resolve issues, pipelines and customers are encouraged to use the Natural Gas Council Plus interim guidelines filed with FERC on February 28, 2005; and
Disputes can be brought before FERC on a case-by-case basis if pipelines and customers cannot resolve them.
Interchangeability becomes an issue when producers or shippers use natural gas of a different quality standard as substitutes for the gas normally burned by an end-use customer. As explained in a recent EIA special report, quality standards vary from pipeline to pipeline based on the pipeline system's design, its downstream interconnecting pipelines, and its customer base. Certain elements such as hydrogen sulfide, carbon dioxide, nitrogen, water vapor, and oxygen, as well as particulate solids and water must be removed by gas processing equipment because they can impact downstream pipelines or gas-burning equipment. As natural gas pricing has transitioned to a heat-content basis (per million Btu), however, producers have an economic incentive to increase the Btu content of the gas by decreasing the amount of natural gas liquids extracted. Also, the increasing capacity at liquefied natural gas import facilities has raised interchangeability concerns in recent years since the Btu content of the regasified gas from some source countries may be higher than pipeline quality standards.
FERC Issues Final Rule on Market-Based Rates for Interstate Natural Gas Storage Facilities:The Federal Energy Regulatory Commission (FERC) finalized a rule on June 15, 2006, to encourage natural gas developers to seek authority to charge market-based rates for storage services. According to FERC, the rule, which implements provisions of the Energy Policy Act of 2005, would provide greater incentives for the development of new natural gas storage capacity and reduce price volatility. The rule provides two options for natural gas storage developers. First, the rule expands the definition of the relevant product market for storage to include non-storage products such as available pipeline capacity, local gas production, and liquefied natural gas terminals. FERC currently requires applicants to demonstrate that they lack significant market power in a relevant market. By expanding the definition, FERC recognizes that non-storage products and services may reduce an applicant's ability to exercise market power. Secondly, the rule allows an applicant to charge market-based rates in certain circumstances without demonstrating lack of market power as long as the added storage capacity is in the interest of the public and the customers are adequately protected from market-power manipulations.
Natural Gas Transportation Update:
ANR Pipeline Company, which last week began imposing restrictions on interruptible storage injections on its system, expanded them Friday by ordering all deferred delivery and market-balancing services customers to reduce storage inventories by 65 percent of their June 14, 2006, allocated balance. ANR is requiring their customers to meet this requirement by the end of the gas day July 31, 2006. The El Paso Corporation subsidiary will continue to allow infield transfers to and from deferred delivery service (DDS) and market balancing service (MBS) subject to the 35 percent constraint.
ANR announced that it has completed the majority of maintenance on its storage facilities and that the affected injection capacity is coming back on-line. However, because of high storage levels and some storage fields already full, as of June 17, ANR has restricted the injection capacity into its facilities by 550 MMcf per day, leaving 950 MMcf per day available. Currently only firm capacity holders may nominate gas into storage.
Related to forecasts of 90-degree weather in its market area, Florida Gas Transmission Company issued an overage alert day (OAD) notice in its market area for last Thursday's gas day. The OAD was extended through the weekend and was still in place for Tuesday's gas day (June 20), carrying a 25 percent tolerance for negative daily imbalances.
Sea Robin Pipeline Company reported that the Sea Robin Processing Plant, which has a 750 MMcf per day capacity, is not processing or dehydrating gas as a result of a plant outage for emergency maintenance. Initially, the outage was expected to last 24 hours, however as of Wednesday, June 21, the plant had not resumed its processing operations and the duration of the outage remained unknown.