Overview: Thursday, April 27 (next release 2:00 p.m. on May 4, 2006)
Since Wednesday, April 19, natural gas spot prices decreased at virtually all market locations in the Lower 48 States, with decreases exceeding $0.30 per MMBtu at most markets. On Wednesday, April 26, prices at the Henry Hub averaged $7.18 per MMBtu, decreasing 54 cents per MMBtu, or about 7 percent, since the previous Wednesday. The NYMEX futures contract for May delivery at the Henry Hub settled at $7.198 per MMBtu, on Wednesday, April 26, declining about 99 cents or 12 percent since last Wednesday. Natural gas in storage was 1,851 Bcf as of April 21, which is about 62 percent above the 5-year average. The spot price for West Texas Intermediate (WTI) crude oil decreased 36 cents per barrel, or less than 1 percent, on the week (Wednesday-Wednesday) to $71.71 per barrel or $12.36 per MMBtu.
<![if !vml]>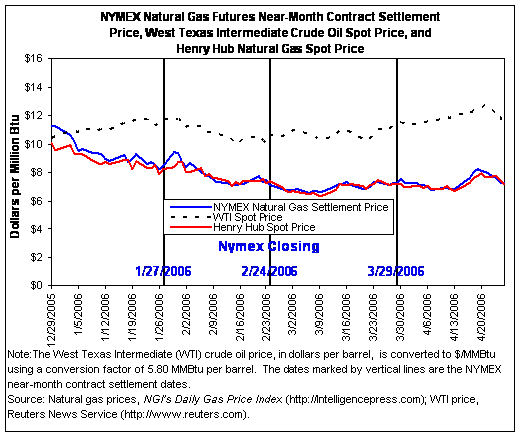 <![endif]>
Spot prices decreased at virtually all market locations since last Wednesday, April 19, falling by as much as 81 cents per MMBtu. Moderate temperatures in most of the Lower 48 States and sufficient supplies of natural gas in storage likely contributed to the price declines. Overall, price declines were widespread and did not seem to have a definitive geographical pattern as decreases ranged between 30 and 60 cents per MMBtu, or about 4 to 9 percent, at the vast majority of market locations. However, the largest price declines of more than 70 cents per MMBtu occurred principally in the Midwest region with a decline of 81 cents at the Midwest Alliance Pipeline market location. The smallest decline since last Wednesday, April 19, occurred at the Florida citygate market location, where prices fell 10 cents per MMBtu. Compared with last year, prices are mixed.West of the Rockies, prices are 30 to 77 cents, or about 5 to 10 percent, below last year's levels at this time.In contrast, prices at most of the market locations east of the Rockies, including the producing States, are about 10 to 30 cents per MMBtu, or about 2 to 5 percent, above last year's levels at this time. The spot price at the Florida citygate is about 75 cents per MMBtu or about 10 percent above its level last year.
<![if !vml]>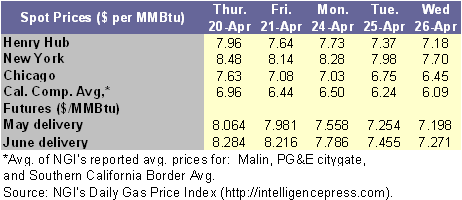 <![endif]>
At the NYMEX, the futures contract for May delivery at the Henry Hub expired yesterday (April 26) at $7.198 per MMBtu, declining about 12 percent since Wednesday, April 19. Similarly, prices for the other futures contracts through April 2007 decreased between 3 and 14 percent, or about $0.29 to 1.14 per MMBtu during the same period, with the price declines becoming progressively smaller in each successive month. The 12-month futures strip (May 2006 through April 2007) traded at a premium of $2.14 per MMBtu relative to the Henry Hub spot price, averaging $9.32 per MMBtu as of Wednesday, April 26.The futures contract prices for the upcoming heating season months (November 2006 through March 2007) are about $4.05 per MMBtu higher than the Henry Hub spot price on average. Differentials of this magnitude between the spot price and the futures contract prices provide suppliers economic incentives to inject gas into storage. Since becoming the near-month contract on March 30, 2006, the May contract declined about 29 cents per MMBtu or about 4 percent.
Recent Natural Gas Market Data
Estimated Average Wellhead Prices

Oct-05

Nov-05

Dec-05

Jan-06

Feb-06

Mar-06

10.97

9.54

10.02

8.66

7.28

6.52

Price ($ per MMBtu)

10.68

9.29

9.76

8.43

7.09

6.35

Note: Prices were converted from $ per Mcf to $ per MMBtu using an average heat content of 1,027 Btu per cubic foot as published in Table A4 of the Annual Energy Review 2002.

Source:Energy Information Administration, Office of Oil and Gas.
Working gas in storage totaled 1,851 Bcf as of Friday, April 21, which is 62 percent above the 5-year average inventory level for the report week, according to EIA's Weekly Natural Gas Storage Report (See Storage Figure). During the week, the implied net injection of 80 Bcf was 37 percent more than the 5-year average of 58 Bcf and 15 percent more than last year's injection of 70 Bcf. As of April 21, stocks exceeded last year's level by 445 Bcf. During the report week, moderate temperatures in the Lower 48 States likely mitigated natural gas demand for heating and air conditioning and may have contributed to the above-average net injections during the week.Heating degree days were below normal in each of the Census Divisions with the exception of the Pacific Census Division. Cooling degree days were above normal on average in the Lower 48 States, however demand for natural gas for air conditioning load does not seem to be a significant factor at this point in the injection season. (See Temperature Maps)
<![if !vml]>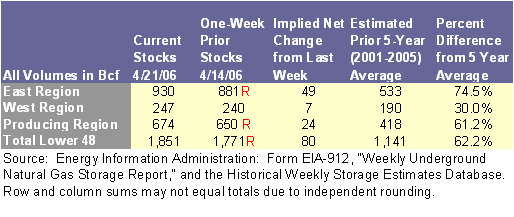 <![endif]>
Other Market Trends:
LNG Deliveries Slow in First Part of 2006: U.S. imports of liquefied natural gas (LNG) this winter were well below year-ago levels, serving as a reminder that stiff competition may develop in the global industry even with high prices in the United States. In January and February 2006, the most recent months for which data are available, LNG imports averaged 1.3 billion cubic feet (Bcf) per day for a total of 78 Bcf, according to the Department of Energy's Office of Fossil Energy. This level is nearly 30 percent less than the 1.9 Bcf per day, or 111 Bcf overall, delivered during the first 2 months of 2005. In fact, total imports in February 2006 of 38.7 Bcf were the lowest monthly level of imports since April 2003. While the world spot market for LNG is growing, it is still a small part of total LNG trade and U.S. importers have not yet begun bringing the expected large volumes of LNG to the United States under long-term contracts.
Volumes available on the spot market in January and February were directed to Europe and Asia, as buyers there proved willing to pay more than the market prices in the United States. Trunkline LNG Company, located in Lake Charles, Louisiana, had the lowest utilization of any U.S. regasification plant (not including the new offshore Gulf Gateway facility), receiving just two cargos for a total of 6 Bcf. This facility in the past has received the largest volumes of LNG from the spot market. While five new LNG production facilities have come on-line recently in the Atlantic Basin (where the United States receives the vast majority of its LNG), LNG supplies continue to be tight as several of the facilities have experienced longer-than-expected delays in moving to full utilization. For example, the fourth train at the Atlantic LNG complex in Trinidad and Tobago was officially declared operational on December 15, 2005, but experienced start-up problems that delayed operating at full capacity.
Despite the decline in imports for the start of 2006, the Energy Information Administration (EIA) this year forecasts a significant increase in deliveries over the 631 Bcf delivered in 2005. In the April edition of the Short-Term Energy Outlook, EIA forecasts imports of 770 Bcf, owing at least in part to the numerous liquefaction trains that have come on-line in the Atlantic Basin since mid 2005. Unofficial data from the Internet-based bulletin boards of LNG terminals suggest deliveries have, in fact, increased in April. For example, Trunkline LNG's sendout has averaged almost 0.5 Bcf per day during the month. El Paso's Southern LNG Inc., located on Elba Island, Georgia, has averaged 0.4 Bcf per day in send-out to date in April.
NOAA Reports Warmer-than-Normal Temperatures for the First Quarter of 2006: The National Oceanic and Atmospheric Administration (NOAA) on April 17 released a report concerning temperature trends for the winter period of early 2006. During the heating season months of early 2006 (January through March), temperatures were the fifth warmest on record in the United States owing to a record warm January, according to NOAA.More then half the Lower 48 States experienced much warmer-than-average conditions. The average temperature for the contiguous United States for March was 44.0 degrees Fahrenheit, which was 1.5 degrees warmer than the mean from 1895-2005. This also was warmer than two-thirds of the March temperatures on record. When temperatures are warmer, natural gas heating demand decreases. As a result, natural gas prices generally have declined since mid-December and relatively high volumes of working gas remained in storage at the end of the winter. California on the other hand was colder-than-average with several cities in California (e.g., Redding, Sacramento, and San Francisco) reaching their coldest levels during March.
Natural Gas Transportation Update:
Florida Gas Transmission Company kept an Overage Alert Day in place until at least Wednesday, April 26, citing lower linepack and high temperatures in its Florida markets.The restraint has been set at various levels between 15 percent and 25 percent since last Tuesday, April 18 (shippers must stay within the set percent of their scheduled volumes), except for the weekend when the company allowed it to lapse.
Southern California Gas Company received approval from the California Public Utilities Commission to convert 4 Bcf of cushion gas in its storage facility to working gas.The new amount of working gas will be used as needed for the California Alternate Rates for Energy program, which is a State-run program to help keep rates for low-income energy customers below 80 cents per therm during winter months.The full 4 Bcf of gas is expected to be converted by July 1, 2006.
Several pipeline companies began scheduled maintenance this week affecting various amounts of capacity around the country.ANR Pipeline Company began work on Friday, April 21, on a 22-inch diameter pipeline near the St. John Compressor Station in Indiana.The company also plans to conduct engine maintenance at the St. John Compressor Station and the Bridgman Compressor Station in Michigan.The work, which will continue through the end of May, is expected to reduce capacity during that time by at least 115 MMcf per day at each of these maintenance locations.Gulf South Pipeline Company reduced capacity to 140 MMcf for less than 24 hours on Wednesday, April 26, during scheduled maintenance on a pipeline segment near New Orleans, Louisiana.Questar Pipeline Company plans to reduce capacity by 30,000 Dth per day to 350,000 Dth per day starting Tuesday, May 2, at the Thistle Creek Compressor Station in Utah County, Utah.The maintenance is expected to last through May 5.