With little in the way of fundamental changes, spot and futures prices showed modest gains for the week (Wednesday to Wednesday, July 30-August 6). The Henry Hub spot price gained a nickel on the week, ending trading yesterday (Wednesday, August 6) at $4.71 per MMBtu. On the NYMEX, the near-month futures contract (for September delivery) settlement price increased by $0.077 to $4.745 per MMBtu. The Energy Information Administration (EIA) reported that working gas inventories were 2,106 Bcf as of Friday, August 1, which is 10 percent below the 5-year (1998-2002) average for the week. Crude oil prices showed more upward movement, as a terrorist bombing in Indonesia and continuing unsettled conditions in Iraq contributed to concerns about oil supply as the market looks toward the upcoming winter. The spot price for West Texas Intermediate (WTI) crude oil gained $1.08 per barrel, or 21 cents per MMBtu, on the week to $31.77 per barrel ($5.48 per MMBtu) in yesterday's trading.
<![if !supportEmptyParas]> <![endif]>
<![if !vml]>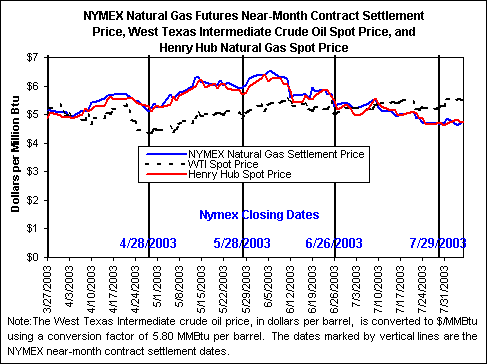 <![endif]>
<![if !supportEmptyParas]> <![endif]>
With only marginal changes in temperature trends that have remained fairly constant this summer, featuring hotter-than-normal temperatures in the desert southwest and cooler-than-normal temperatures in the Midwest, Northeast, and parts of the South, spot prices at most market locations could muster gains of only a dime or less for the week, with slightly larger increases in the Northeast and California. Gulf Coast price increases were limited to 6 cents or less, with the Henry Hub gaining a nickel to $4.71 per MMBtu. The Chicago citygate price increased by 7 cents, to $4.73 per MMBtu, while increases at Northeast locations ranged from pennies to 18 cents per MMBtu. The TRANSCO Zone 6 spot price for New York delivery increased 17 cents, to $5.19 per MMBtu. The largest price increases occurred in the Rockies, where maintenance at the Opal natural gas processing plant curtailed supply by as much as 600 MMcf per day beginning Tuesday, boosting prices in the region. For the week, Rockies locations' prices increased from 14 to 34 cents per MMBtu. The resulting supply shortfall affected related regional markets, such as West Texas locations, where price increases for the week were a dime or more. Likewise, California markets were a bit tighter, with price increases mostly 15 cents or more for the week. The Southern California Border Average price and the PG&E citygate price ended the week within a penny of each other, at $4.71 and $4.72 per MMBtu, respectively.
<![if !supportEmptyParas]> <![endif]>
Spot Prices ($ per MMBtu)

Thur.

Fri.

Mon.

Tues.

Wed.

31-Jul

1-Aug

4-Aug

5-Aug

6-Aug

Henry Hub

4.63

4.70

4.82

4.71

4.74

New York

5.03

5.05

5.24

5.19

5.21

Chicago

4.67

4.72

4.85

4.73

4.78

Cal. Comp. Avg,*

4.51

4.57

4.80

4.59

4.63

Futures ($/MMBtu)

Sept delivery

4.718

4.874

4.630

4.677

4.745

Oct delivery

4.748

4.909

4.670

4.717

4.788

*Avg. of NGI's reported avg. prices for: Malin, PG&E citygate,

and Southern California Border Avg.

Source: NGI's Daily Gas Price Index (http://intelligencepress.com).
<![if !supportEmptyParas]> <![endif]>
As with cash prices, futures prices experienced marginal gains for the week, as increases for all contracts for delivery in months through March 2004 were below 10 cents per MMBtu. The small week-to-week changes obscure the highly volatile trading sessions of Friday and Monday, during which the September contract rose by nearly 16 cents to end the trading week, then fell by nearly a quarter the following Monday. The increase was attributed to traders covering short positions and the existence of a couple of eastward-moving tropical waves in the western Atlantic that showed potential for upgrading. Monday's large price drop was likely a reaction to the dissipation of storm threats, plus continued forecasts for mild temperatures in most major gas-consuming regions. The September contract's settlement price of $4.630 per MMBtu on Monday was the lowest for a near-month contract in 8 months. Small gains on Tuesday and Wednesday pushed September's price up to $4.745 per MMBtu. As of yesterday's trading, the highest-priced gas through the next heating season was for January delivery, at $5.398 per MMBtu.
<![if !supportEmptyParas]> <![endif]>
Estimated Average Wellhead Prices

Feb-03

Mar-03

Apr-03

May-03

Jun-03

Jul-03

Price ($ per Mcf)

5.45

6.69

4.71

4.97

5.35

4.91

Price ($ per MMBtu)

5.31

6.52

4.59

4.84

5.21

4.79

Note: The price data in this table are a pre-release of the average wellhead price that will be published in forthcoming issues of the Natural Gas Monthly. Prices were converted from $ per Mcf to $ per MMBtu using an average heat content of 1,025 Btu per cubic foot as published in Table A2 of the Annual Energy Review 2001.

Source: Energy Information Administration, Office of Oil and Gas.
<![if !supportEmptyParas]> <![endif]>
Working gas in storage increased to 2,106 Bcf as of Friday, August 1, which is 234 Bcf, or 10 percent, below the 5-year (1998-2002) average (See Storage Figure). At 74 Bcf, the implied net change in stocks is 45 percent greater than the 5-year average and over twice the amount of net additions for the same week last year, although it is the lowest weekly inventory build since the week ended May 9. Stocks in the East region narrowed the gap from the 5-year average to under 10 percent for the first time since January 17, 2003. Factors contributing to the strong additions to storage include the price differential between spot and futures prices and the weather. The average differential between the Henry Hub spot price and prices for delivery in December 2003 through February 2004 was roughly 57 cents for the 5 trading days prior to August 1, which provides a strong incentive to inject gas into storage. Overall temperature trends within the 9 Census Divisions comprising the lower 48 states were little changed during the report week, showing continued below normal temperatures in major gas consuming regions in the eastern United States (See Temperature Map.) (See Deviation Map)
<![if !supportEmptyParas]> <![endif]>
All Volumes in Bcf

Current Stocks 8/1/03

Estimated Prior 5-Year (1998-2002) Average

Percent Difference from 5 Year Average

Implied Net Change from Last Week

One-Week Prior Stocks 7/25/03

<![if !supportMisalignedRows]>
<![endif]>

East Region

1,218

1,344

-9.4%

58

1,160

<![if !supportMisalignedRows]>
<![endif]>

West Region

304

311

-2.3%

4

300

<![if !supportMisalignedRows]>
<![endif]>

Producing Region

584

685

-14.7%

12

572

<![if !supportMisalignedRows]>
<![endif]>

Total Lower 48

2,106

2,340

-10.0%

74

2,032

<![if !supportMisalignedRows]>
<![endif]>

Source: Energy Information Administration: Form EIA-912, "Weekly Underground Natural Gas Storage Report," and the Historical Weekly Storage Estimates Database. Row and column sums may not equal totals due to independent rounding.

<![if !supportMisalignedRows]>
<![endif]> <![if !supportMisalignedRows]>
<![endif]> <![if !supportMisalignedRows]>
<![endif]>
<![if !supportEmptyParas]> <![endif]>
FERC Staff Finds No Manipulation in February Price Spike: An investigation into record high prices across the country in February 2003 revealed no evidence of market manipulation, according to a Federal Energy Regulatory Commission (FERC) report released in late July. After performing an analysis of a large sample of gas transactions and interviewing market participants, FERC staff said that prices across the country rose in apparent response to supply and demand conditions. Staff also noted that markets at the time consisted of few buyers and sellers, perhaps limiting liquidity and efficiency in the market. Prices for next-day delivery roughly tripled in less than a week during late February. The Henry Hub price rose from $6.74 per MMBtu on February 21 to $18.85 by February 25, according to prices reported in NGI's Daily Gas Price Index (published by Intelligence Press). At the national level, natural gas markets were under great stress during the period due to a severe cold front across much of the eastern half of the country. The cold front penetrated producing areas in the Midcontinent, temporarily reducing supplies. Lastly, the front came at the end of an unusually cold winter that had depleted storage levels to the low end of the 5-year range at the time. During the study period, prices in the Midwest and Northeast were particularly high because of physical delivery limitations, staff said, noting numerous operational flow orders issued by interstate pipeline and storage operators.
<![if !supportEmptyParas]> <![endif]>
Summary:
In the absence of significant changes to either supply or demand, spot and futures prices showed only modest gains for the week. Working gas inventories continued to increase at a higher-than-average pace, reaching 2,106 Bcf as of Friday, August 1.