Lingering low temperatures last week prompted spot prices at the Henry Hub to start the week up sharply gaining 19 cents to trade on Monday at $2.68 per MMBtu. Prices then declined sharply before rebounding on Thursday and Friday to end the week at $2.81 per MMBtu–32 cents higher than the previous Friday. Prices on the NYMEX futures market moved up most days to end the week up almost $0.45 per MMBtu at $2.800. Temperatures moderated in many parts of the country last week and rose to the 60s and 70s on Friday and Saturday in much of the Northeast. The latest National Weather Service (NWS) 6- to 10-day forecast calls for cool temperatures in the Midwest but for above normal temperatures to return to the Northeast. (See Temperature Map) (See Deviation Map). Net withdrawals from stocks increased to132 Bcf during the last week of February, which is more than double the level of a week earlier. Even though natural gas stocks continue to be 45 percent, or 577 Bcf, above the previous 5-year average, reports of the increase in storage withdrawals may have contributed to last week's spot and futures contract price rise. The price for West Texas Intermediate (WTI) crude oil rose above $23 per barrel on Tuesday and ended trading on Friday at its highest level since September 21, 2001--$23.87 per barrel, or $4.15 per MMBtu.
<![if !supportEmptyParas]> <![endif]>
<![if !vml]>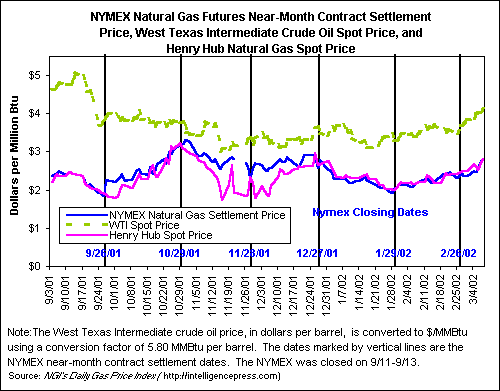 <![endif]>
<![if !supportEmptyParas]> <![endif]>
<![if !supportEmptyParas]> <![endif]>
Prices:
Spot prices last week displayed some of their highest daily variability since late December as prices moved between 5 and 20 cents per MMBtu most days at the Henry Hub. Prices at the Henry Hub finished the week at $2.81, their highest level since December 26, 2001. The price increases early in the week were in reaction to the cold temperatures at the start of the week. This was the case at most major market locations, especially those that serve the Northeast and the Southeast. The price at the New York citygate moved up $0.55 on Monday, then declined the same amount on Tuesday, before ending Friday at $3.10 per MMBtu. The Florida citygate price was reported to be $3.60 per MMBtu Monday, then moved down to end the week at $3.15.
<![if !supportEmptyParas]> <![endif]>
The daily settlement price for the NYMEX April delivery contract increased most days last week as it ended trading on Friday at $2.800, a gain of almost $0.45 from the previous week and $0.373 higher its first day as the near-month contract on February 27. The low temperatures in late February and resulting increase in storage utilization have been factors in the price increases on the NYMEX. Prices for all futures contracts through the end of 2002 increased last week and at the end of Friday's trading settled at prices ranging from April's $2.800 to December's $3.544 per MMBtu, on February 1, these same contracts settled at $2.198 for April and $2.894 for December.
<![if !supportEmptyParas]> <![endif]>
Spot Prices ($ per MMBtu)

Mon.

Tues.

Wed.

Thurs.

Fri.

4-Mar

5-Mar

6-Mar

7-Mar

8-Mar

Henry Hub

2.68

2.63

2.52

2.72

2.81

New York citygates

3.48

2.93

2.79

2.98

3.10

Chicago citygate

2.68

2.59

2.54

2.73

2.87

PG&E citygate

2.59

2.59

2.54

2.78

2.91

So. Cal. Border Avg.

2.55

2.53

2.45

2.67

2.84

Futures ($/MMBtu)

April delivery

2.488

2.467

2.566

2.756

2.800

May delivery

2.533

2.514

2.610

2.801

2.853

Source: NGI's Daily Gas Price Index (http://intelligencepress.com)
<![if !supportEmptyParas]> <![endif]>
Storage:
Estimated total net withdrawals from storage were 132 Bcf for the week ended March 1, according to the American Gas Association (AGA). This was the fourth largest weekly stock draw of this heating season, and matched the highest net withdrawals for this week over the 9-year history of AGA data. The total net withdrawal was more than twice the previous 5-year (1997-2001) average of 60 Bcf, while the net withdrawal of 77 Bcf in the East region was 64 percent greater than its 5-year average. The net drawdown of 46 Bcf in the Producing region is the highest level of withdrawals for this week in the 9-year data series, and is nearly 50 percent greater than the next highest drawdown of 31 Bcf during this week in 1994. This storage activity occurred during one of the coldest weeks of the winter so far, as measured by gas-home-heating-customer-weighted heating degree-days (HDDs), according to statistics published by the National Weather Service. HDDs for this week in five of the nine Census Divisions comprising the lower 48 states exceeded normal by double-digit percentages, ranging from 14 percent greater in the South Atlantic to 55 percent greater in the West South Central, which comprises a large portion of the Producing region. The nation as a whole was 4 percent colder than normal by this HDD measure. Despite the large withdrawals for the week, current stocks remain more than 40 percent above the EIA-estimated 5-year average stock levels. (See Storage Figure)
<![if !supportEmptyParas]> <![endif]>
All Volumes in Bcf

Current Stocks (Fri,3/1)

Estimated Prior 5-Year (1997-2001) Average

Percent Difference from 5 Year Average

Net Change from Last Week

One-Week Prior Stocks (Fri, 2/22)*

East Region

1,001

741

35%

-77

1,078

West Region

258

184

40%

-9

267

Producing Region

617

373

65%

-46

663

Total Lower 48

1,876

1,299

45%

-132

2,008

Note: net change data are estimates published by AGA on Wednesday of each week. All stock-level Figures are EIA estimates based on EIA monthly survey data and weekly AGA net-change estimates. Column sums may differ from Totals because of independent rounding.
<![if !supportEmptyParas]> <![endif]>
Other Market Trends:
In its latest Short-Term Energy Outlook, released on Wednesday, March 6, the Energy Information Administration (EIA) projects that natural gas wellhead prices in 2002 will average $2.04 per thousand cubic feet (or about $1.98 per MMBtu, using an average heat content of 1,027 Btu per cubic foot of dry natural gas), more than 50 percent less than in 2001. Barring arrival of some very cold weather in the remaining weeks of the heating season, EIA projects that natural gas demand for the first quarter of 2002 will be 6.0 percent lower than in the first quarter of 2001. Due to the lower than normal heating degree-days this winter, EIA is calling for and end-of-March natural gas stock level of 1,541 Bcf. This level of working gas would be the highest end-of-heating-season volume since 1992 and more than twice the 742 Bcf on hand on March 31, 2001.
<![if !supportEmptyParas]> <![endif]>
Summary:
Spot prices at the Henry Hub ended last week at their highest level in over 2 months as the lingering affects of some this winter's coldest weather continued to impact prices. The low temperatures in late February resulted in estimated storage withdrawals of almost 19 Bcf per day in the last week of February, more than twice the previous week. This increase in the stock drawdown appears to have contributed to a $0.45 per MMBtu rise in the April NYMEX contract to $2.80, even though total stocks are well above the 5-year average.