Seasonal temperatures in the Northeast and an early-week cooling trend in Texas and parts of the Southeast translated into little temperature-driven demand in many markets for much of last week. This resulted in a steady decline for spot prices in most regions. (See Temperature Map) (See Deviation from Normal Temperatures Map). On Monday, September 26, the Henry Hub spot price fell below $2.00 per MMBtu for the first time since November 1999, and stayed below $2.00 for the entire week. It ended trading Friday at $1.84 per MMBtu, 20 cents below the previous Friday's level. Likewise, the futures contract for October delivery at the Henry Hub fell sharply on Monday, losing over 19 cents to $1.910 per MMBtu. The October contract closed out trading on Wednesday down further to $1.830 per MMBtu. Crude oil prices took their largest one-day drop since the Persian Gulf War on Monday, amid signs of impending recession and speculation that OPEC would not decrease oil production. After declining by $1.25 per barrel the previous Friday, the spot price for West Texas Intermediate (WTI) crude oil fell $4.03 last Monday, then closed last Friday at $23.45 per barrel, or $4.04 per MMBtu.
<![if !supportEmptyParas]> <![endif]>
<![if !vml]>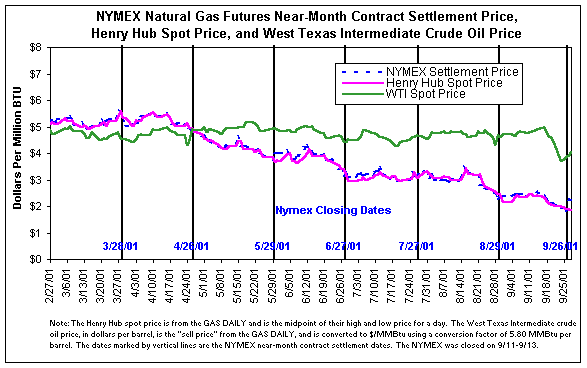 <![endif]>
<![if !supportEmptyParas]> <![endif]>
Prices:
Spot prices trended down significantly in most markets last week, responding to the combination of reduced demand and high storage levels. By the end of Thursday's trading (devoted primarily to arranging for spot gas for delivery through the last three days of September), prices had fallen from 5 to 15 cents per MMBtu at most locations. With weak demand, and a two and one-half year low price for a near-month contract of $1.830, Friday's trading session for the first spot deliveries in the new month fell further. By Friday's close, prices at nearly all locations tracked by Gas Daily were below $2.00 per MMBtu, with the exception of some points in the Northeast and Florida citygates served by Florida Gas Transmission (FGT). While currently having the highest gas prices in the nation, FGT also experienced last week's largest price drop as cool, rainy weather in the Florida peninsula led to a Friday-to-Friday decrease of more than $0.50 to $2.66 per MMBtu. Prices in the Rockies, the San Juan Basin, and California ran counter to the downward trend. Rockies and San Juan prices rose nearly uniformly throughout the week, gaining 25-40 cents to around $1.40 and $1.50 per MMBtu, respectively. In California, prices slipped a bit mid-week but recovered on Thursday and Friday. Prices in southern California (on SoCAL) and northern California (on PG&E), at $1.88 and $1.73 per MMBtu, were up about 9 and 6 cents, respectively, for the week.
<![if !supportEmptyParas]> <![endif]>
Futures prices were also down for the week. The October contract price fell more than 19 cents on Monday to $1.910 per MMBtu and became the first near-month contract to slip below $2 since November 1999. The October contract expired on Wednesday, September 26, at $1.830 per MMBtu—the lowest near-month closing price since the April 1999 contract's expiry at $1.810 on March 29, 1999. The October contract's final price represents a loss of nearly 25 percent since becoming the near-month contract on August 30. However, the November contract, on becoming the near-month contract on Thursday, held its previous day's price at $2.253 per MMBtu, and held up well on Friday in the face of falling cash prices, ending the week at $2.244 per MMBtu. All out-month contracts were down from Friday to Friday, with losses in contracts for deliveries in the next 12 months off around 10 to 20 cents per MMBtu. The price for December delivery fell 21 cents to $2.622 per MMBtu, while the January and February contracts were down 18 and 16 cents, respectively, to $2.832.
<![if !supportEmptyParas]> <![endif]>
Spot Prices ($ per MMBTU)-Selected Trading Centers

Mon. 9/24

Tues. 9/25

Wed. 9/26

Thur. 9/27

Fri. 9/28

Henry Hub

1.99

1.95

1.90

1.90

1.84

New York citygates

2.31

2.33

2.29

2.26

2.12

Chicago citygates

2.02

1.97

1.93

1.93

1.87

Northern CA PG&E

1.80

1.80

1.79

1.70

1.73

Southern CA (SOCAL)

1.85

1.80

1.77

1.80

1.88

Futures (Daily Settlement, $MMBTU)

October Delivery

1.910

1.925

1.830

expired

expired

November Delivery

2.275

2.300

2.253

2.253

2.244

December Delivery

2.660

2.690

2.633

2.624

2.622

Source: Financial Times Energy, Gas Daily.
<![if !supportEmptyParas]> <![endif]>
Storage:
The estimated additions to underground storage averaged 13 Bcf per day during the third week of September as the American Gas Association reported that net injections were 91 Bcf for the week ended Friday, September 21. This estimate is virtually the same as the previous week's 90 Bcf and brings EIA's estimate of working gas to 2,884 Bcf. Throughout the spring and summer, the industry has sustained a robust refill rate and since the end of March has added an estimated 2,142 Bcf—43 percent above the previous 6-year average and a record for the period. All three storage regions continue to add to stocks at rates that exceed their 6-year averages, resulting in steadily increasing surpluses over their respective 6-year average inventory levels. Estimated storage levels in the Producing region are 23 percent above its 6-year average. Most storage facilities are expected to continue to add to stocks during the nearly 6 weeks remaining in the refill season. Based on EIA data, net injections have averaged almost 7.4 Bcf per day for this period over the previous 6 years. If this rate is realized, it would result in a projected working gas stock level of 3,179 Bcf on November 1—about 244 Bcf above the 6-year average and 480 Bcf higher than last year's 2,699 Bcf.
<![if !supportEmptyParas]> <![endif]>
All Volumes in BCF

Current Stocks (Fri,9/21)

Estimated 6-Year (1995-2000) Average

Percent Difference from 6 Year Average

Net Change from Last Week

One-Week Prior Stocks (Fri,9/14)

<![if !supportMisalignedRows]>
<![endif]>

East Region

1,682

1,637

2.8%

58

1,624

<![if !supportMisalignedRows]>
<![endif]>

West Region

389

341

14.1%

8

381

<![if !supportMisalignedRows]>
<![endif]>

Producing Region

813

661

23.0%

25

788

<![if !supportMisalignedRows]>
<![endif]>

Total Lower 48

2,884

2,639

9.3%

91

2,793

<![if !supportMisalignedRows]>
<![endif]>

Note: net change data are estimates published by AGA on Wednesday of each week. All stock-level Figures are EIA estimates based on EIA monthly survey data and weekly AGA net-change estimates. Column sums may differ from Totals because of independent rounding.

<![if !supportMisalignedRows]>
<![endif]> <![if !supportMisalignedRows]>
<![endif]> <![if !supportMisalignedRows]>
<![endif]> <![if !supportMisalignedRows]>
<![endif]>
<![if !supportEmptyParas]> <![endif]>
Summary:
Spot and futures prices continued to trend down, as seasonal temperatures, growing signs of economic recession, falling oil prices, and above-average inventories placed steady downward pressure on the market.
<![if !supportEmptyParas]> <![endif]>