Spot prices at the Henry Hub declined to $3.84 per MMBtu on Friday, the lowest level since August 1, 2000. Prices at the Henry Hub, the Northeast, and the Midwest reflected the mild to cooler-than-normal temperatures in the eastern two-thirds of the nation coupled with anticipation of the Memorial Day holiday weekend—typically one of the lowest-demand weekends of the year. In California, early to mid-week prices rose to $10 per MMBtu and beyond in response to soaring temperatures, but then sagged somewhat with moderating temperatures later in the week. (See Temperature Map)<![if !supportNestedAnchors]><![endif]> (See Deviation from Normal Temperatures Map) The NYMEX futures contract for June delivery at the Henry Hub fell below the $4.00 per MMBtu level to end the week at $3.973. Net injections to storage for the week ended Friday, May 18 were 118 Bcf, marking the fourth week in a row of record-setting stock builds.
<![if !supportEmptyParas]> <![endif]>
<![if !vml]>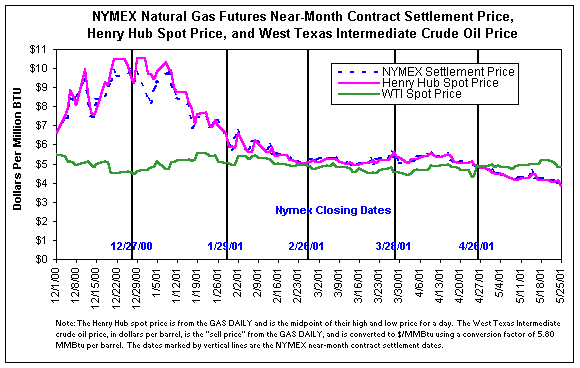 <![endif]>
Prices:
A surprise snowstorm hit Denver Sunday evening (May 20), ushering in winter-like temperatures in the mountain states for 2-3 days, and boosting Rockies prices by as much as $0.50 before warming temperatures on Wednesday reduced the gain by a nickel to a dime. In contrast, a pre-summer heat wave pushed temperatures well into the 80s and 90s in California and Arizona and sent the PG&E citygate price on Monday to $7.66 per MMBtu —nearly double its Friday price of $3.97—and boosted SOCAL prices by over $2.50 to $12.61. Prices continued to rise in California through Wednesday, when moderating temperatures and forecasts for further cooling induced some price softening. By Friday, prices at the PG&E citygate stood at $4.24 per MMBtu, down $3.45 from Monday's levels but $0.28 higher than the previous Friday. Prices on SOCAL ended the week at $10.30, up $0.32 from the previous Friday. In the Northeast, mild to cooler-than-normal temperatures contributed to softening prices there early in the week, although prices firmed somewhat by midweek. However, by week's end, cash prices were falling nearly everywhere. Several pipelines were warning of potential high-inventory operational flow orders (OFOs) in anticipation of marketers looking for a place to park surplus gas. By Friday, prices at Chicago and New York citygates were down $0.20 and $0.26, respectively from the previous Friday and ended the week trading at $3.94 and $4.19 per MMBtu.
<![if !supportEmptyParas]> <![endif]>
The NYMEX futures contract for June delivery continued its general price decline, during which it has seen 4 consecutive weeks of Friday-to-Friday losses. It settled on Friday at $3.973 per MMBtu, after having lost $0.318 for the week. This is the first sub-$4 settlement for the near-month contract since August 1, 2000. Since becoming the near-month contract on April 27, the June contract price dropped by nearly $1.00, or almost 19 percent. As of Friday, the highest-priced contract through the end of the next heating season (Nov. through Mar.) was January's $4.623 per MMBtu, while March 2002 traded at the lowest level at $4.345.
<![if !supportEmptyParas]> <![endif]>
Spot Prices ($ per MMBTU)-Selected Trading Centers

Mon. 5/21

Tues. 5/22

Wed. 5/23

Thur. 5/24

Fri.   5/25

Henry Hub

4.15

4.04

4.10

4.13

3.84

New York citygates

4.53

4.43

4.47

4.49

4.19

Chicago citygates

4.23

4.11

4.17

4.21

3.94

Southern CA (SOCAL)

12.61

13.25

13.83

12.62

10.30

Futures (Daily Settlement, $MMBTU)

Near-Month (June)

4.113

4.123

4.113

4.054

3.973

July

4.193

4.182

4.172

4.118

4.033

Source: Financial Time Energy, Gas Daily
<![if !supportEmptyParas]> <![endif]>
Storage:
For the fourth consecutive week, net storage injections exceeded 100 Bcf with an estimated 118 Bcf added during the week ended Friday, May 18, according to the American Gas Association (AGA). The most recent addition surpassed the 6-year average by 23 percent and put stocks well within the observed range for 1995-2000 (See Storage Figure). Except for the West Region, the difference between current stocks and the 6-year average is now less than 10 percent. Weekly storage injection activity continues to set records in the 8-year history of AGA data. The East, the only region not to establish a new record, added 64 Bcf, second only to 1995 when 86 Bcf was injected. (The stock estimate for the East Region has been adjusted downward to reflect AGA's downward revision of 13 Bcf in the regional net injections for last week.) The Producing and West regions exceeded their net injection records by 8 and 15 percent respectively by adding 39 and 15 Bcf. Even if net injections were to slow to average rates for the remainder of the refill season, natural gas stocks entering the upcoming heating season would be higher than 2 out of the last 5 years.
<![if !supportEmptyParas]> <![endif]>
All Volumes in BCF

Current Stocks (Fri, 5/18)

Estimated 6-Year (1995-2000) Average

Percent Difference from 6 Year Average

Net Change from Last Week

One-Week Prior Stocks
(Fri, 5/11)

<![if !supportMisalignedRows]>
<![endif]>

East Region

680

736

-7.7%

64

616

<![if !supportMisalignedRows]>
<![endif]>

West Region

200

230

-12.9%

15

185

<![if !supportMisalignedRows]>
<![endif]>

Producing Region

407

443

-8.1%

39

368

<![if !supportMisalignedRows]>
<![endif]>

Total Lower 48

1,287

1,409

-8.6%

118

1,169

<![if !supportMisalignedRows]>
<![endif]>

Note: net change data are estimates published by AGA on Wednesday of each week. All stock-level Figures are EIA estimates based on EIA monthly survey data and weekly AGA net-change estimates. Column sums may differ from Totals because of independent rounding.

<![if !supportMisalignedRows]>
<![endif]> <![if !supportMisalignedRows]>
<![endif]> <![if !supportMisalignedRows]>
<![endif]> <![if !supportMisalignedRows]>
<![endif]>
<![if !supportEmptyParas]> <![endif]>
Other Market Trends:
In late November of last year, as gas prices pushed past $5.00 per MMBtu and climbed above $6, natural gas became more expensive than crude oil and petroleum products, reversing the long-time, typical price relationship between the two energy sources. This order reversal held for 5 months, but in late April the spot price for gas at the Henry Hub fell below the equivalent spot price for West Texas Intermediate crude oil, and has stayed below since April 27. As of May 21, Natural Gas Week quoted prices for natural gas at the New York citygate at $4.65 per MMBtu and for No. 2 heating oil in New York harbor at $5.52, while a similar comparison for the Gulf Coast had natural gas at $4.39 per MMBtu and No. 2 at $5.37.
<![if !supportEmptyParas]> <![endif]>
Summary:
The generally lower cash prices in recent weeks contributed to a fourth consecutive week of record-setting storage injections. Weather-driven demand in the West caused significant price jumps in the region that proved to be short-lived by the end of the week. The near-month (June) futures contract has fallen nearly $1.00 per MMBtu in 4 weeks and has settled at its lowest level since last August.
<![if !supportEmptyParas]> <![endif]>