U.S. ENERGY INFORMATION ADMINISTRATION
WASHINGTON DC 20585
MEDIA ADVISORY
May 15, 2019
Access state energy information in one place
EIA launched its new State Energy Portal today. Designed to deliver timely state-specific energy information in one place, the new portal has customizable visualizations that automatically populate each time a user returns to the page. The portal provides answers to questions about key energy issues for the 50 states (and the District of Columbia), 5 territories, and regions of interest. Users with energy questions will find this portal to be a valuable, time-saving tool in finding specific information with minimal effort.
Users can select data points and time periods of interest for topics such as: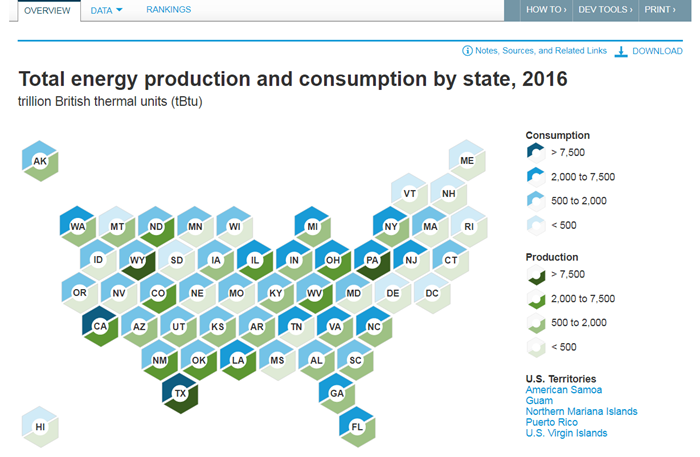 Source: U.S. Energy Information Administration, State Energy Portal
Each custom dashboard draws from more than 1,700 state- and regional-level data series, which pull from more than 50 data sources, including sources outside of EIA. Users can filter much of the data in the charts and tables by data frequency, time period, geographic location, energy source, and sector. In addition, users can download their custom charts and graphs on-demand, making it easier to incorporate them into reports, or they can embed dynamic charts on their websites. Raw data sets are also available for download through several formats.
EIA is soliciting feedback as the public beta phase continues over the coming months. We invite you to try the portal's features and send us your thoughts.
The product described in this media advisory was prepared by the U.S. Energy Information Administration (EIA), the statistical and analytical agency within the U.S. Department of Energy. By law, EIA's data, analysis, and forecasts are independent of approval by any other officer or employee of the United States Government. The views in the product and media advisory therefore should not be construed as representing those of the Department of Energy or other federal agencies.
EIA Press Contact: Dennis O. Mesina, 202-586-1377, Dennis.Mesina@eia.gov
EIA-2019-03