---
In the News:
Australian liquefaction capacity continues to expand
Australia is significantly adding to global liquefied natural gas (LNG) supply capacity. Two new facilities started LNG exports within the last 12 months, and 5 more projects are under construction, scheduled to come online by 2018. With this growth, Australia is expected to overtake Qatar and Malaysia to become the world's largest LNG exporter, with 11.4 billion cubic feet per day (Bcf/d) of liquefaction capacity by 2019.
Australia began its massive build-up of new liquefaction capacity in the late 2000s on the back of high oil prices and growing demand in Asia Pacific countries. Four of the seven new projects (Gorgon, Prelude, Wheatstone, and Ichthys) are located off the north coast of Western Australia and three (Queensland Curtis (QCLNG), Gladstone, and Australia Pacific) are located in the eastern part in Queensland on Curtis Island. All three projects in Queensland use coalbed methane (CBM) to make LNG. The first of these projects to come online–QCLNG–began exports in December 2014, and increased its capacity in July 2015. Gladstone LNG shipped its first cargo in October 2015, while Australia Pacific is scheduled to come online within the next few months.
Next year, Australia is projected to add 3.1 Bcf/d of new liquefaction capacity, followed by another 3.5 Bcf/d in 2017 from projects in the western part of Australia. When all projects are online, Australia will have added 8.2 Bcf/d of new liquefaction capacity in 2014-17, bringing the total liquefaction capacity to 11.4 Bcf/d, or about one-third of the global LNG trade as of 2014. The United States will follow Australia with five facilities under construction having a total liquefaction capacity of around 10 Bcf/d. By the end of the decade, if all projects are built, the United States is slated to become the third-largest liquefaction capacity holder in the world, after Australia and Qatar.
Australian CBM-to-LNG projects use coalbed methane as a feedstock gas. These projects have relatively longer ramp-up rates because of the required extraction of large quantities of water to depressurize the coal seams. De-watering of fields can take 6 to 12 months before peak production can be reached. Also, because of low productivity per well and steep declines in coal seam fields, maintaining stable production requires ongoing development of thousands of new wells.
Before the start of construction of the terminals, and the fall in oil prices, the LNG export projects entered into contracts with buyers. More than 90% of new Australian liquefaction capacity is contracted to buyers in the Pacific Basin. Japan accounts for the largest share of contracted LNG from Australia, both from existing and new projects (35% and 46%, respectively). China is the second-largest customer, with contracts for 23% of the new liquefaction capacity. More than 2 Bcf/d of new liquefaction capacity will be sold into the general market, and is not contracted with specific buyers or destinations.
Overview:
(For the Week Ending Wednesday, November 18, 2015)
Natural gas prices movements were mixed over the report week (Wednesday, November 11, through Wednesday, November 18), and remained relatively low. The Henry Hub spot price began the week at $2.11 per million British thermal units (MMBtu) last Wednesday and ended the week at $2.10/MMBtu.
At the New York Mercantile Exchange (Nymex), the price of the near-month futures contract (December 2015) began the week at $2.263/MMBtu and ended the report week up at $2.347/MMBtu yesterday.
Working natural gas in storage increased by 15 Bcf, rising to 4,000 Bcf as of Friday, November 13. The net injection into storage resulted in storage levels 11% above a year ago and 5% above the five-year (2010-14) average for this week.
The total oil and natural gas rig count fell by 4 from the previous week, with 767 units in service for the week ending Friday, November 13, according to data from Baker Hughes Incorporated, and was 60% lower than year-ago levels. The oil rig count increased by 2 units to 574, and the natural gas rig count declined by 6 to 193 units.
The natural gas plant liquids composite price at Mont Belvieu, Texas, decreased by 3.8% to $4.90/MMBtu for the week ending Friday, November 13. Prices of all fuels declined. The prices of natural gasoline, ethane, propane, butane, and isobutane declined by 2.9%, 1.6%, 3.3%, 3.4%, and 2.0%, respectively.
Prices/Demand/Supply:
Prices remained relatively unchanged at most market locations. The Henry Hub spot price remained flat, decreasing by 1&cent from $2.11/MMBtu last Wednesday to $2.10/MMBtu yesterday Prices remain around their lowest level since spring 2012, when prices were at all-time low, on par with prices in late 1990s, with a new record-high storage inventory and natural gas production that remains resilient.
Nationally, the weather was mixed for the report week. The Rockies and Pacific Northwest experienced colder-than-average temperatures, while warmer weather prevailed across other areas of the country. Prices at Chicago Citygate began the report week at $2.16/MMBtu and closed the week at $2.21/MMBtu. Despite the first winter storm in parts of Colorado and Nevada, prices in those regions remained relatively flat. Natural Gas Intelligence's Rocky Mountain Regional Average price started the week at $2.07/MMBtu and gained 4&cent over the report week to close at $2.11 yesterday.
Prices mixed in the Northeast. New England prices continued to decline from the previous week amid mild temperatures. Algonquin Citygate, which serves Boston-area consumers, opened at $2.69/MMBtu last Wednesday and closed at $1.91 yesterday, a decrease of 78&cent. Similarly, at the Tennessee Zone 6 200L serving lower New England, prices decreased by 73&cent, Wednesday-to-Wednesday, falling from $2.64/MMBtu to $1.91/MMBtu. In contrast, at Transcontinental Pipeline's Zone 6, which serves New York City, prices increased from $1.53/MMBtu last Wednesday to $2.09/MMBtu yesterday.
Marcellus prices increase slightly, but remain low. Marcellus prices remained the lowest in the country, despite moderate increases during the report week. At Tennessee's Zone 4 Marcellus trading point, prices began at $1.00/MMBtu last Wednesday and increased to $1.23/MMBtu yesterday. Similarly, on Transco's Leidy Line, prices increased from $1.05/MMBtu to $1.29 Wednesday-to-Wednesday. At Dominion South, which serves customers in portions of Pennsylvania, Ohio, Maryland, West Virginia, and Virginia, prices increased by 29&cent, from $1.13/MMBtu to $1.42/MMBtu.
Nymex prices increase slightly. At the Nymex, the December contract began the week at $2.263/MMBtu and ended the report week up slightly at $2.347/MMBtu yesterday. Expectations of a strong El Niño, which is likely to limit cold weather in the Northeast and Midwest for much of the winter, are keeping prices relatively low. The 12-month strip, which averages the December 2015 through November 2016 Nymex prices, closed at $2.563/MMBtu yesterday, 2.7&cent higher than the week-ago price of $2.536/MMBtu, reflecting moderate temperatures and record-high storage.
Supply declines slightly. Dry natural gas production declined by 0.2% this week and averaged 70.9 billion cubic feet per day (Bcf/d), according to Bentek Energy data. Imports of natural gas from Canada declined by 3%, led by a 65% decrease in imports to the Northeast. LNG sendout remained at minimal level. Overall, supply decreased by 0.6% week over week but was 0.8% higher than the same week last year.
Consumption increases. U.S. consumption increased by 1% overall, compared to the last report week, led by a 10% increase in the residential/commercial sectors. Consumption of natural gas in power generation declined by 8%, with declines in all regions except Midcontinent. Industrial sector demand increased by 1% week-over-week. Exports to Mexico increased slightly, by 2%, and averaged 2.7 Bcf/d, 39% higher than exports for the same week last year.
Storage
Working gas stocks reach a record 4,000 Bcf. Working gas climbed by 15 Bcf for the week ending November 13, exceeding the record high of 3,985 Bcf reported last week. The net injection for the week was 39 Bcf lower than the 54 Bcf injection reported the previous week. This injection compares with the five-year (2010-14) average withdrawal of 12 Bcf for the week and last year's withdrawal of 9 Bcf. Working gas inventories for the report week were 404 Bcf (11%) higher than last year at this time and 207 Bcf (5%) higher than the five-year average.
EIA is now reporting for five storage regions. EIA released the new five-region breakout on Monday, November 16, for the report week ending November 6. The five-region breakout estimates had a slightly higher net injection for the week ending November 6 than the previously released three-region report. The difference in the estimates for the week ending November 6 resulted from the reestimation of working gas levels using the five-region structure and rounding, and did not result from revisions received from respondents. Information about the new estimates can be found at: http://ir.eia.gov/ngs/faqregions.html.
Storage injections are smaller than market expectations. Market expectations, on average, called for a build of 19 Bcf for this week. When the EIA storage report was released at 10:30 a.m. on November 19, the December Nymex price rose about 3&cent, to $2.35/MMBtu, and remained around that level in the following hour.
From April 3 (the beginning of the injection season) through November 13, net storage injections totaled 2,524 Bcf, or 245 Bcf lower than the record of 2,769 Bcf injected during the same 33 weeks in 2014. During these weeks for the years 2010-14, net injections into storage averaged 2,143 Bcf. The estimated average unit value of the natural gas put into storage from April 3 to November 13 this year is $2.67/MMBtu, 36% lower than the average value of $4.20/MMBtu for the same 33 weeks last year.
Temperatures during the storage report week are warmer than normal. Temperatures in the Lower 48 states averaged 52&deg for the storage report week, 4&deg warmer than the 30-year normal temperature and 3&deg warmer than the average temperature during the same week last year. There were 99 population-weighted heating degree days (HDD) during this report week, 9 HDD fewer than the five-year average and 18 HDD fewer than during the same period last year. There were also 8 population-weighted cooling degree days (CDD) this report week, 6 CDD more than the five-year average and 5 CDD more than this week last year.
See also: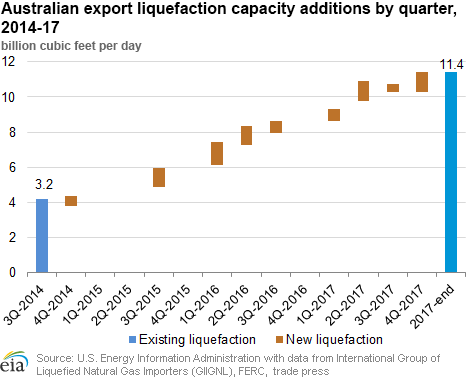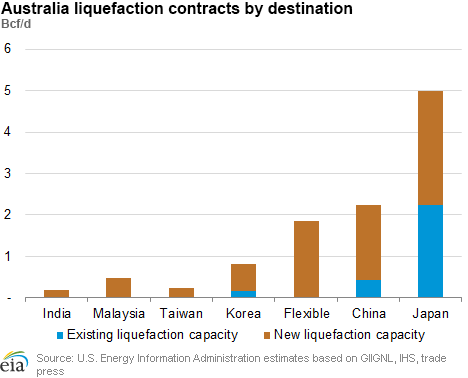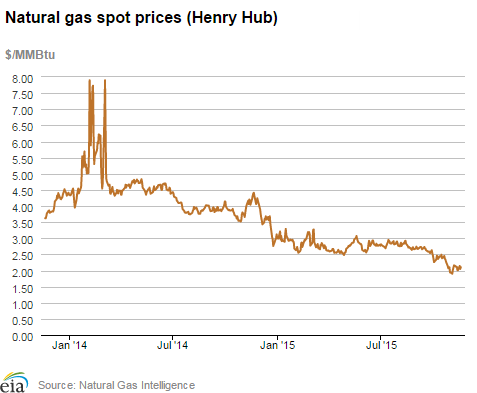 Spot Prices ($/MMBtu)

Thu,
12-Nov

Fri,
13-Nov

Mon,
16-Nov

Tue,
17-Nov

Wed,
18-Nov

Henry Hub

2.01

2.01

2.14

2.05

2.10

New York

1.79

1.85

2.01

1.95

2.09

Chicago

2.11

2.08

2.14

2.09

2.21

Cal. Comp. Avg,*

2.30

2.31

2.50

2.38

2.42

Futures ($/MMBtu)
December contract

2.260

2.361

2.385

2.371

2.347

January contract

2.445

2.526

2.554

2.527

2.495

*Avg. of NGI's reported prices for: Malin, PG&E citygate, and Southern California Border Avg.
Source: NGI's Daily Gas Price Index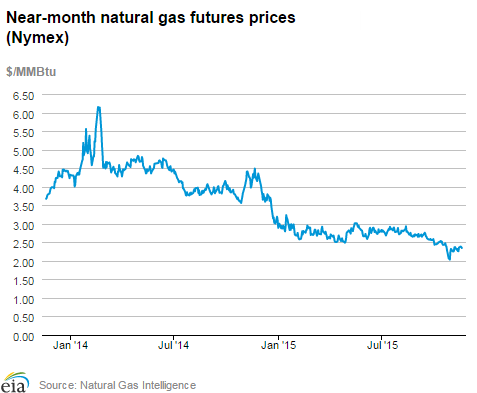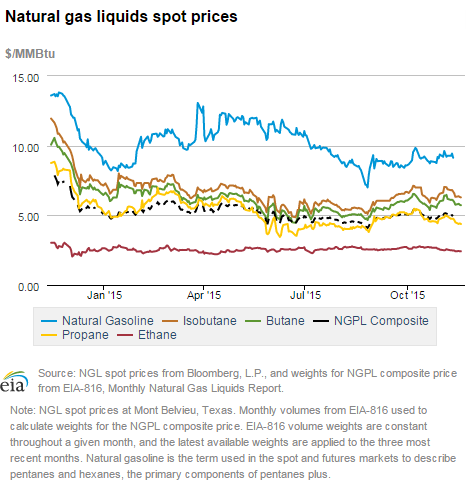 U.S. natural gas supply - Gas Week: (11/11/15 - 11/18/15)

Percent change for week compared with:

last year

last week

Gross production

2.14%

-0.23%

Dry production

2.12%

-0.23%

Canadian imports

-13.96%

-3.30%

West (net)

-5.59%

0.52%

Midwest (net)

-10.83%

5.76%

Northeast (net)

-70.94%

-64.54%

LNG imports

-62.72%

-80.99%

Total supply

0.78%

-0.64%

Source: BENTEK Energy LLC
U.S. consumption - Gas Week: (11/11/15 - 11/18/15)

Percent change for week compared with:

last year

last week

U.S. consumption

-23.6%

1.1%

Power

0.9%

-7.8%

Industrial

-10.8%

1.3%

Residential/commercial

-42.4%

10.5%

Total demand

-22.3%

1.1%

Source: BENTEK Energy LLC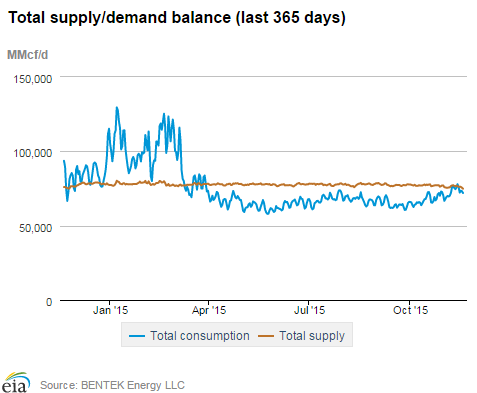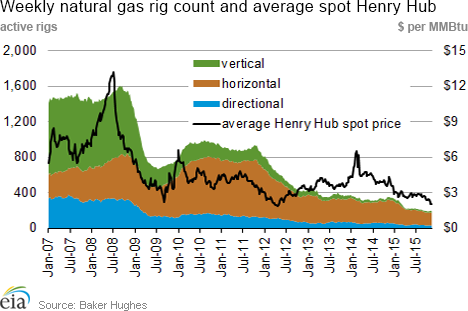 Rigs

Fri, November 13, 2015

Change from

last week

last year

Oil rigs

574

0.35%

-63.62%

Natural gas rigs

193

-3.02%

-44.86%

Miscellaneous

0

0.00%

0.00%
Rig numbers by type

Fri, November 13, 2015

Change from

last week

last year

Vertical

108

2.86%

-69.49%

Horizontal

587

0.34%

-57.12%

Directional

72

-11.11%

-64.88%

Source: Baker Hughes Inc.
Working gas in underground storage

Stocks
billion cubic feet (bcf)

Region

2015-11-04

2015-11-27

change

East

910

919

-9

Midwest

1,083

1,109

-26

Mountain

203

211

-8

Pacific

361

375

-14

South Central

1,323

1,342

-19

Total

3,880

3,956

-76

Source: U.S. Energy Information Administration
Working gas in underground storage

Historical comparisons

Year ago
(11/13/14)

5-year average
(2010-2014)

Region

Stocks (Bcf)

% change

Stocks (Bcf)

% change

East

892

4.7

926

0.9

West

1,051

6.9

1,091

3.0

Producing

185

15.7

213

0.5

Total

3,596

11.2

3,793

5.5

Source: U.S. Energy Information Administration
Temperature -- heating & cooling degree days (week ending Nov 12)

HDD deviation from:

CDD deviation from:

Region

HDD Current

normal

last year

CDD Current

normal

last year

New England

105

-43

-33

0

0

0

Middle Atlantic

91

-49

-37

0

0

0

E N Central

131

-28

-35

0

0

0

W N Central

132

-42

-61

0

0

0

South Atlantic

55

-35

-33

32

17

22

E S Central

61

-31

-46

6

4

6

W S Central

35

-23

-40

18

9

15

Mountain

160

4

30

0

-2

-5

Pacific

89

15

55

0

-1

-2

United States

99

-23

-18

8

4

5

Note: HDD = heating degree-day; CDD = cooling degree-day

Source: National Oceanic and Atmospheric Administration
Average temperature (°F)
7-Day Mean ending Nov 12, 2015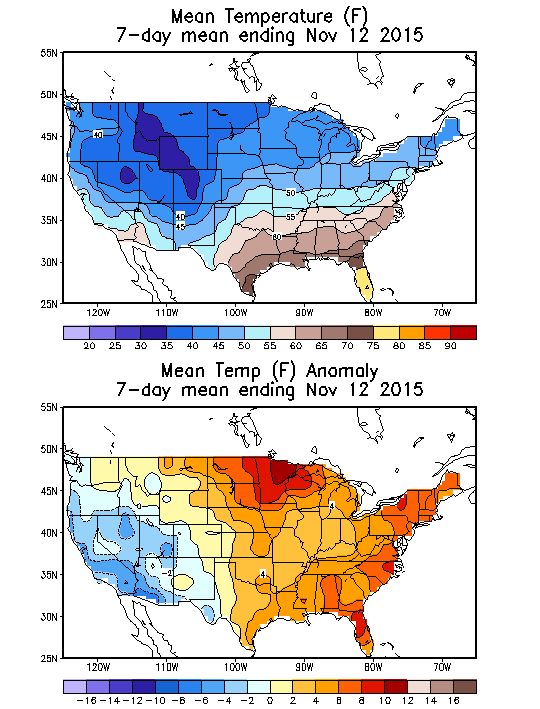 Source: NOAA/National Weather Service
Deviation between average and normal (°F)
7-Day Mean ending Nov 12, 2015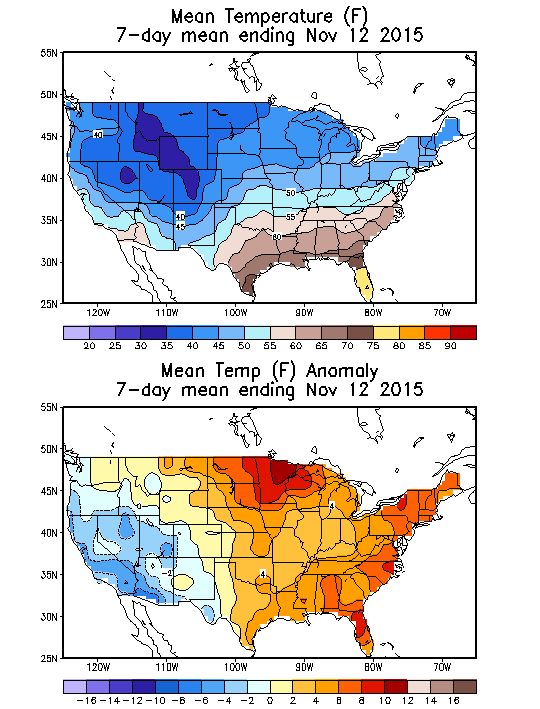 Source: NOAA/National Weather Service