---
In the News:
Northeastern trading points set record low prices
Responding to robust supply, mild temperatures, and low holiday demand, several trading locations in the Northeast and Mid-Atlantic regions set record low natural gas spot prices this past week, as prices fell well below $1 per million British thermal units (MMBtu) on July 2.
Following a cold and snowy winter, natural gas prices in the Northeast have been relatively low since April. Prices at Transcontinental Zone 6 New York (Transco Z6 NY) and Algonquin Citygate, with service to Boston, have averaged $2.43/MMBtu and $2.21/MMBtu, respectively, from April 1 through July 8. In New York, the average price over that period this year is 35% lower than the same period in 2014, and the average price in Boston is 50% lower this year compared to last year. Prices at the Algonquin Citygate reached a historic low on June 5, dropping to $1.19/MMBtu, and fell even lower, to 82¢/MMBtu, on July 2. Similarly, in New York, prices neared their historic low on June 5 at $1.38/MMBtu, and dropped to a record low 89¢/MMBtu on July 2. The July 2 spot price was for gas delivered July 3 through July 5 for the Fourth of July holiday weekend.
There are several factors contributing to the lower prices this year, including year-over-year growth in production, particularly from the Marcellus, and higher natural gas storage volumes. Particular factors that contributed to the record low prices recorded last Thursday include:
Maintenance completion: Maintenance associated with the Transcontinental Leidy Line Southeast Expansion, which started on June 1 and constrained throughput at several compressor stations, was completed on July 2, allowing an additional 0.2 billion cubic feet (Bcf) of production to move east out of Pennsylvania. Northeast production increased from 19.6 Bcf/d last Thursday to 19.9 Bcf/d over the holiday weekend, and on Monday exceeded 20 Bcf/d for the first time, according to Bentek Energy data.
Cooler temperatures: Although natural gas demand is typically lower entering a holiday weekend, cooler temperatures over the weekend heightened this effect. Temperatures on July 4 were 9° Fahrenheit cooler than average in both New York City and Boston, which reduced the demand for power to support air conditioning load. According to data from the electric grid operator in New England, the New England ISO, total generation over the holiday weekend, July 3 through July 5, averaged 303 gigawatt hours (GWh), 2% lower than the previous seven days. Gas generation accounted for half of that, and averaged 152 GWh over the holiday weekend, 3% lower than the previous seven days, according to the New England ISO.
Overview:
(For the Week Ending Wednesday, July 8, 2015)
Natural gas prices declined at most market locations through the report week (Wednesday, July 1, through Wednesday, July 8). The Henry Hub spot price began the week at $2.81/MMBtu last Wednesday and ended the report week down by a dime, closing at $2.71/MMBtu.
At the New York Mercantile Exchange (Nymex), the August contract began the week at $2.783/MMBtu last Wednesday and fell by 10¢ to settle at $2.685/MMBtu yesterday.
Working natural gas in storage increased to 2,668 Bcf as of Friday, July 3. A net injection into storage of 91 Bcf for the week resulted in storage levels 33% above a year ago and 2% above the five-year average for this week.
According to data from Baker Hughes Incorporated, after 29 straight weeks of declines, the oil rig count increased by 12 units, totaling 640 for the week ending Thursday, July 2 (instead of Friday because of the holiday). The natural gas rig count decreased by 9 to 219, and the total rig count increased by 3 to 862. This is the second consecutive week that the total rig count has increased following over a half-year of consistent decreases.
The natural gas plant liquids composite price at Mont Belvieu, Texas, increased by 23¢ to $4.89/MMBtu for the week ending July 3, an increase of 4.9%. Prices for propane, butane, and isobutane increased by 11.2% (46¢), 6.7% (33¢), and 10.8% (58¢), respectively, while prices of ethane and natural gasoline decreased slightly, falling by 0.6% (2¢) and 0.4% (4¢) from the previous week. The decline in crude oil prices has applied downward pressure on natural gas liquids prices.
Prices/Demand/Supply:
Natural gas prices mostly move down. Prices at most market locations fell modestly over the report week, with the exception of the Northeast. Temperatures yesterday were cooler in the western half of the country compared with last week, particularly in the Rockies. Most trading points in the Rockies decreased by between 10¢ and 20¢/MMBtu. Pacific Coast trading points similarly declined, with Malin (in southern Oregon) falling 14¢ to close at $2.62/MMBtu yesterday, and PG&E Citygate (in central California) falling 18¢ to close at $3.11/MMBtu yesterday. Prices in the Rockies, Midwest, and South Central regions posted similar movements.
Prices in the Northeast reach record lows but rebound. This past Thursday, prices fell to record lows at several trading points in the region. The Algonquin Citygate price, serving Boston, began at $1.23/MMBtu last Wednesday, and fell to 82¢/MMBtu the following day. The price jumped back up Monday and closed at $1.35/MMBtu yesterday. Similarly, Transco Zone 6 New York, serving New York City, began the week at $1.24/MMBtu, fell to 89¢ on Thursday, and closed at $2.27/MMBtu yesterday. Thursday prices for Algonquin and Transco Zone 6 NY represent the lowest-recorded closing prices in Natural Gas Intelligence's database, which have those series going back to 1999 and 1998, respectively. Thursday featured very mild weather going into the holiday weekend, coupled with robust supply.
Marcellus-area prices remain low. Marcellus-area prices hovered around $1.00/MMBtu for most of the report week, and dipped on Thursday with other northeastern prices such as Algonquin and Transco Zone 6. Tennessee Zone 4 Marcellus prices fell from 97¢/MMBtu last Wednesday to 60¢/MMBtu on Thursday, and closed the week at 98¢/MMBtu. On the Transcontinental Leidy Line, prices began at $1.01/MMBtu last Wednesday, fell to 63¢/MMBtu on Thursday, and finished the report week at $1.05/MMBtu yesterday.
Nymex prices increase. The August Nymex contract began the week at $2.783/MMBtu last Wednesday and settled at $2.685/MMBtu yesterday, a decrease of 10¢. The near-month Nymex price was $4.204 on July 9 last year, 36% higher than yesterday's price. Prior to 2015, the near-month price has not been this low since summer 2012. Summer 2012 is remembered for its extremely low gas prices because of high production and high storage levels from the mild winter that preceded it.
Supply increases slightly. According to data from Bentek Energy, dry natural gas production increased slightly this week, rising 0.3% and averaging 72.5 Bcf/d, which is 5.4% higher than last year's level. Net imports of natural gas from Canada were essentially flat, with the Northeast continuing net exports to eastern Canada. LNG sendout was up 37% for the week, but remains a minor contributor to supply.
Demand decreases, driven by reductions in power-sector consumption. U.S. natural gas consumption was down by 1.8% this week, led by reductions in gas consumption by the power sector, which fell by 4.9% nationally. The reduction was partly driven by the holiday. Power burn on Friday July 3 was about 3 Bcf lower than Thursday, despite similar temperatures for the two days. Consumption ticked up slightly in other sectors. Industrial consumption increased by 0.5%; residential/commercial consumption increased by 2.0%; and exports to Mexico increased by 1.8%.
Storage
Net storage injection is higher than five-year average. The net injection reported for the week ending July 3 was 91 Bcf, up from 69 Bcf the previous week. This compares with the five-year average increase of 75 Bcf for the week and last year's increase of 94 Bcf. Working gas inventories for the storage week totaled 2,668 Bcf, 659 Bcf (33%) higher than last year at this time and 45 Bcf (2%) higher than the five-year (2010-14) average.
Storage injections are larger than market expectations. Market expectations, on average, called for a build of 86 Bcf. When the EIA storage report was released at 10:30 a.m. on July 9, the price for the August natural gas futures contract fell 3¢ to about $2.66/MMBtu in Nymex futures trading.
From the week ending April 3 (the beginning of the injection season) through the week ending July 3, net storage injections totaled 1,207 Bcf, or 3% more than the 1,176 Bcf injected during the same 14 weeks in 2014. During these weeks for the years 2010-14, net injection into storage averaged 972 Bcf. The estimated average unit value of the natural gas storage holders put into storage from April 3 to July 3 this year is $2.75/MMBtu, 40% lower than the average value of $4.59/MMBtu for the same 14 weeks last year. The highest winter-month Nymex price (for the January 2016 contract) in trading for the week ending July 3 averaged $3.24/MMBtu. This price is 43¢/MMBtu more than the July Nymex contract price. A year ago, the difference was 11¢/MMBtu, suggesting there is more financial incentive this year to buy and store natural gas in the summer for sale in the winter.
In the Short-Term Energy Outlook released on July 7, EIA forecasts that end-of-October inventories will reach 3,919 Bcf, 121 Bcf above the five-year average for that time. There are currently 17 more weeks in the injection season, which traditionally runs from April 1 through October 31, although in many years injections continue into November. In order to reach 3,919 Bcf, injections need to average 74 Bcf per week through the end of October. EIA's forecast for the end-of-October inventory level is above the five-year (2010-14) average peak storage value of 3,805 Bcf. To reach the five-year average peak value, average weekly injections through the end of October would need to be 67 Bcf.
Temperatures during the storage report week were close to normal. Temperatures in the Lower 48 states averaged 73° for the storage report week, similar to the 30-year normal temperature and 2° cooler than the average temperature during the same week last year. There were 62 population-weighted cooling degree days (CDD) this report week, 11 CDD fewer than the five-year average and 14 CDD fewer than during this week last year.
See also: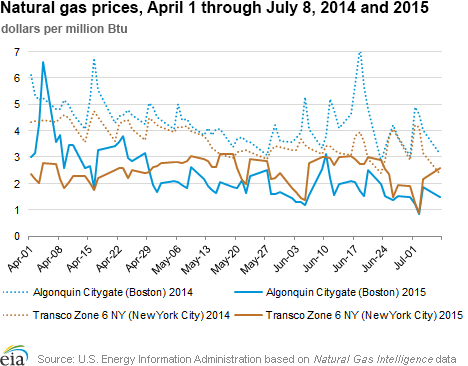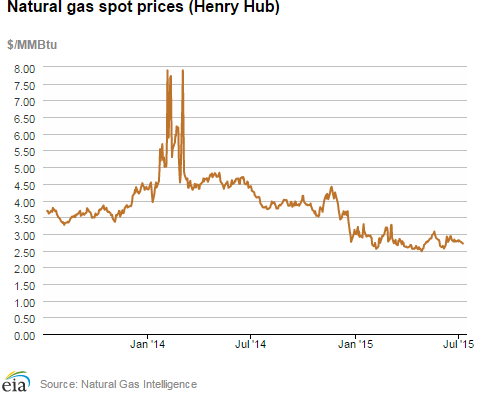 Spot Prices ($/MMBtu)

Thu,
2-Jul

Fri,
3-Jul

Mon,
6-Jul

Tue,
7-Jul

Wed,
8-Jul

Henry Hub

2.79

Holiday

2.74

2.73

2.71

New York

0.89

Holiday

2.15

2.60

2.27

Chicago

2.76

Holiday

2.72

2.70

2.72

Cal. Comp. Avg,*

2.93

Holiday

2.89

2.85

2.83

Futures ($/MMBtu)
August Contract

2.822

Holiday

2.756

2.716

2.685

September Contract

2.837

Holiday

2.766

2.726

2.697

*Avg. of NGI's reported prices for: Malin, PG&E citygate, and Southern California Border Avg.
Source: NGI's Daily Gas Price Index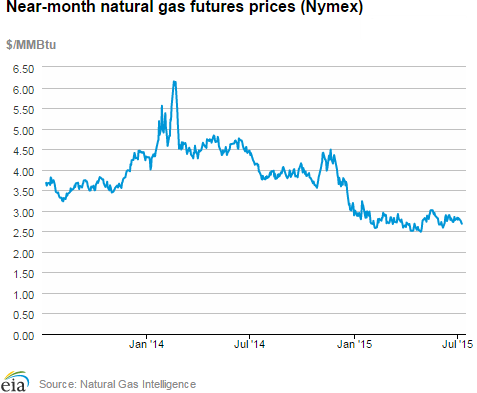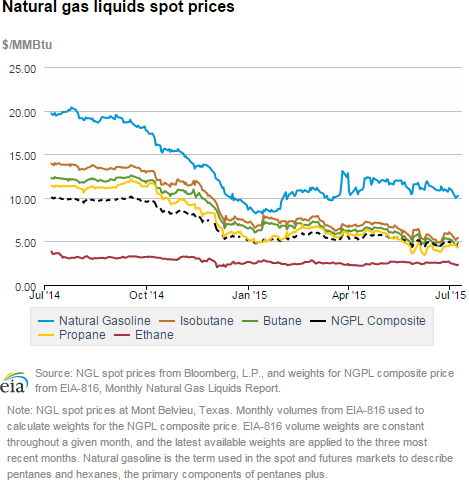 U.S. natural gas supply - Gas Week: (7/1/15 - 7/8/15)

Percent change for week compared with:

last year

last week

Gross production

5.40%

0.33%

Dry production

5.36%

0.33%

Canadian imports

16.90%

0.06%

West (net)

37.51%

-2.12%

Midwest (net)

13.77%

-0.07%

Northeast (net)

-321.03%

-22.10%

LNG imports

77.14%

36.97%

Total supply

6.23%

0.39%

Source: BENTEK Energy LLC
U.S. consumption - Gas Week: (7/1/15 - 7/8/15)

Percent change for week compared with:

last year

last week

U.S. consumption

3.9%

-2.0%

Power

11.3%

-4.9%

Industrial

-2.9%

0.5%

Residential/commercial

-1.5%

2.0%

Total demand

5.4%

-1.8%

Source: BENTEK Energy LLC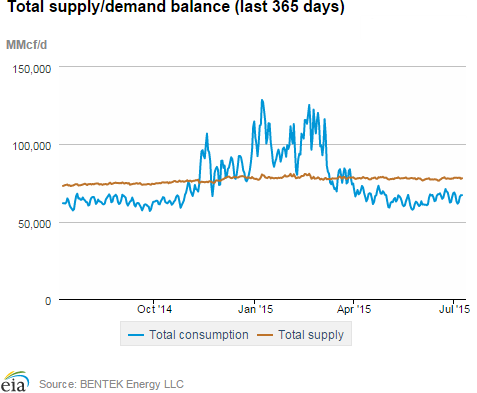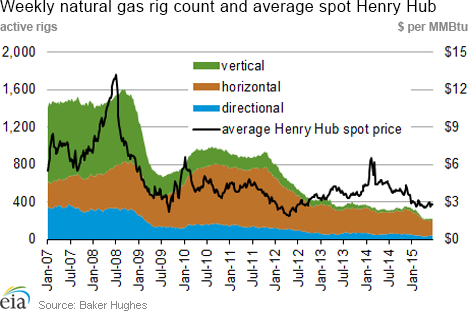 Rigs

Fri, July 03, 2015

Change from

last week

last year

Oil rigs

640

1.91%

-59.03%

Natural gas rigs

219

-3.95%

-29.58%

Miscellaneous

3

0.00%

200.00%
Rig numbers by type

Fri, July 03, 2015

Change from

last week

last year

Vertical

108

0.93%

-71.88%

Horizontal

657

0.46%

-48.19%

Directional

97

-1.02%

-56.31%

Source: Baker Hughes Inc.
Working gas in underground storage

Stocks
billion cubic feet (bcf)

Region

2015-07-03

2015-06-26

change

East

1,178

1,109

69

West

440

441

-1

Producing

1,050

1,027

23

Total

2,668

2,577

91

Source: U.S. Energy Information Administration
Working gas in underground storage

Historical comparisons

Year ago
(7/3/14)

5-year average
(2010-2014)

Region

Stocks (Bcf)

% change

Stocks (Bcf)

% change

East

971

21.3

1,255

-6.1

West

343

28.3

416

5.8

Producing

695

51.1

952

10.3

Total

2,009

32.8

2,623

1.7

Source: U.S. Energy Information Administration
Temperature -- heating & cooling degree days (week ending Jul 02)

HDD deviation from:

CDD deviation from:

Region

HDD Current

normal

last year

CDD Current

normal

last year

New England

15

12

14

13

-15

-37

Middle Atlantic

5

4

5

23

-20

-46

E N Central

14

12

12

16

-30

-48

W N Central

3

-2

-1

50

-10

-4

South Atlantic

0

0

0

86

-3

-16

E S Central

0

0

0

74

-11

-19

W S Central

0

0

0

111

-4

-5

Mountain

0

-11

-4

102

33

26

Pacific

0

-8

-2

81

47

35

United States

5

1

3

62

-2

-14

Note: HDD = heating degree-day; CDD = cooling degree-day

Source: National Oceanic and Atmospheric Administration
Average temperature (°F)
7-Day Mean ending Jul 02, 2015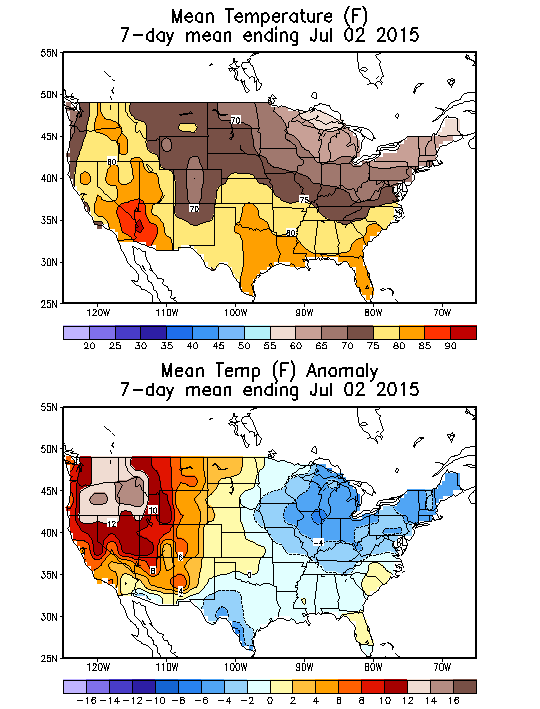 Source: NOAA/National Weather Service
Deviation between average and normal (°F)
7-Day Mean ending Jul 02, 2015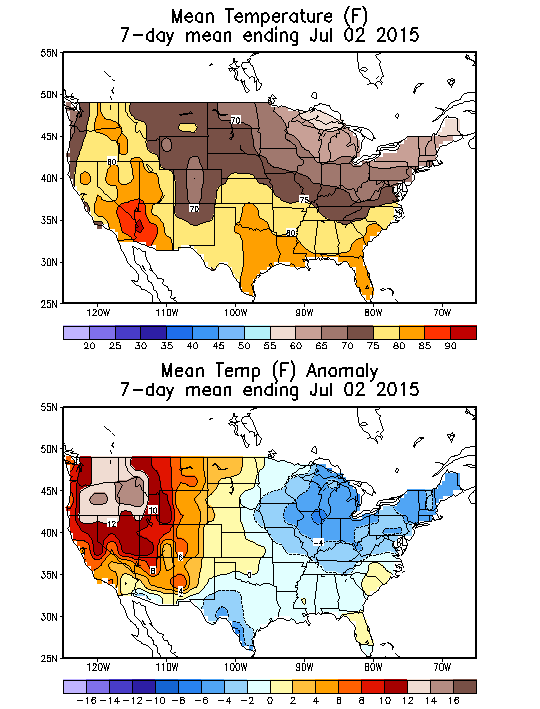 Source: NOAA/National Weather Service