---
In the News:
Northeast net imports from Canada plummet, driven by export growth at Niagara Falls
Northeast U.S. net natural gas imports from Canada declined by more than half for the first nine months of 2013 compared to the same period in 2012, from 939 million cubic feet per day (MMcf/d) to 438 MMcf/d, according to U.S. Energy Information Administration (EIA) calculations using data from Bentek Energy LLC. Most of this 502 MMcf/d decrease resulted from a 433 MMcf/d decrease in net imports at Kinder Morgan's Tennessee Gas Pipeline (TGP) and TransCanada Pipeline's border crossing between Niagara Falls, New York and Niagara Falls, Ontario, as increasing amounts of U.S. gas were exported into Canada from that location.
According to the latest EIA data, from January to July of 2013, gross U.S. exports to Canada via Niagara Falls rose to 430 MMcf/d, compared to 6 MMcf/d for January-July 2012. Gross U.S. imports from Canada at Niagara Falls remained below 15 MMcf/d during both periods.
In November 2012, TGP boosted its pipeline capacity and executed a leasing agreement with Dominion Transmission enabling it to deliver an additional 244 MMcf/d of Marcellus Shale gas along its 300 Line system, which moves gas to New England markets and the Niagara Falls area of New York. The 300 Line system interconnects in Mahwah, New Jersey, with Spectra's Algonquin Gas Transmission (AGT) pipeline, which serves Boston area natural gas consumers. The 300 Line can also flow gas to the TGP 200 Line system, which interconnects at Niagara Falls with TransCanada's Canadian Mainline. In turn, the Canadian Mainline can flow gas east to interconnects with a number of pipelines serving New England markets. These multiple border crossings include the Empire Pipeline (in Grand Island, NY), the Iroquois Pipeline (in Waddington, NY), the St. Lawrence Gas Pipeline (in Massena, NY), the North County Pipeline (in Champlain, NY), the Vermont Gas System (in Highgate Springs, VT), as well as the Portland Gas Transmission Pipeline in Pittsburg, NH (via TransCanada's Trans-Quebec and Maritimes Pipeline).
Overview:
(For the Week Ending Wednesday, October 9, 2013)
Nationwide natural gas hub prices grew moderately over the report week (Wednesday to Wednesday). The Henry Hub spot price closed yesterday at $3.70 per million British thermal units (MMBtu), up 9 cents per MMBtu from the beginning of the report week.
At the New York Mercantile Exchange (Nymex), the price of the November 2013 contract increased 13.7 cents, from $3.542 per MMBtu last Wednesday to $3.679 yesterday.
Working natural gas in storage increased to 3,577 billion cubic feet (Bcf) as of Friday, October 4, according to the EIA Weekly Natural Gas Storage Report (WNGSR). A net storage injection of 90 Bcf for the week resulted in storage levels 3.7% below year-ago levels but 1.6% above the 5-year average.
The Baker Hughes natural gas rotary rig count totaled 378 active units as of Friday, October 4, an increase of 2 rigs from the previous week. The oil rig count increased by 10 to 1,372. Compared with a year ago, gas rigs are down 59 units while oil rigs are down 26. The total U.S. rig count is 1,756, down 81 from a year ago.
The weekly average natural gas plant liquids composite price rose this week (covering September 30 through October 4) compared to the previous week by 2.2%, and is now at $10.40 per MMBtu. Natural gas plant liquids prices increased by between 3% and 5%, except for the price of natural gasoline, which decreased by 2.3%.
Prices/Demand/Supply:
Natural gas hub prices were moderately higher over the report week. Prices at most locations increased less than 10 cents per MMBtu from Wednesday-to-Wednesday, despite some intraweek fluctuations. For example, prices for gas at Northeast pricing points declined by between 10 and 20 cents in trading on Friday from prices traded the previous day, on expectations of milder weather moving into the area on Monday. After moderate price increases in trading on Monday and Tuesday, prices in most of the Northeast finished the report week nearly flat. Prices specifically in the Marcellus, however, showed greater variation because of a combination of regional infrastructure constraints and pipeline maintenance. Prices at the Transcontinental Leidy trading point in Pennsylvania, which have shown recent volatility based on planned maintenance on supporting pipelines, ended the report week down 72 cents, after starting the week at a relatively high $2.78 per MMBtu. This is in contrast to the infrastructure-constrained Tennessee Zone 4 Marcellus point, which ended the report week up 15 cents after starting the report week at $1.81 per MMBtu.
Prices at the Henry Hub also increased modestly. The Henry Hub spot price, which started the report week at $3.61 per MMBtu, posted single digit losses in trading on Thursday, Friday, and Wednesday, and gains of 5 cents and 10 cents on Monday and Tuesday, respectively. The Henry Hub price ended the report week at $3.70 per MMBtu, up 9 cents per MMBtu from the previous Wednesday. Similarly, at the Nymex, the November natural gas contract increased 13.7 cents per MMBtu from $3.542 per MMBtu last Wednesday to $3.679 per MMBtu yesterday. The 12-month strip (average of November 2013 to October 2014 contracts) gained 13.0 cents per MMBtu for the week, closing at $3.905 per MMBtu.
Consumption increased this week after three straight weeks of declines. Total consumption increased to an average of 56.5 Bcf/d, 3.3% above last week, according to data from Bentek Energy. Consumption was up across all sectors, including natural gas used for power generation (power burn). Power burn was up 3.0% this report week versus last, despite lower power burns east of the Rockies toward the end of the report week as milder weather moved in from the West. East of the Rockies, power burn this Wednesday was 19.1% lower than last Wednesday. However, the same weather front that brought cooler temperatures east of the Rockies, had already brought cold temperatures to the Pacific Northwest and the Rockies and likely contributed to higher residential/commercial consumption during the later part of the report week. Total residential/commercial consumption for the country was 31.3% higher this Wednesday versus last Wednesday.
Gas supply decreased during the report week. Total supply decreased by 2.1% over the previous week. Some Gulf Coast production was briefly shut-in as tropical storm Karen passed through the area. Dry gas production and imports from Canada declined week-on-week, both decreasing by about 0.7 Bcf/d on average for the week. Imports of LNG increased over the report week, but continue to be a small contributor to total U.S. natural gas supply.
Storage
Working natural gas in storage increased to 3,577 Bcf as of Friday, October 4. The 90-Bcf gain in storage levels was significantly larger than the 20-Bcf injection that occurred during the same week in 2012 and larger than the 5-year average increase of 84 Bcf. Current inventories are 138 Bcf (3.7%) less than last year at this time, but 55 Bcf (1.6%) above the 5-year (2008-12) average of 3,522 Bcf.
The net injection was smaller than market expectations of 93 Bcf. Movements on the Nymex were relatively small. At 10:30, the price of the near month (November 2013) contract rose about 3 cents to around $3.79 per MMBtu, but dropped back down to just around $3.75 seconds later. In the hour following the release, prices remained at that level.
Two regions post larger-than-average builds; East remains below average. Net injections in the East region were 51 Bcf this week, 5 Bcf larger than the 5-year average injection of 46 Bcf. However, stocks remain 5.2% below the 5-year average for that region. Stocks in the West region grew by 9 Bcf, 2 Bcf greater than the 5-year average injection of 7 Bcf for the region. Inventories in the Producing region grew by 30 Bcf this week, the same as the 5-year average injection, and stocks in that region are 9.4% over their 5-year average levels.
Temperatures during the storage report week were warmer than normal. Temperatures in the Lower 48 states averaged 65.6 degrees for the week, 3.1 degrees warmer than the 30-year normal temperature and 0.9 degree warmer than the same period last year.
See also: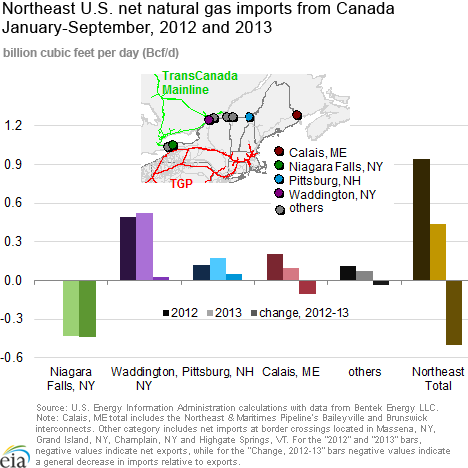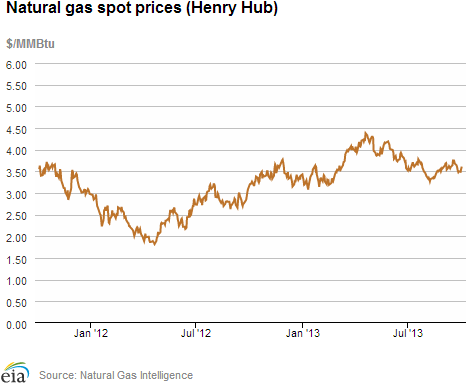 Spot Prices ($/MMBtu)

Thu,
03-Oct

Fri,
04-Oct

Mon,
07-Oct

Tue,
08-Oct

Wed,
09-Oct

Henry Hub

3.58

3.56

3.61

3.71

3.70

New York

3.58

3.38

3.59

3.65

3.61

Chicago

3.66

3.56

3.64

3.73

3.72

Cal. Comp. Avg,*

3.72

3.65

3.72

3.80

3.81

Futures ($/MMBtu)
October Contract

3.499

3.506

3.629

3.716

3.679

November Contract

3.664

3.674

3.788

3.869

3.839

*Avg. of NGI's reported prices for: Malin, PG&E citygate, and Southern California Border Avg.
Source: NGI's Daily Gas Price Index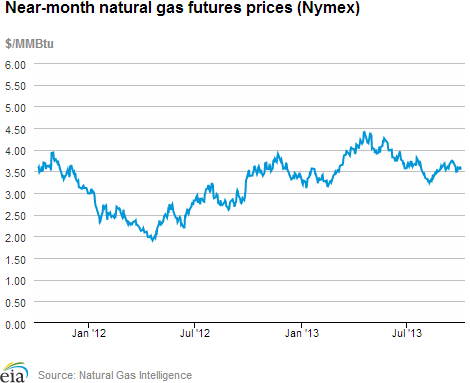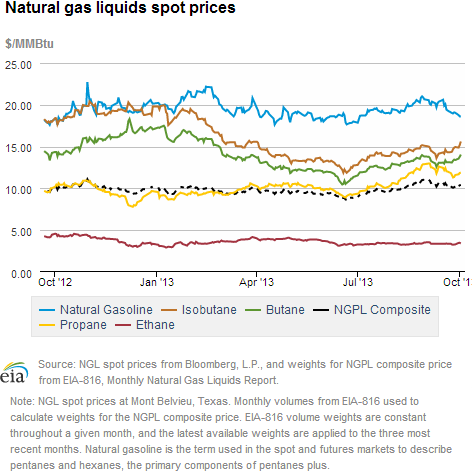 U.S. Natural Gas Supply - Gas Week: (10/2/13 - 10/9/13)

Percent change for week compared with:

last year

last week

Gross Production

-1.00%

-1.20%

Dry Production

-0.99%

-1.19%

Canadian Imports

-23.32%

-14.89%

West (Net)

-2.10%

-18.58%

MidWest (Net)

-22.13%

-8.87%

Northeast (Net)

-105.66%

-20.93%

LNG Imports

-40.57%

3.50%

Total Supply

-2.90%

-2.13%

Source: BENTEK Energy LLC
U.S. Consumption - Gas Week: (10/2/13 - 10/9/13)

Percent change for week compared with:

last year

last week

U.S. Consumption

-8.35%

3.26%

Power

-1.12%

2.99%

Industrial

-1.88%

0.58%

Residential/Commercial

-23.14%

7.30%

Total Demand

-8.33%

3.62%

Source: BENTEK Energy LLC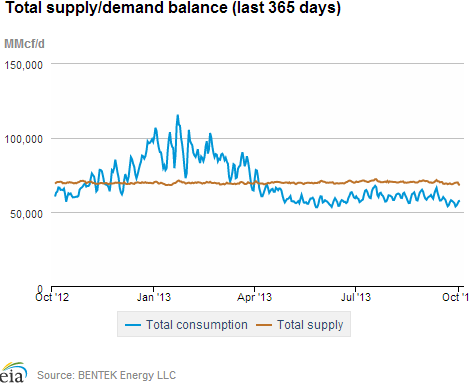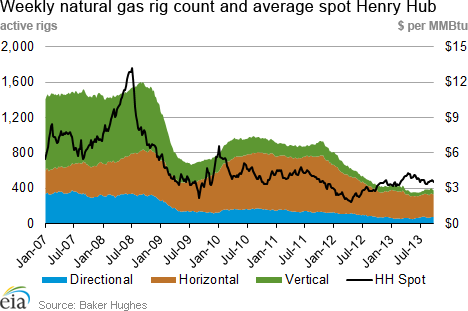 Rigs

Fri, October 04, 2013

Change from

last week

last year

Oil Rigs

1,372

0.73%

-1.86%

Natural Gas Rigs

378

0.53%

-13.50%

Miscellaneous

6

0.00%

200.00%
Rig Numbers by Type

Fri, October 04, 2013

Change from

last week

last year

Vertical

416

-0.24%

-18.59%

Horizontal

1,099

1.29%

-2.92%

Directional

241

-0.41%

24.23%

Source: Baker Hughes Inc.
Working Gas in Underground Storage

Stocks
billion cubic feet (bcf)

Region

10/4/13

9/27/13

change

East

1,851

1,800

51

West

538

529

9

Producing

1,188

1,158

30

Total

3,577

3,487

90

Source: U.S. Energy Information Administration
Working Gas in Underground Storage

Historical Comparisons

Year ago
(10/4/12)

5-year average
(2008-2012)

Region

Stocks (Bcf)

% change

Stocks (Bcf)

% change

East

1,999

-7.4

1,952

-5.2

West

513

4.9

484

11.2

Producing

1,203

-1.2

1,086

9.4

Total

3,715

-3.7

3,522

1.6

Source: U.S. Energy Information Administration
Temperature -- Heating & Cooling Degree Days (week ending Oct 03)

HDD deviation from:

CDD deviation from:

Region

HDD Current

normal

last year

CDD Current

normal

last year

New England

41

-22

-7

0

-1

0

Middle Atlantic

23

-29

-10

3

-1

2

E N Central

23

-32

-33

8

3

8

W N Central

23

-32

-24

19

11

17

South Atlantic

14

-9

2

43

0

-9

E S Central

6

-16

-7

40

12

9

W S Central

1

-5

-3

82

28

22

Mountain

55

-3

24

17

-8

-17

Pacific

13

-5

9

9

-9

-40

United States

21

-19

-9

25

3

-3

Note: HDD = heating degree-day; CDD = cooling degree-day

Source: National Oceanic and Atmospheric Administration
Average temperature (°F)
7-Day Mean ending Oct 03, 2013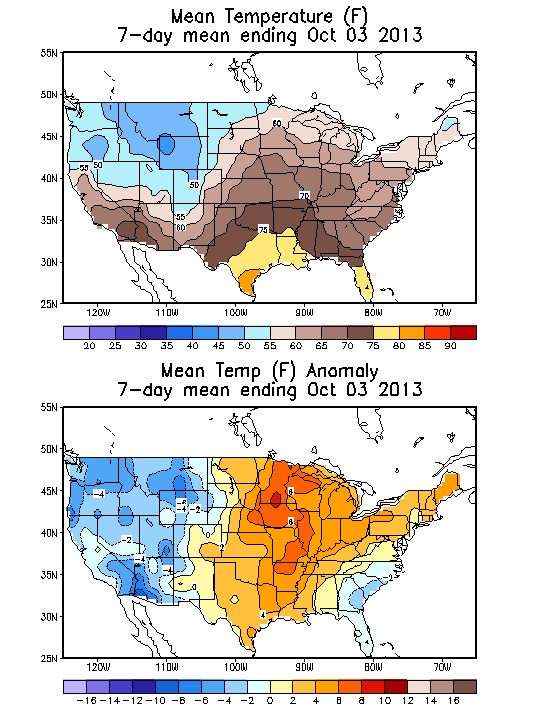 Source: NOAA/National Weather Service
Deviation between average and normal (°F)
7-Day Mean ending Oct 03, 2013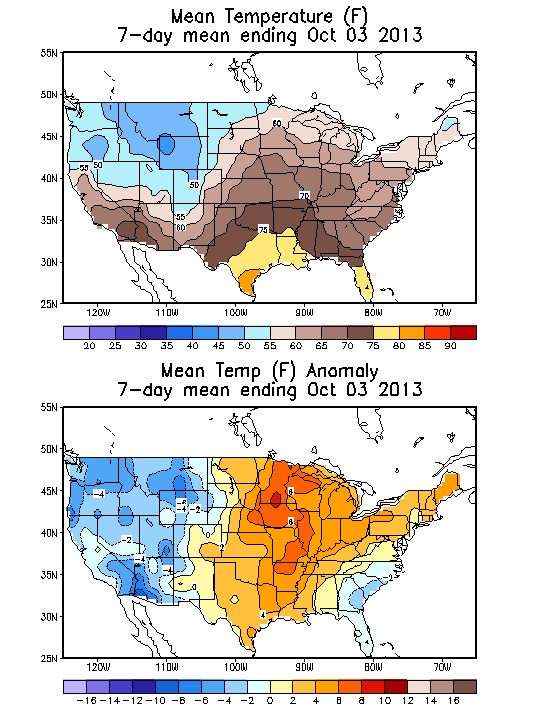 Source: NOAA/National Weather Service