---
In the News:
FERC approves service on first segment of Northeast Supply Link Expansion project
The Federal Energy Regulatory Commission (FERC) last week approved the start of service on the first segment of the Transcontinental Gas Supply Co (Transco) Northeast Supply Link Expansion project. This project is designed to ease pipeline congestion out of the Marcellus shale play, increasing the diversity and reliability of natural gas supply to northeastern demand markets. The segment completed last week is known as the Palmerton Loop, and represents 3 of approximately 12 miles of loops — or pipelines running parallel to existing routes — that are expected to begin full service in November, adding 0.24 billion cubic feet per day of new pipeline capacity between interconnections in Transco's Zone 6 Leidy Line in Pennsylvania, its 210 Market Pool Line in New Jersey, and delivery points in New York City.
The project will likely decrease price spreads between trading points in New York and New Jersey over those at points in the Marcellus supply basin, where increased production has outpaced the growth of available pipeline take-away capacity. In early July, spot prices at both the Leidy Line and TGP Zone 4 interconnects, which are located near Marcellus, dropped more than $2.00 per million British thermal units (MMBtu) below the Henry Hub spot price, after Leidy Line C went out of service at the beginning of the month. They returned to Henry Hub price levels as Leidy Line D — which includes the Palmerton Loop — came into service and replaced lost volumes of take-away capacity.
In addition to loop construction, the project involves pressure uprating to increase gas flows along 27 miles of existing pipeline, construction of a new compressor station, expansion of an existing station, and other renovations.
Overview:
(For the Week Ending Wednesday, July 17, 2013)
The Henry Hub spot price was relatively flat during the report week, settling at $3.67 per MMBtu yesterday. Northeastern natural gas spot prices increased over the report week because of hot weather, while several other price points throughout the country decreased slightly.
At the New York Mercantile Exchange (Nymex), the front month (August 2013) contract price fell by a nickel to $3.629 per MMBtu yesterday.
Working natural gas in storage increased to 2,745 Bcf as of Friday, July 12, according to the U.S. Energy Information Administration's (EIA) Weekly Natural Gas Storage Report (WNGSR). A net storage injection of 58 Bcf for the week resulted in storage levels 13.1% below year-ago levels, and 1.2% below the 5-year average.
Natural gas rotary rigs increased by 7 to 362 last week, according to data released by Baker Hughes Incorporated. This is the first time in 2013 that the gas rig count has increased for three consecutive weeks. The oil rig count decreased by 4 to 1,391 active units.
The weekly average natural gas plant liquids composite price this week (covering July 8-12) increased by 4% from the previous week to $9.26 per MMBtu. The average weekly Mont Belvieu spot price for propane was up 5%, and prices for butane, isobutane, and natural gasoline were all up 4%. The ethane price increased by 1%.
Prices/Demand/Supply:
Natural gas spot prices were generally flat or down, with the exception of the Northeast. Henry Hub spot prices ended the reporting week at $3.67 per MMBtu, 2 cents below the previous Wednesday's close. Big price increases occurred in the Northeast late in the report week because of unusually hot summer weather. The spot price at the Algonquin Citygate rose to $7.46 per MMBtu on Wednesday, July 17, up from $4.23 per MMBtu on July 10. At Transcontinental Pipeline's Zone 6 trading point for delivery into New York City, prices rose above $5.00 per MMBtu on Monday, July 15, increasing to $5.58 per MMBtu on Wednesday, July 17. This is up from $4.05 per MMBtu last Wednesday.
This also translated into elevated electric power prices. Wholesale electricity prices in Boston reached $115.17 per Megawatt hour (MWh) on Tuesday, July 16, $129.51 per MWh on Wednesday, and $132.91 per MWH on Thursday. For more information on northeastern electricity prices, please visit EIA's Northeastern Summer Electricity Market Alert. Typically, day-ahead power prices in these regions are $30-$60 per MWh.
Several price points across the country decreased during the report week. The Southern California Citygate price fell by $0.07 per MMBtu, ending the week at $3.86 per MMBtu. The Katy price in eastern Texas also fell, decreasing by $0.05 per MMBtu, ending at $3.62 per MMBtu. The Opal price in Wyoming fell by $0.05 per MMBtu, ending the week at $3.50, $0.17 per MMBtu below the Henry Hub price.
At the Nymex, the price of the August 2013 contract fell a nickel. Consumption in all sectors was up for the report week. The power sector, which consumes the most gas during summer months, consumed 5.8% more gas compared with last week; the residential and commercial sectors consumed 3.1% more; and the industrial sector consumed 0.1% more, according to Bentek Energy data. The two largest gas-consuming regions for electric power, the Northeast and the Southeast, consumed 5.6% and 8.5% more gas for electricity generation, respectively. Gas consumption for electric generation in the Northeast increased markedly from Sunday through Wednesday because of increased home cooling demand caused by above-normal temperatures. In Texas, gas consumption by the electric sector fell by 2.2%, as temperatures moderated from Sunday to Wednesday.
Supply decreased slightly for the report week. Bentek estimates that total supply decreased by 0.4%, for the week, driven by a decrease in domestic production, which fell by 0.4%. Canadian imports increased by 0.8%, with flows into the U.S. Northeast increasing sharply from Sunday to Monday, and maintaining that level through Wednesday to meet electric demand for home cooling. The flow into U.S. pipelines of imported liquefied natural gas (LNG) also decreased week-on-week, but rose from Sunday to Wednesday. Production is currently 1.9% above last year's levels, and Canadian imports are 17.5% below last year's levels.
Storage
Working natural gas in storage increased to 2,745 Bcf as of Friday, July 12, according to EIA's WNGSR. Although the 58 Bcf gain in storage levels was higher than the 29 Bcf injection that occurred during the same week in 2012, it was lower than the 5-year average increase of 70 Bcf. Current inventories remain 414 Bcf (13.1%) less than last year at this time and 34 Bcf (1.2%) below the 5-year average of 2,779 Bcf.
All three storage regions posted increases this week. Inventories in the East, West, and Producing regions increased by 37 Bcf (the 5-year average net injection is 49 Bcf), 6 Bcf (the 5-year average net injection is 9 Bcf), and 15 Bcf (the 5-year average net injection is 12 Bcf), respectively. In the Producing region, working natural gas inventories increased 1 Bcf (0.4%) in salt cavern facilities and increased 15 Bcf (2.1%) in nonsalt cavern facilities.
The net injection was smaller than the market expectations, which, on average, were reported to be 65 Bcf. Natural gas prompt-month Nymex futures prices increased about $0.10 per MMBtu to just below $3.79 per MMBtu immediately following WNGSR's release. In the hour following the release, prices remained around this level.
Temperatures during the storage report week were warmer than normal. In the Lower 48 states, temperatures were 2.9 degrees warmer than the 30-year normal temperature and 1.6 degrees cooler than the same period last year. Temperatures averaged 77.7 degrees for the week, compared to 79.3 degrees last year and the 30-year normal of 74.9 degrees.
See also: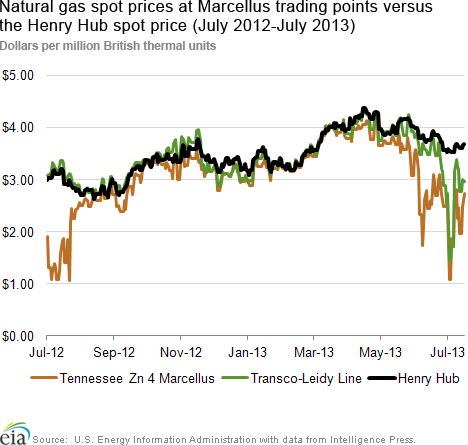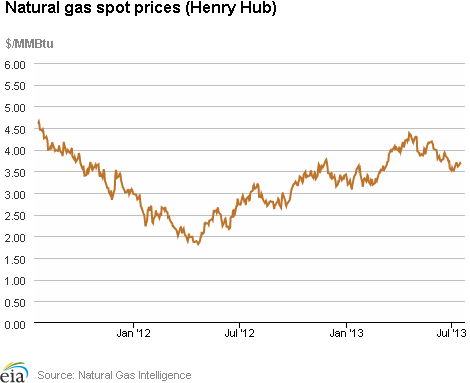 Spot Prices ($/MMBtu)

Thu,
11-Jul

Fri,
12-Jul

Mon,
15-Jul

Tue,
16-Jul

Wed,
17-Jul

Henry Hub

3.64

3.61

3.66

3.69

3.67

New York

3.69

3.84

5.19

5.59

5.58

Chicago

3.71

3.69

3.80

3.84

3.85

Cal. Comp. Avg,*

3.72

3.66

3.74

3.71

3.71

Futures ($/MMBtu)
August Contract

3.613

3.644

3.674

3.677

3.629

September Contract

3.614

3.644

3.672

3.676

3.630

*Avg. of NGI's reported prices for: Malin, PG&E citygate, and Southern California Border Avg.
Source: NGI's Daily Gas Price Index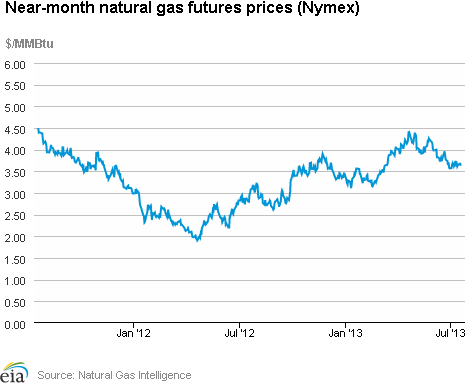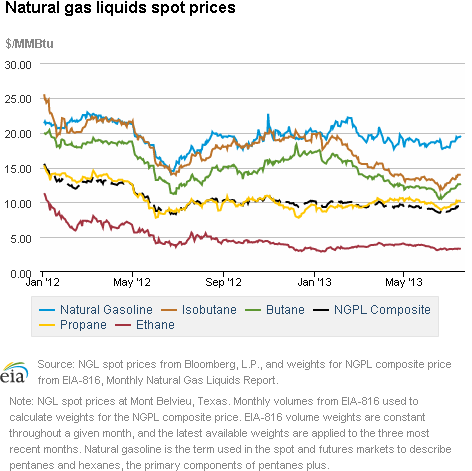 U.S. Natural Gas Supply - Gas Week: (7/10/13 - 7/17/13)

Percent change for week compared with:

last year

last week

Gross Production

1.94%

-0.44%

Dry Production

1.92%

-0.44%

Canadian Imports

-17.50%

0.83%

West (Net)

6.28%

-0.14%

MidWest (Net)

-22.03%

4.15%

Northeast (Net)

-63.93%

-7.52%

LNG Imports

-33.23%

-4.65%

Total Supply

-0.15%

-0.36%

Source: BENTEK Energy LLC
U.S. Consumption - Gas Week: (7/10/13 - 7/17/13)

Percent change for week compared with:

last year

last week

U.S. Consumption

-4.92%

3.54%

Power

-9.94%

5.76%

Industrial

-0.22%

0.14%

Residential/Commercial

3.75%

3.12%

Total Demand

-4.13%

3.71%

Source: BENTEK Energy LLC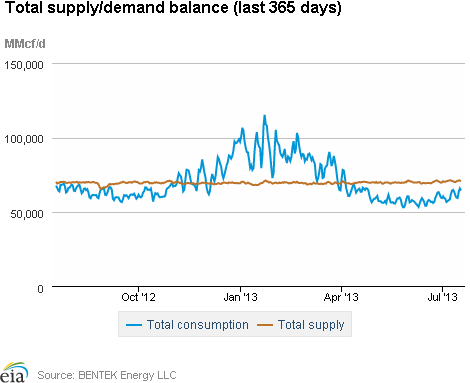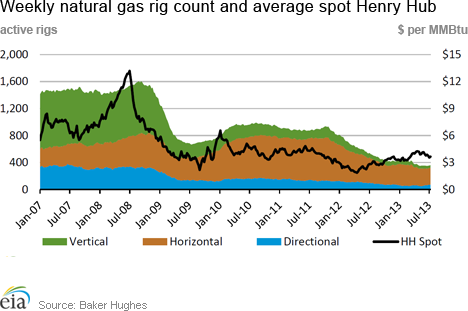 Rigs

Fri, July 12, 2013

Change from

last week

last year

Oil Rigs

1,391

-0.29%

-2.52%

Natural Gas Rigs

362

1.97%

-30.65%

Miscellaneous

6

-14.29%

50.00%
Rig Numbers by Type

Fri, July 12, 2013

Change from

last week

last year

Vertical

432

-0.46%

-22.16%

Horizontal

1,058

-0.94%

-9.26%

Directional

269

5.49%

15.95%

Source: Baker Hughes Inc.
Working Gas in Underground Storage

Stocks
billion cubic feet (bcf)

Region

7/12/13

7/5/13

change

East

1,281

1,244

37

West

451

445

6

Producing

1,013

998

15

Total

2,745

2,687

58

Source: U.S. Energy Information Administration
Working Gas in Underground Storage

Historical Comparisons

Year ago
(7/12/12)

5-year average
(2008-2012)

Region

Stocks (Bcf)

% change

Stocks (Bcf)

% change

East

1,552

-17.5

1,382

-7.3

West

487

-7.4

420

7.4

Producing

1,120

-9.6

977

3.7

Total

3,159

-13.1

2,779

-1.2

Source: U.S. Energy Information Administration
Temperature -- Heating & Cooling Degree Days (week ending Jul 11)

HDD deviation from:

CDD deviation from:

Region

HDD Current

normal

last year

CDD Current

normal

last year

New England

0

-1

0

85

48

28

Middle Atlantic

0

-1

0

93

40

2

E N Central

0

-1

0

68

15

-44

W N Central

0

-3

0

84

17

-22

South Atlantic

0

0

0

102

7

-24

E S Central

0

0

0

85

-6

-39

W S Central

0

0

0

129

8

0

Mountain

0

-7

0

99

24

14

Pacific

1

-4

-1

62

23

15

United States

0

-2

0

89

18

-11

Note: HDD = heating degree-day; CDD = cooling degree-day

Source: National Oceanic and Atmospheric Administration
Average temperature (°F)
7-Day Mean ending Jul 11, 2013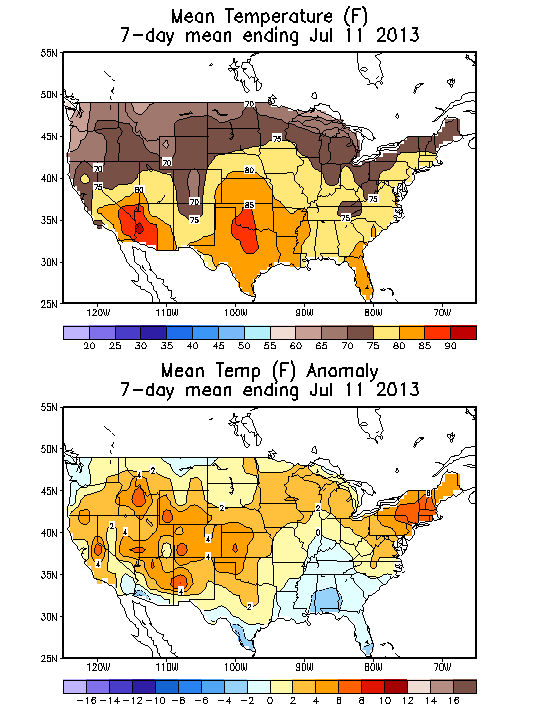 Source: NOAA/National Weather Service
Deviation between average and normal (°F)
7-Day Mean ending Jul 11, 2013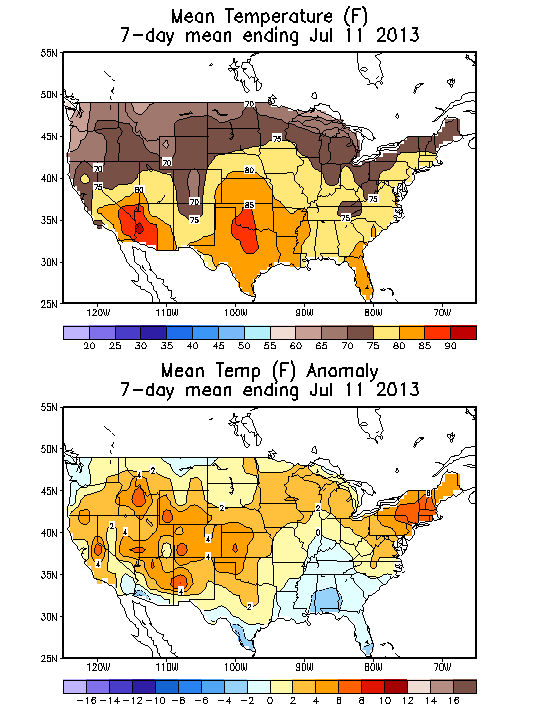 Source: NOAA/National Weather Service