---
In the News:
Power Generation Falls During Storm, Nuclear Facilities Affected.
As of 9:00 Thursday morning, about 4.7 million customers were without power as a result of Hurricane Sandy. While New York and New Jersey accounted for over 70 percent of the outages, 10 other states were reporting significant outages (more than 1,000), according to a
situation report
released today by the U.S. Department of Energy.
In the Northeast, natural gas power burn generally fell over the past few days, possibly as a result of reduced demand for electricity, according to data from BENTEK Energy LLC (Bentek). Estimates for natural gas consumed for power generation were 3.9 billion cubic feet (Bcf) today, compared to 4.4 Bcf on Monday. Any declines in natural gas-fired generation because of electric power demand destruction may be somewhat mitigated by power producers substituting natural gas for lost nuclear capacity resulting from the storm. According to the situation report, three nuclear reactors remained offline as of this morning, and two units that had been operating at reduced capacity had been restored to close to full capacity.
Residential and commercial consumption in the Northeast increased significantly during the past couple of days, surpassing 11 billion cubic feet (Bcf). Increases were especially pronounced in areas in the Appalachian mountains, where blizzards and high levels of snow resulted from Hurricane Sandy.
Overview:
(For the Week Ending Wednesday, October 31, 2012)
Natural gas prices flattened out this week (Wednesday to Wednesday) following last week's increases. The Henry Hub closed at $3.50 per million British thermal units (MMBtu) yesterday, up 7 cents per MMBtu for the week, after increasing last week by 19 cents per MMBtu. Prices mostly rose across the board, with the exception of general declines in the Rocky Mountain region and some declines in California.
The December 2012 New York Mercantile Exchange (NYMEX) decreased, from $3.776 per MMBtu last Wednesday to $3.692 per MMBtu yesterday. The November contract expired on October 29 at $3.471 per MMBtu.
Working natural gas in storage increased last week to 3,908 Bcf as of Friday, October 26, according to the U.S. Energy Information Administration's (EIA) Weekly Natural Gas Storage Report (WNGSR). An implied storage increase of 65 Bcf for the week moved storage levels 136 Bcf above year-ago levels.
The Baker Hughes Incorporated natural gas rotary rig count fell by 11 to 416 active units on the week ending October 26. The oil-directed rig count decreased by 2 to 1,408 units.
Prices:
In general, natural gas prices rose slightly at most markets, although some Northeast locations posted larger increases and most prices at trading points in the Rocky Mountains and Pacific Northwest decreased on the week. The Henry Hub spot price rose from $3.43 per MMBtu last Wednesday to $3.50 per MMBtu yesterday after falling to $3.38 on October 26. At the Algonquin Citygate, which serves consumers in Boston, prices rose 28 cents per MMBtu to end the week at $4.18 per MMBtu. Some of the price increases in the Northeast may have been related to storm damage; Texas Eastern Transmission reported compressor problems as a result of Hurricane Sandy, according to trade press reports.
The Chicago Citygate trading point in the Midwest saw an increase for the week ending yesterday of 32 cents per MMBtu, reaching $3.96 per MMBtu. This followed Chicago Citygate's 20-cent per MMBtu price increase from the previous reporting period, and was similar to increases seen across all Midwestern trading points.
By contrast, average prices at the Sumas trading point in the Pacific Northwest fell by 35 cents per MMBtu, reversing the previous Wednesday-to-Wednesday period's 36-cent gain. Price declines in the Colorado and Wyoming area were slightly less pronounced than Sumas; the spot price at the Opal trading hub, for example, fell 4 cents per MMBtu to end the week at $3.50 per MMBtu.
The NYMEX futures price declined about 8 cents per MMBtu on the reporting week. The NYMEX December futures price fell from $3.776 per MMBtu last Wednesday to $3.692 per MMBtu yesterday. On Monday, the November contract expired at $3.471 per MMBtu, about 7 cents per MMBtu higher than the Henry Hub spot price. The 12-month strip (average of December 2012 to November 2013 contracts) fell slightly, starting at $3.861 per MMBtu last Wednesday and landing at $3.851 per MMBtu yesterday.
Total demand increased this report week, led by higher residential/commercial consumption. According to estimates from Bentek, average natural gas consumption for the nation rose this report week by 5.5 Bcf per day (9.1 percent) over the last week's daily average. The rise resulted principally from a 5.7 Bcf per day (34.8 percent) week-on-week increase in average residential/commercial consumption. Average residential/commercial consumption began the week on Thursday, October 25 at 16.4 Bcf per day, jumping to 20.6 Bcf per day on Friday, October 26. It rose steadily to 24.3 Bcf per day on Tuesday, October 30, and ended the week yesterday at 23.1 Bcf per day.
By contrast, average daily power sector consumption fell this week in all regions of the country except for the Midwest and Southwest, where consumption rose (16.9 percent and 2.6 percent, respectively). Double-digit percentage declines in natural gas power burn occurred in the Pacific Northwest (10.4 percent), Texas (14.8 percent), and Midcontinent (10.1 percent).
Bentek estimates that average natural gas supply for this report week rose by 1.1 Bcf per day (1.5 percent) over last week. This resulted from a 0.7 Bcf per day (1.1 percent) increase in dry production, and a 0.3 Bcf per day (6.5 percent) increase in imports from Canada.
Storage
Working natural gas in storage increased to 3,908 Bcf as of Friday, October 26, according to EIA's WNGSR, the highest recorded volume since EIA began keeping records. This represents an implied net injection of 65 Bcf from the previous week. This week's injection was 8 Bcf above the 5-year (2007-2011) average injection of 57 Bcf, and 17 Bcf below last year's injection of 82 Bcf. Inventories are currently 136 Bcf (3.6 percent) greater than last year at this time and 259 Bcf (7.1 percent) greater than the 5-year average.
All three storage regions posted increases this week, with the Producing and West Regions posting record high natural gas storage volumes. Inventories in the East, West, and Producing regions increased by 34 Bcf (the 5-year average net injection is 29 Bcf), 8 Bcf (the 5-year average net injection is 6 Bcf), and 23 Bcf (the 5-year average net injection is 22 Bcf), respectively. In the Producing region, working natural gas inventories increased 14 Bcf (4.9 percent) in salt cavern facilities and increased 10 Bcf (1.0 percent) in nonsalt cavern facilities.
Temperatures during the storage report week were 4.4 degrees warmer than the 30-year normal temperature and 3.9 degrees warmer than the same period last year. Temperatures in the lower 48 States averaged 58.7 degrees, compared to 54.9 last year and the 30-year normal of 54.3 degrees. While overall temperatures were a few degrees warmer than normal, temperatures varied somewhat across Census divisions. In the Midwest, the East North Central Census division was particularly warm, averaging 7.0 degrees warmer than the 30-year normal. In the West, the Pacific Census division was relatively cool, averaging 1.7 degree cooler than the 30-year normal. Heating degree-days nationwide were 32.5 percent below normal and 27.3 percent below last year.
See also: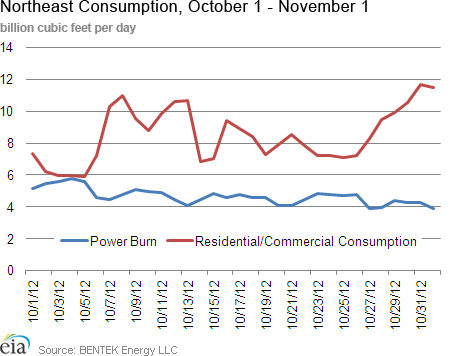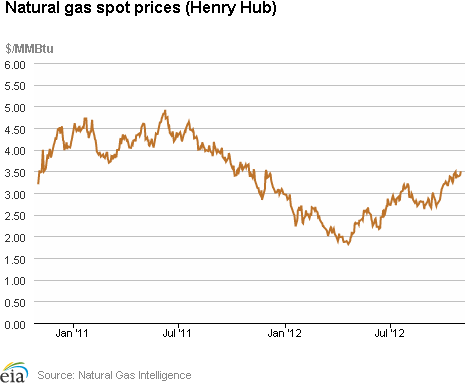 Spot Prices ($/MMBtu)

Thu,
25-Oct

Fri,
26-Oct

Mon,
29-Oct

Tue,
30-Oct

Wed,
31-Oct

Henry Hub

3.39

3.38

3.40

3.42

3.50

New York

3.55

3.44

3.57

3.49

3.74

Chicago

3.69

3.68

3.85

4.00

3.96

Cal. Comp. Avg,*

3.70

3.60

3.62

3.72

3.73

Futures ($/MMBtu)
November Contract

3.434

3.400

3.471

expired

expired

December Contract

3.781

3.724

3.803

3.691

3.692

January Contract

3.910

3.855

3.932

3.824

3.820

*Avg. of NGI's reported prices for: Malin, PG&E citygate, and Southern California Border Avg.
Source: NGI's Daily Gas Price Index
U.S. Natural Gas Supply - Gas Week: (10/24/12 - 10/31/12)

Percent change for week compared with:

last year

last week

Gross Production

1.80%

1.16%

Dry Production

1.79%

1.15%

Canadian Imports

-6.04%

6.53%

West (Net)

-8.26%

0.51%

MidWest (Net)

26.17%

22.25%

Northeast (Net)

-56.80%

-23.52%

LNG Imports

-71.52%

-3.59%

Total Supply

0.41%

1.52%

Source: BENTEK Energy LLC
U.S. Consumption - Gas Week: (10/24/12 - 10/31/12)

Percent change for week compared with:

last year

last week

U.S. Consumption

-0.02%

9.81%

Power

12.30%

-3.73%

Industrial

1.52%

3.22%

Residential/Commercial

-10.38%

34.79%

Total Demand

0.50%

9.09%

Source: BENTEK Energy LLC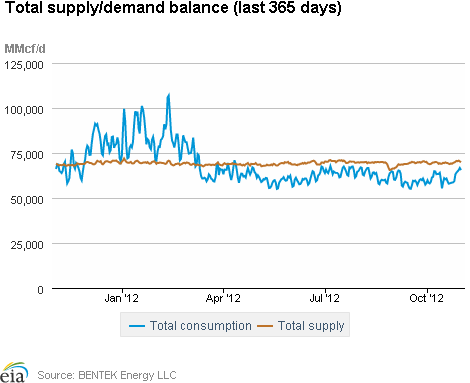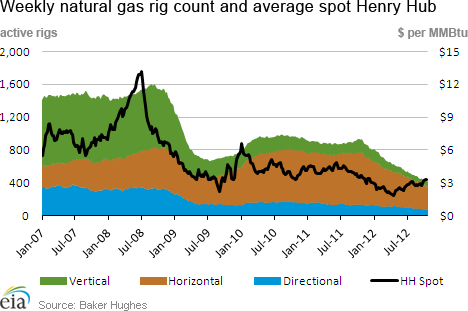 Rigs

Fri, October 26, 2012

Change from

last week

last year

Oil Rigs

1,408

-0.14%

30.61%

Natural Gas Rigs

416

-2.58%

-55.46%

Miscellaneous

2

0.00%

-77.78%
Rig Numbers by Type

Fri, October 26, 2012

Change from

last week

last year

Vertical

512

-2.48%

-17.82%

Horizontal

1,105

-0.81%

-4.33%

Directional

209

4.50%

-13.99%

Source: Baker Hughes Inc.
Working Gas in Underground Storage

Stocks
billion cubic feet (bcf)

Region

10/26/12

10/19/12

change

East

2,091

2,057

34

West

540

532

8

Producing

1,277

1,254

23

Total

3,908

3,843

65

Source: U.S. Energy Information Administration
Working Gas in Underground Storage

Historical Comparisons

Year ago
(10/26/11)

5-year average
(2007-2011)

Region

Stocks (Bcf)

% change

Stocks (Bcf)

% change

East

2,060

1.5

2,042

2.4

West

503

7.4

489

10.4

Producing

1,209

5.6

1,118

14.2

Total

3,772

3.6

3,649

7.1

Source: U.S. Energy Information Administration
Temperature -- Heating & Cooling Degree Days (week ending Oct 25)

HDD deviation from:

CDD deviation from:

Region

HDD Current

normal

last year

CDD Current

normal

last year

New England

74

-41

-26

0

0

0

Middle Atlantic

61

-43

-31

0

0

0

E N Central

65

-47

-46

3

2

3

W N Central

77

-35

-31

7

6

7

South Atlantic

37

-23

-35

22

1

12

E S Central

37

-23

-43

3

-3

3

W S Central

7

-19

-16

51

29

23

Mountain

93

-14

11

11

4

-4

Pacific

53

10

26

2

-2

-2

United States

56

-27

-21

12

4

6

Note: HDD = heating degree-day; CDD = cooling degree-day

Source: National Oceanic and Atmospheric Administration
Average temperature (°F)
7-Day Mean ending Oct 25, 2012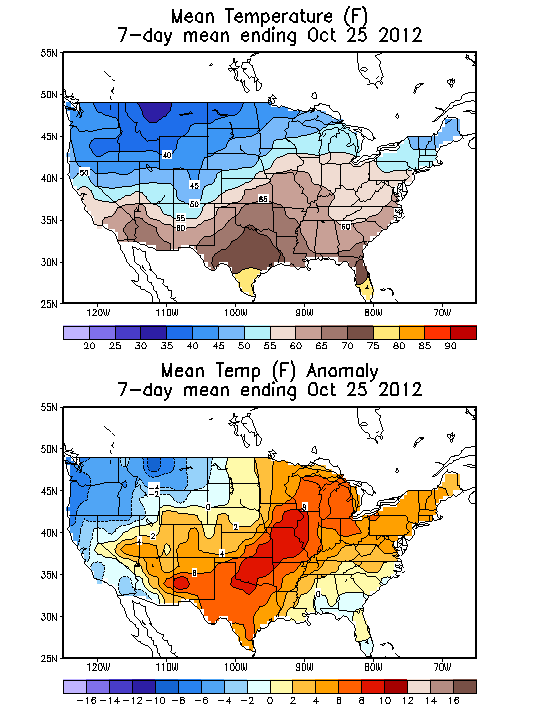 Source: NOAA/National Weather Service
Deviation between average and normal (°F)
7-Day Mean ending Oct 25, 2012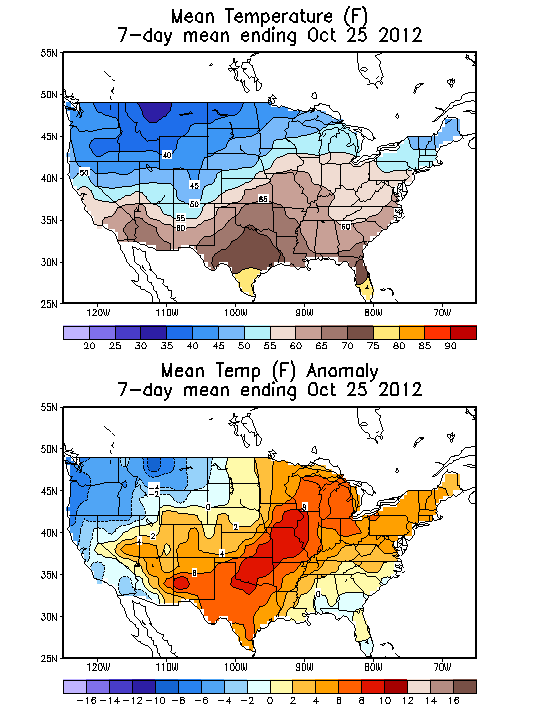 Source: NOAA/National Weather Service