---
In the News:
EIA releases the Short-Term Energy Outlook
On January 10, 2012, the U.S. Energy Information Administration (EIA) released its monthly Short-Term Energy Outlook (STEO), the first STEO to include forecasts for 2013. Highlights of January's STEO for natural gas include record volumetric increases in marketed production and inventories in 2011, as well as a significantly lower forecast for prices in 2012.
Due largely to increased volumes from shale gas formations, total marketed production in 2011 rose by an estimated 4.5 billion cubic feet (Bcf) per day, the largest year-over-year volumetric increase on record. While EIA anticipates further increases for 2012 and 2013 (1.4 Bcf per day and 0.7 Bcf per day, respectively), gains will be comparatively muted as low prices dampen new natural gas-directed drilling activity and consumption grows only moderately.
At year-end 2011, working natural gas inventories stood at 3,472 Bcf, an all-time high for this time of year. Warmer-than-normal winter temperatures coupled with increased domestic production over the year contributed to large storage accumulations. According to STEO, projected inventories of about 3,960 Bcf and 3,990 Bcf, respectively, at the end of October 2012 and 2013 should also set new record highs.
With such high production and inventory volumes, STEO projects natural gas prices for 2012 will be lower than the $4.00 per million British thermal units estimated for 2011 and considerably lower than the forecast for 2012 at this time last year. EIA now expects the Henry Hub spot price to average $3.53 per million British Thermal Unit (MMBtu) in 2012 (well under the $4.50 per MMBtu projected last year), rising to an average of $4.14 per MMBtu in 2013.
Overview:
(For the Week Ending Wednesday, January 11, 2012)
Higher-than-average seasonal temperatures, coupled with continued high storage levels and consistent production, put downward pressure on natural gas prices again this week. The Henry Hub price closed at $2.81 per MMBtu on January 11, down 15 cents for the week.
At the New York Mercantile Exchange (NYMEX), the February 2012 natural gas contract slid 32.2 cents per MMBtu for the week to close at $2.774 per MMBtu, a life-of-contract low.
Working natural gas in storage eased slightly last week to 3,377 Bcf as of Friday, January 6, according to the U.S. Energy Information Administration's (EIA) Weekly Natural Gas Storage Report (WNGSR). The implied net withdrawal for the week was 95 Bcf, positioning storage volumes 398 Bcf above year-ago levels.
The natural gas rotary rig count, as reported January 6 by Baker Hughes Incorporated, increased by 2 to 811 active units. Meanwhile, oil-directed rigs decreased by 2 to 1,191 units.
Prices:
Movement in the Henry Hub day-ahead price reflected the widespread decline of market prices in this week's cash market by falling 5.1 percent, from $2.96 per MMBtu the previous Wednesday to $2.81 per MMBtu yesterday. As the Spot Prices tab on the left shows, the Henry Hub cash price trended downward as end-use gas markets reduced their weekly consumption.
At the NYMEX, the February 2012 contract fell every day except Friday, from $3.096 per MMBtu last Wednesday to $2.774 per MMBtu yesterday, a drop of 32.2 cents (10.4 percent). Over the same period, the March 2012 natural gas futures contract dropped slightly more, by 32.4 cents per MMBtu, and now stands only 2.9 cents above the February contract, reflecting the effects of continued high natural gas storage levels, strong production, and a mild winter so far this season.
All downstream trading locations responded with lower prices from reduced weather load this week. Spot prices at Transcontinental Pipeline's Zone 6 trading point for delivery into New York City, which started the week at $4.55 per MMBtu in anticipation of a passing cold snap, showed a $1.38 per MMBtu price loss over the week (Wednesday to Wednesday) to close at $3.17 per MMBtu (down 30.3 percent). Over the same period, but experiencing different timing of weather patterns, the Chicago citygate spot price registered a smaller 10 cent per MMBtu price loss (from $3.05 per MMBtu last Wednesday), ending the week at $2.95 per MMBtu (down 3.3 percent).
In the midst of relatively warm temperatures for winter, consumption posted an expected decrease for the week. According to estimates from BENTEK Energy, LLC (Bentek), domestic natural gas consumption fell by 7.1 percent from last week. The residential/commercial sector led the decline with an 11.3 percent loss, while the industrial sector tallied a 2.5 percent drop. The power sector posted a 3.3 percent decrease, confirming the generally light weather load.
Despite last week's continuation of small domestic production gain, overall supply was down slightly. According to Bentek estimates, the week's overall average total natural gas supply posted a 0.9 percent decrease from last week's level despite another small advance in dry gas production. Domestic weekly dry gas production averaged 64.1 Bcf per day, 0.1 percent higher than the previous week and 10.3 percent above this time last year. The slight gain in this week's dry gas production was partially offset by an 8.3 percent decrease in imports from Canada, which averaged 5.3 Bcf per day over the period. Imports from Canada stand 31.3 percent below year-ago volumes for the same week. There were also modest supply losses registered in the liquefied natural gas (LNG) arena during the week, where imports averaged 603 million cubic feet (MMcf) per day, remaining 53.5 percent below year-ago levels.
Storage
Working natural gas in storage fell to 3,377 Bcf as of Friday, January 6, according to EIA's WNGSR. This represents an implied net withdrawal of 95 Bcf. Stocks were 491 Bcf higher than the 5-year average level, as well as 398 Bcf higher than last year at this time. In all three regions, stocks are well above last year's and the 5-year average level at this time of the year.
Net storage withdrawals for the West Region were particularly low (3 Bcf) compared to the 5-year average withdrawal of 20 Bcf, likely due to warmer temperatures. The Producing Region stands out at 241 Bcf (25.7 percent) above its 5-year average, while stocks in the East and West Regions were above their 5-year averages by 194 Bcf (12.4 percent) and 56 Bcf (14.4 percent), respectively.
Temperatures during the week ending January 5 were 6.4 degrees warmer than the 30-year normal temperature and 4.6 degrees warmer than the same period last year. This continues the trend seen over the last 8 weeks of warmer-than-normal temperatures at the national level. During the week all regions were warmer than normal, particularly the West North Central region in the Midwest, which averaged 13.4 degrees warmer than normal. The Mountain and the Pacific regions averaged 9.3 and 8.0 degrees warmer than normal, respectively. Heating degree-days nationwide were down 20.7 percent from normal.
See also: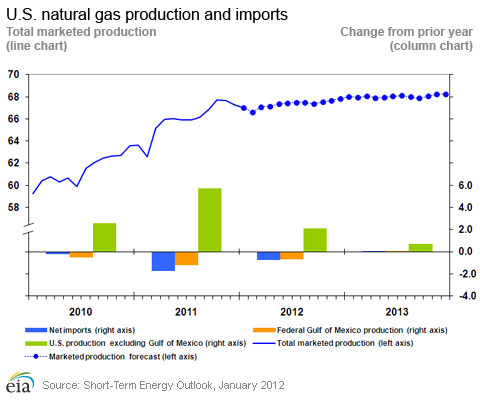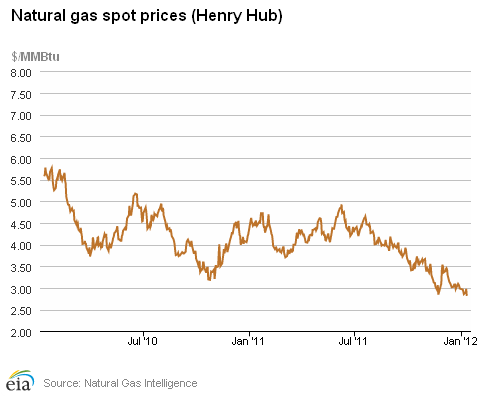 Spot Prices ($/MMBtu)

Thu,
05-Jan

Fri,
06-Jan

Mon,
09-Jan

Tue,
10-Jan

Wed,
11-Jan

Henry Hub

2.91

2.85

2.89

2.97

2.81

New York

3.38

3.26

3.29

3.48

3.17

Chicago

2.99

2.99

3.02

3.11

2.95

Cal. Comp. Avg,*

3.11

3.07

3.16

3.23

3.09

Futures ($/MMBtu)
January delivery

2.980

3.062

3.011

2.941

2.774

February delivery

3.017

3.098

3.050

2.970

2.803

*Avg. of NGI's reported prices for: Malin, PG&E citygate, and Southern California Border Avg.
Source: NGI's Daily Gas Price Index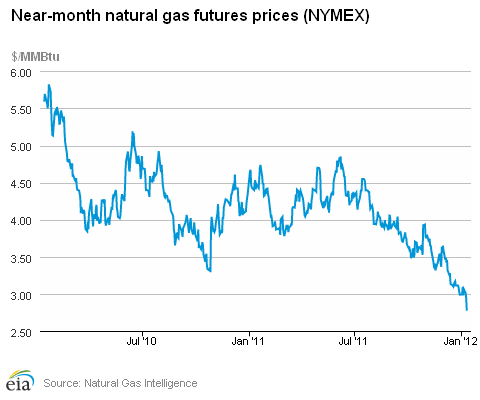 Working Gas in Underground Storage

Stocks
billion cubic feet (bcf)

Region

1/6/12

12/30/11

change

East

1754

1830

-76

West

444

447

-3

Producing

1179

1195

-16

Total

3377

3472

-95

Source: U.S. Energy Information Administration
Working Gas in Underground Storage

Historical Comparisons

Year ago
(1/6/11)

5-year average
(2006-2010)

Region

Stocks (Bcf)

% change

Stocks (Bcf)

% change

East

1521

15.3

1560

12.4

West

395

12.4

388

14.4

Producing

1062

11.0

938

25.7

Total

2979

13.4

2886

17.0

Source: U.S. Energy Information Administration
Temperature -- Heating & Cooling Degree Days (week ending Jan 05)

HDD deviation from:

CDD deviation from:

Region

HDD Current

normal

last year

CDD Current

normal

last year

New England

237

-29

16

0

0

0

Middle Atlantic

228

-26

8

0

0

0

E N Central

233

-55

-6

0

0

0

W N Central

219

-94

-82

0

0

0

South Atlantic

171

-8

9

3

-4

-3

E S Central

162

-24

7

0

-1

0

W S Central

103

-36

-5

0

-2

-4

Mountain

171

-65

-130

0

0

0

Pacific

69

-56

-99

0

0

0

United States

176

-46

-33

1

-1

-1

Note: HDD = heating degree-day; CDD = cooling degree-day

Source: National Oceanic and Atmospheric Administration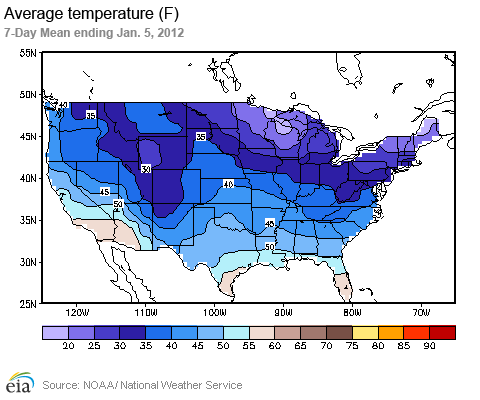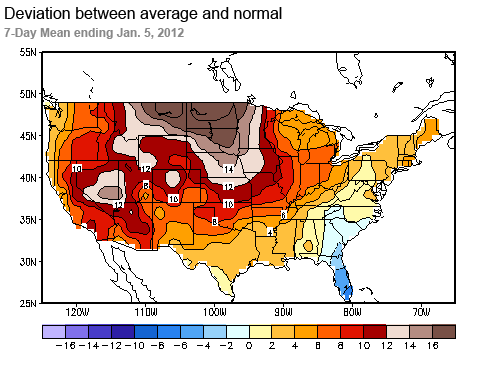 U.S. Natural Gas Supply - Gas Week: (1/4/12 - 1/11/12)

Percent change for week compared with:

last year

last week

Gross Production

9.18%

0.11%

Dry Production

10.28%

0.12%

Canadian Imports

-31.34%

-8.28%

West (Net)

-11.65%

-2.49%

MidWest (Net)

-36.92%

-3.90%

Northeast (Net)

-46.30%

-19.02%

LNG Imports

-53.46%

-26.14%

Total Supply

4.26%

-0.87%

Source: BENTEK Energy LLC
U.S. Consumption - Gas Week: (1/4/12 - 1/11/12)

Percent change for week compared with:

last year

last week

U.S. Consumption

-22.23%

-7.12%

Power

-6.49%

-3.32%

Industrial

-5.33%

-2.46%

Residential/Commercial

-34.34%

-11.27%

Total Demand

-3.79%

3.09%

Source: BENTEK Energy LLC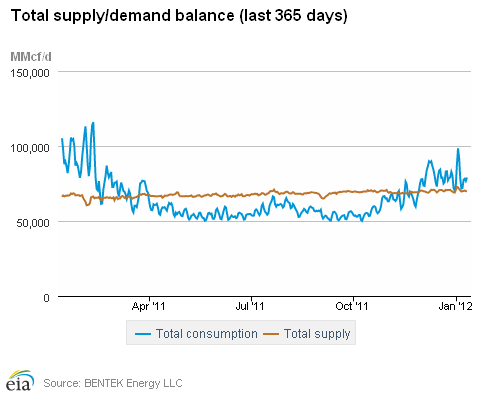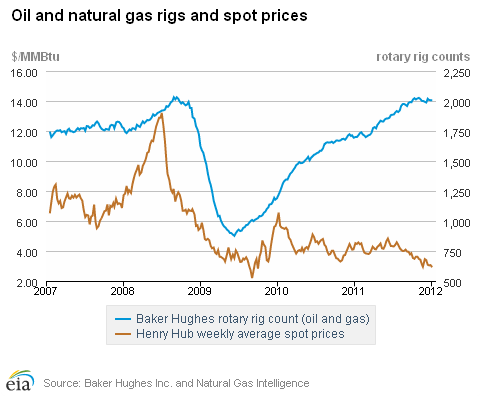 Rigs

Fri, January 06, 2012

Change from

last week

last year

Oil Rigs

1191

-0.17%

53.54%

Natural Gas Rigs

811

0.25%

-11.49%

Miscellaneous

5

0.00%

-44.44%
Rig Numbers by Type

Fri, January 06, 2012

Change from

last week

last year

Vertical

631

0.96%

19.50%

Horizontal

1160

-0.60%

20.81%

Directional

216

0.47%

1.90%

Source: Baker Hughes Inc.