Released: September 8, 2011 at 2:00 P.M.
Next Release: Thursday, September 15, 2011
Overview (For the Week Ending Wednesday, September 7, 2011)
In the wake of Hurricane Irene (later downgraded to Tropical Storm Irene), Tropical Depression Lee moved into the Gulf, causing production shut-ins and across the board price increases last Thursday, September 1st. The Henry Hub spot price saw a 21 cent increase, jumping from $3.97 per million Btu (MMBtu) on Wednesday August 31st to $4.18 per MMBtu the following day. The impacts of the slow-moving storm were overshadowed, however, by significantly cooler weather, and prices declined steadily from their August 31 high over the next few days, closing at $3.93 per MMBtu on Tuesday. The threat of a new storm in the Gulf, Tropical Storm Nate, likely caused prices to rally slightly, with the Henry Hub spot price closing out the report week yesterday at $3.96 per MMBtu.

At the New York Mercantile Exchange, the October 2011 contract lost ground overall, falling from $4.054 per MMBtu last Wednesday to $3.940 yesterday.

Working natural gas in storage rose to 3,025 billion cubic feet (Bcf) as of Friday, September 2, according to EIA's Weekly Natural Gas Storage Report (WNGSR).
The natural gas rotary rig count fell for the second week in a row, declining by 3 to 895 as of September 2, according to data reported by Baker Hughes Incorporated. The oil rig count broke its 19th consecutive week of increases, falling by 5 to 1,064.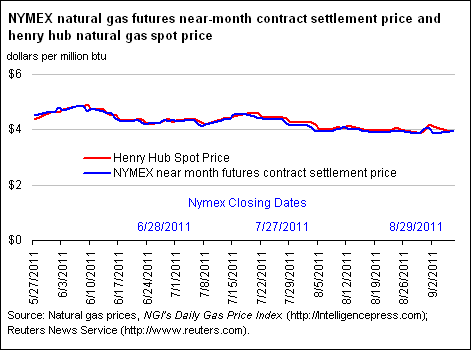 More Summary Data
After jumping last Thursday in response to the threat imposed by slow-moving Tropical Storm Lee, prices at most trading locations fell through most of the remainder of the report week, as cooler temperatures across the country overshadowed impacts of Lee-related shut-in production. The Henry Hub price jumped from $3.97 per MMBtu last Wednesday to $4.18 per MMBtu on Thursday and then declined steadily, with the exception of a slight uptick at the end of the report week, closing at $3.96 per MMBtu yesterday. The price declines were likely the result of forecasts for cooler weather. Prices at Transcontinental Pipeline's Zone 6 trading point for delivery into New York City followed a similar pattern (as did most of the rest of the country), jumping from $4.21 per MMBtu last Wednesday to $4.40 per MMBtu on Thursday and subsequently settling at $4.20 per MMBtu yesterday.

Cooler temperatures across the country, in addition to continued power outages following Hurricane Irene, dampened natural gas demand for power burn, with demand declining by slightly over 16 percent across the report period, according to BENTEK Energy Services, LLC. Fall-like conditions were especially apparent in the Midwest, and much of the South saw temperature declines accompany the rains brought by Lee. Over 6.4 million homes lost power during Hurricane Irene, and almost 600,000 homes along the east coast were still without power as of Friday, September 2. According to BENTEK, total consumption was down 6.1 percent, and supply was down 4.2 percent, a combination of a 3.6 percent decline in domestic dry gas production and a 10.9 percent drop in Canadian imports. LNG imports, on the other hand, rose by 4.7 percent and averaged 439 million cubic feet (MMcf) per day over the report week.
The October 2011 contract fell from $4.054 per MMBtu last Wednesday to $3.940 per MMBtu yesterday. After dropping 17.8 cents last Friday to a low for the week of $3.872 per MMBtu, yesterday's $3.940 per MMBtu close represented a rebound of 2 percent from Friday's low as the market evaluated whether Lee-related shut-ins and the threat imposed by Tropical Storm Nate, among other factors, were significant enough to move prices back to the $4 and above range. The 12-month strip (the average of the 12 contracts between October 2011 and September 2012) dropped from $4.431 on August 31 to $4.318 yesterday.

More Price Data
Working natural gas in storage rose to 3,025 Bcf as of Friday, September 2, according to EIA's WNGSR (see Storage Figure). Following a net injection of 64 Bcf from the previous week, stocks are now 131 Bcf below last year and 60 Bcf less than the 5-year average. The injection was above last year's build of 58 Bcf and equal to the 5-year average injection of 64 Bcf.

The East Region registered its fourth consecutive week of above average builds. The region's deficit to the 5-year average is now in double digits after a build that was 11 Bcf above average. While the East Region remains a significant 96 Bcf below the 5-year average, this gap could close quickly in the shoulder months when heating and cooling demands are low.

Temperatures during the week ending Thursday, September 1, averaged 74.9 degrees, 3.1 degrees warmer than normal, and 0.9 degrees above last year (see Temperature Maps and Data). Temperatures were above normal in every region of the country. The West South Central Region was warmest at 87.3 degrees while New England was coolest at 68.3 degrees. Cooling degree-days were about 33 percent above average for the country as a whole.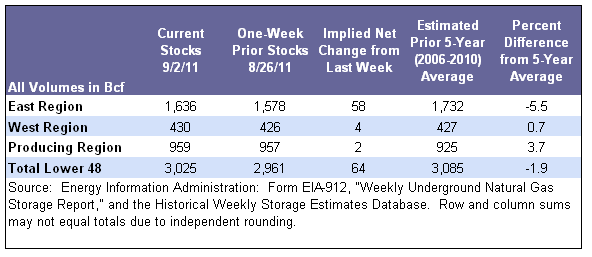 More Storage Data
Production Shut-Ins from Tropical Storm Lee Continue. As of September 7, 2011, oil and natural gas production was returning to normal, with personnel yet to return to 21 production platforms (3.4 percent of the total) and 4 rigs (5.7 percent). Currently, about 516,000 barrels of oil per day and 958 MMcf of natural gas per day are shut in, according to the Board of Ocean Energy Management, Regulation, and Enforcement (BOEMRE). At their peak, according to BOEMRE, about 2,900 MMcf of natural gas production per day (or 54.6 percent) and 859,000 barrels of oil production per day (or 61.4 percent) were shut in. BENTEK Energy noted that, even as all shut-in production returns (likely today), other constraints, including possibly damaged platforms and other unrelated maintenance projects, will likely put downward pressure on production.

Short-Term Energy Outlook Predicts Production Growth in 2011 and 2012. According to this month's Short-Term Energy Outlook (STEO), released September 7, marketed natural gas production is expected to average 65.8 Bcf per day in 2011, a 4.0 Bcf per day (6.4 percent) increase over 2010. EIA expects that overall production will continue to grow in 2012, but at a slower pace, increasing 1.1 Bcf per day (1.7
See Weekly Natural Gas Storage Report for additional Natural Gas Storage Data.
See Natural Gas Analysis for additional Natural Gas Reports and Articles.
See Short-Term Energy Outlook for additional Natural Gas Prices, Supply, and Demand.