Overview: Friday, January 11, 2007 (next release 2:00 p.m. on January 18, 2007)
Since Wednesday, January 3, natural gas spot prices increased by more than 43 cents per MMBtu at market locations across the Lower 48 States, with increases exceeding 75 cents per MMBtu at most markets. On Wednesday, January 10, prices at the Henry Hub averaged $6.41 per MMBtu, a climb of 94 cents per MMBtu, or about 17 percent, since the previous Wednesday. The NYMEX futures contract for February delivery at the Henry Hub settled at $6.755 per MMBtu on Wednesday, January 10, rising about 59 cents per MMBtu, or nearly 10 percent, from the settlement price of $6.163 recorded last Wednesday, January 3.Natural gas in storage was 3,025 Bcf as of January 5, which is 18 percent above the 5-year average. The spot price for West Texas Intermediate (WTI) crude oil decreased $4.36 per barrel, or about 7 percent, on the week (Wednesday-Wednesday) to $53.95 per barrel or $9.30 per MMBtu, which is the lowest level since June 10, 2005.
<![if !vml]>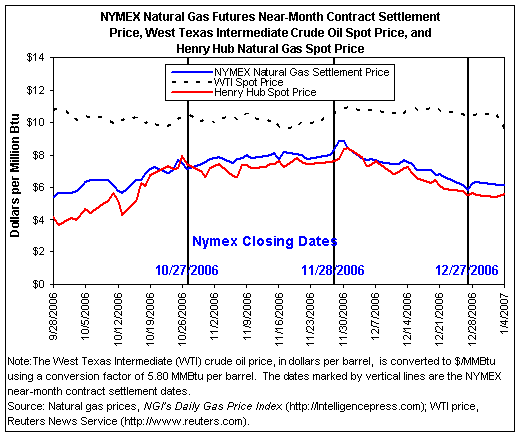 <![endif]>
Spot prices increased at most market locations since last Wednesday, January 3, generally by more than 75 cents per MMBtu.Most of these increases have occurred since Friday, January 5, as cold temperatures contributed to increased heating demand for natural gas. For the week, the largest price increases occurred principally in the eastern third of the Lower 48 States, including the Louisiana, Alabama/Mississippi, Florida, and Northeast regions as prices rose between 87 and 95 cents per MMBtu on average. The Rocky Mountains region experienced similar hikes with prices climbing about 88 cents per MMBtu.Elsewhere, price increases were less pronounced.In Arizona, Nevada, and California, price hikes ranged between 46 and 52 cents per MMBtu on average, while prices in the Midwest, Midcontinent, and Texas regions climbed between 53 and 82 cents per MMBtu. Prices remain significantly below levels reported last year at this time, with prices at the Henry Hub $2.19 per MMBtu or 25 percent below last year's level. Record-high levels of working gas in storage for this time of year likely ameliorated the price increases resulting from the recent cold snap.
<![if !vml]>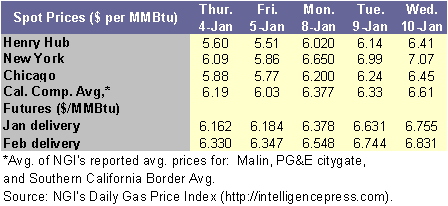 <![endif]>
At the NYMEX, prices for the futures contracts for the next 12 months increased across the board with the 12-month futures strip (February 2007 through January 2008 ) climbing about 38 cents per MMBtu, or about 5 percent, since last Wednesday, January 3. The largest increases occurred for contracts for delivery during the 2 remaining heating-season months, February and March 2007, with prices climbing about 9 percent on average since last Wednesday, January 3. Averaging $6.79 per MMBtu, the futures contract prices for delivery during the remainder of the current heating season traded at an average premium of about $0.38 per MMBtu to the Henry Hub spot price. Overall, the 12-month futures strip (January 2007 through December 2007) traded at a premium of $1.04 per MMBtu relative to the Henry Hub spot price, averaging $7.4505 per MMBtu as of Wednesday, January 10. Despite the price increases since last Wednesday, January 3, futures contracts are trading at significant discounts relative to last year's levels at this time. On Wednesday, January 10, each contract in the 12-month strip (February 2007 through January 2008) settled more than $2.13 per MMBtu, or about 20 percent, below last year's 12-month strip (February 2006 through January 2007) at this time.
Recent Natural Gas Market Data
Estimated Average Wellhead Prices

July-06

Aug-06

Sep-06

Oct-06

Nov-06

Dec-06

5.82

6.51

5.51

5.03

6.43

6.65

Price ($ per MMBtu)

5.67

6.34

5.37

4.90

6.26

6.48

Note: Prices were converted from $ per Mcf to $ per MMBtu using an average heat content of 1,027 Btu per cubic foot as published in Table A4 of the Annual Energy Review 2002.

Source:Energy Information Administration, Office of Oil and Gas.
Working gas in storage totaled 3,025 Bcf as of Friday, January 5, which is about 18 percent above the 5-year average inventory level for the report week, according to EIA's Weekly Natural Gas Storage Report (See Storage Figure). As of January 5, stocks exceeded last year's level by 401 Bcf and the 5-year average by 461 Bcf. Furthermore, this is only the second time that working gas stocks exceeded the 3.0 trillion cubic feet (Tcf) mark at this point in the heating season. Based on daily interpolated values, working gas in storage is estimated at 3,061 Bcf as of December 31, 2006, compared with December 31, 1990, when working gas stocks totaled 3,068 Bcf. On the week, withdrawals from storage totaled 49 Bcf. Warmer-than-normal temperatures prevailed during the report week, likely mitigating withdrawals from working gas. During the report week, heating degree-days in the Lower 48 States were about 30 percent below normal levels. Heating degree-days fell 21 to 41 percent below normal levels in seven of the nine Census Divisions. Only the Pacific and Mountain Census Divisions had heating demand approximating normal levels with heating degree-days falling just below historical norms by 3 and 2 percent, respectively. (See Temperature Maps)
<![if !vml]>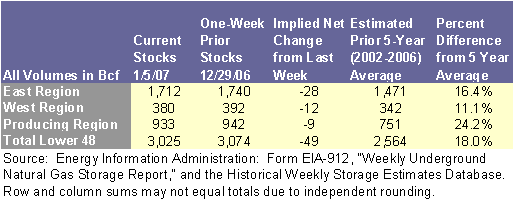 <![endif]>
Other Market Trends:
EIA Forecasts Increased LNG Import Growth: Although liquefied natural gas (LNG) imports still account for less than 3 percent of total U.S. natural gas supplies, the global market is growing and the Energy Information Administration (EIA) foresees another wave of U.S. LNG import growth over the next 2 years. EIA's January 2007 Short-Term Energy Outlook (STEO) focuses on recent trends in global and U.S. LNG trade and presents factors expected to influence LNG imports through 2008. After substantial increases early this decade (including more than doubling between 2002 and 2003), the volume of LNG imports has decreased over the past 2 years. EIA expects a revitalization of U.S. LNG imports during 2007 and 2008 with year-over-year changes of 34.5 and 38.5 percent, respectively. Whereas LNG imports are estimated to have fallen to 580 Bcf in 2006, they are expected to reach approximately 1,080 Bcf by 2008.EIA's LNG import forecast is based in part on expected supply expansion in the global market over the coming years, including exports from up to three new source countries (Equatorial Guinea, Norway, and Yemen). Increasing global LNG supplies should ease price pressure in the world market over time, and as a result the United States likely will attract a greater share of available LNG cargoes. Price competition in both the Atlantic and Pacific Basins, particularly from the Atlantic Basin's Spain and the United Kingdom, has recently limited spot shipments of LNG to the United States. The special supplement to the January STEO can be found at http://www.eia.doe.gov/emeu/steo/pub/LNG_Jan2007.pdf .
EIA Releases Its Short-Term Energy Outlook: The Energy Information Administration (EIA) on January 9 released its latest Short-Term Energy Outlook (STEO), which includes forecasts through December 2008.The latest STEO highlights warmer-than-normal temperatures during December and their effects on crude oil and natural gas markets, such as the recent significant decline in crude oil and natural gas prices.With the lower expected prices, the projections of U.S. heating fuel expenditures for the 2006-2007 winter season also have declined.According to the report, in 2007 and 2008, total U.S. energy demand is expected to increase at annual rates of about 1.2 and 1.7 percent, respectively. The weather forecast for the remaining winter months suggests that temperatures will remain slightly warmer than normal, leading to the expectation that the average for the Henry Hub spot price will remain below $7 this winter. The Henry Hub spot price averaged $6.94 per thousand cubic feet (Mcf) in 2006 and is expected to increase to $7.06 per Mcf in 2007 and $7.72 per Mcf in 2008.As of December 29, 2006, working gas in storage was 3,074 billion cubic feet (Bcf), which was 433 Bcf above the level at the same time the previous year and 408 Bcf higher than the 5-year average. Total U.S. natural gas consumption in 2007, compared with 2006, is expected to increase by 2.4 percent. Domestic dry natural gas production increased by about 2.4 percent in 2006 and is projected to increase by 1.9 percent in 2007.
NOAA Reports 2006 Warmest on Record: The 2006 average annual temperature for the Lower 48 States was the warmest on record and nearly identical to the record set in 1998, according to the National Oceanic and Atmospheric Administration (NOAA). Seven months in 2006 were much warmer than average, including December, which ended as the fourth warmest December since record keeping began in 1895. Based on preliminary data, the 2006 annual average temperature was 55 degrees, which was 2.2 degrees above the 20th century mean and 0.07 degrees warmer than in 1998. Five States (Minnesota, New York, Connecticut, Vermont, and New Hampshire) had their warmest December on record, while none of the Lower 48 States was colder than average during December. After a cold start to December, the persistence of spring-like temperatures in the eastern two-thirds of the Lower 48 during the final 3 weeks of 2006 helped bring the annual average to record high levels. Even in Denver, which had its third snowiest December on record and endured a major blizzard during December, the temperature for the month was 1.4 degrees warmer than the 1971-2000 average. The unusually warm periods during the winter thus far reflected the rarity of Arctic outbreaks across the country as an El Niño episode continued in the equatorial Pacific. Another contributing factor to the unusually warm temperatures throughout 2006 is the long-term warming trend, making warmer-than-average conditions more common in the United States and other parts of the world. The past 9 years have all been among the 25 warmest years on record for the Lower 48 States, a trend that is unprecedented in the historical record. It is unclear how much of the recent anomalous warmth was due to the long-term warming trend and how much was due to the El Niño-related circulation pattern. However, it is thought that El Niño is playing a major role in this winter's warm weather.
Offshore Leasing Ban Lifted in Areas of North Aleutian Basin and Gulf of Mexico: On Tuesday, January 9, President Bush issued a memorandum that lifts restrictions on oil and gas leasing in a portion of Bristol Bay in the North Aleutian Basin of Alaska, and the 181 South Area in the Central Gulf of Mexico. The two areas were previously withdrawn from consideration for leasing through 2012 by a Presidential directive issued in 1998 by President Clinton.In his memorandum, President Bush modified the Presidential withdrawal in order to give the Department of the Interior's Minerals Management Service (MMS) the option to offer these two areas as part of the next 5-year leasing program (2007-2012). The North Aleutian Basin covers about 5.6 million acres offshore Alaska and contains an estimated 23.38 trillion cubic feet of technically recoverable, undiscovered natural gas resources and about 2.5 billion barrels of oil resources. The proposed 2007-2012 oil and natural gas leasing program includes options for one or two lease sales in a portion of this area in Bristol Bay. The 181 South Area covers about 5.8 million acres in the Central Gulf of Mexico Planning Area, and contains an estimated 2.16 trillion cubic feet of technically recoverable, undiscovered natural gas and 0.52 billion barrels of oil. This area also was included in the 2007-2012 proposed leasing program. In December 2006, the President signed the Gulf of Mexico Energy Security Act of 2006, which requires oil and natural gas leasing in two areas: the Sale 181 Area (over 2 million acres mostly in the Central Planning Area), and the 181 South Area. Lifting the drilling ban in the 181 South Area was necessary to satisfy this requirement.According to MMS, all areas will undergo detailed environmental reviews before any leasing occurs.
Natural Gas Transportation Update:
Florida Gas Transmission Company announced that it will begin maintenance on one of the compressors at Compressor Station 6 in Orange County, Texas, on January 22, 2007. The compressor maintenance, which is expected to last through the end of the month, will decrease the daily capacity by 75,000 MMBtu.
On January 8, Questar Pipeline Company began performing maintenance on the compressors at its Clay Basin storage facility. Physical injections into the facility will not be available during the scheduled 21-day maintenance.
Southern California Gas Company announced that there will be a 1 Bcf per day loss of withdrawal capacity at the Honor Ranch storage facility because of the relocation of a section of line 225 between main line valves 9a and 10 scheduled for January 23, 2007. Additionally, the company anticipates that the maintenance will result in a 430-MMcf per day decrease of Wheeler Ridge border receipt capacity.
With the return of winter temperatures across much of its service area, Transcontinental Pipeline on Monday, January 8, ended the imbalance operational control that had been in place since Friday, January 5. The Williams Companies-owned pipeline initially issued the notice in order to maintain operational flexibility, as unseasonable market-area conditions had limited storage injection capability.