Overview: Thursday, September 28 (next release 2:00 p.m. on October 5, 2006)
Natural gas spot prices decreased sharply since Wednesday, September 20, at nearly all market locations. For the week (Wednesday to Wednesday), the price at the Henry Hub decreased $0.52 per MMBtu, or about 10 percent, to $4.35 per The NYMEX futures contract for October delivery at the Henry Hub declined about 73 cents since last Wednesday to close yesterday at $4.201 per Natural gas in storage as of Friday, September 22, was 3,254 Bcf, which is 12.2 percent above the 5-year average. The spot price for West Texas Intermediate (WTI) crude oil increased $2.96 per barrel, or about 5 percent, since last Wednesday to trade yesterday at $62.96 per barrel or $10.86 per MMBtu. This week's increase in the price of crude oil was the first week-on-week up-tick in the past 6 weeks.
<![if !vml]>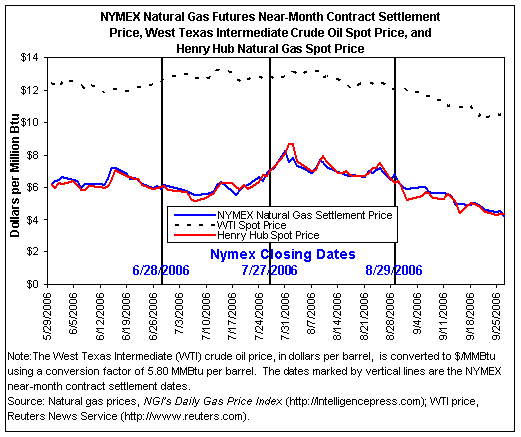 <![endif]>
With the strong influences of moderate weather, high storage levels, and a lack of hurricane activity still in place, spot prices continued falling this week, with decreases ranging between 22 and 68 cents per MMBtu. The only trading location to record a week-on-week increase was Florida Gas Transmission Company's market locations, noting a 2-cent increase since last Wednesday, September 20. At the Henry Hub, the spot price decreased 52 cents per MMBtu, or about 11 percent, over the report week to $4.35 per MMBtu yesterday. Other trading locations in Louisiana recorded decreases that averaged 44 cents per MMBtu, or about 9 percent, reaching average prices of $4.34 per MMBtu. Prices in the Northeast, which ranged between $4.45 and $4.73 per MMBtu yesterday, decreased an average of 52 cents per MMBtu for the week. As of yesterday, three regions in the Lower 48 States recorded average prices of less than $4 per MMBtu: Midcontinent ($3.98), West Texas ($3.90), and Rocky Mountains ($3.66). Prices at other trading regions in the Lower 48 States averaged between $4.19 and $5.32 per MMBtu. Excess linepack and large volumes of gas in storage continued to concern several pipelines this week (see Other Market Trends). Furthermore, according to the company press release, the recent sharp decrease in prices led the Oklahoma City-based Chesapeake Energy Company to shut in 100 MMcf per day of net production in various areas of operations in the southwestern U.S. The shut-in volumes, representing about 6 percent of the company's total domestic output, are part of the company's unhedged production.
<![if !vml]>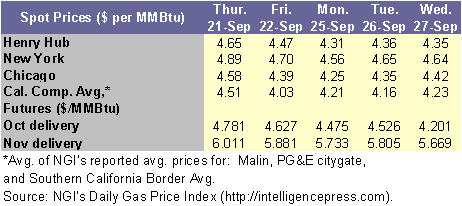 <![endif]>
At the NYMEX, the futures contract for October delivery at the Henry Hub closed yesterday, September 27, at $4.201 per MMBtu, after decreasing 73 cents or about 15 percent on the week. The October 2006 contract closing price was the lowest closing price for a near-month contract since the December 2002 futures contract closed at $4.140 per MMBtu on November 26, 2002. During its tenure as the near-month, the October 2006 contract decreased $2.089, or nearly 33 percent, from the $6.290 per MMBtu price recorded on its first full day of trading as the near-month contract. Similarly, the closing price of the October 2006 contract was $2.615 per MMBtu, or 38 percent, lower than the September 2006 closing price. Futures contracts for the upcoming heating season (November through March) are trading at an average of $7.163 per MMBtu, with the lowest price yesterday at $5.669 per MMBtu for November 2006 delivery and the highest at $7.714 per MMBtu for February 2006 delivery. The 12-month strip, which is the average of the futures prices for the coming year, decreased about 37 cents or 5 percent per MMBtu this week to $7.714 per MMBtu.
Recent Natural Gas Market Data
Estimated Average Wellhead Prices

Mar-06

Apr-06

May-06

June-06

July-06

Aug-06

6.52

6.59

6.19

5.80

5.82

6.51

Price ($ per MMBtu)

6.35

6.42

6.03

5.65

5.67

6.34

Note: Prices were converted from $ per Mcf to $ per MMBtu using an average heat content of 1,027 Btu per cubic foot as published in Table A4 of the Annual Energy Review 2002.

Source:Energy Information Administration, Office of Oil and Gas.
Working gas in storage increased to 3,254 Bcf as of Friday, September 22, according to the EIA Weekly Natural Gas Storage Report (See Storage Figure). Storage inventories are currently 12.2 percent above the 5-year average and 13.1 percent above last year's storage level at this time.The implied net injection of 77 Bcf is 2.6 percent more than the 5-year average injection of 75 Bcf and about 38 percent more than last year's injection of 56 Bcf.Working gas in storage appears headed to a new maximum for the weekly data. Storage levels are only 73 Bcf below the highest level in the more than 12-year history of the weekly stock estimates. This record level occurred in November 2004 when working gas in storage reached 3,327 Bcf.If net additions through the end of October equal the average rate of the past 5 years, working gas stocks at the start of the heating season will exceed 3,500 Bcf. This week's above-average injection partly reflects moderate temperatures across the United States, which kept demand for heating and cooling needs low.For the week ending September 21, 2006, temperatures were slightly cooler-than-normal. However, the relatively low levels of 24 heating degree-days and 31 cooling degree-days for the week ending September 20, according to the National Weather Service, indicate a lack of both heating and cooling load for the country as a whole. (See Temperature Maps)
<![if !vml]>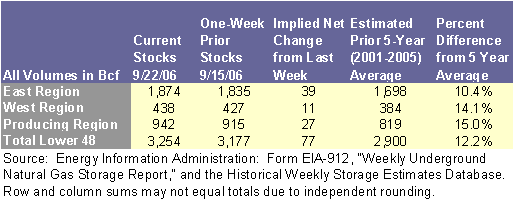 <![endif]>
Other Market Trends:
EIA Releases the Advance Summary of Its 2005 Report on Crude Oil, Natural Gas, and Natural Gas Liquids Reserves: The Energy Information Administration (EIA) released the report, Advance Summary: U.S. Crude Oil, Natural Gas, and Natural Gas Liquids Reserves 2005 Annual Report on September 26, 2006. The report presents highlights of petroleum industry activity that affected oil and natural gas production and proved reserves in 2005 and key data tables showing domestic proved reserves. According to the report, proved natural gas reserves were up by 6 percent in 2005, continuing the 7-year trend of increases and marking the largest annual increase in natural gas proved reserves since 1970. Reserve additions replaced 164 percent of 2005 dry gas production, which was about 3 percent lower than in 2004. The 10-percent decrease in gas reserves reported for the Gulf of Mexico Federal Offshore was offset by increases onshore in the Lower 48 States. Texas and Colorado added the largest amount of gas reserves in 2005, mostly resulting from extensions of existing gas fields. Field extensions amounted to 21.1 Tcf, 16 percent more than in 2004 and 74 percent more than the previous 10-year average of 12.1 Tcf. Furthermore, the addition of large gas proved reserves continued to be driven by continuing development of unconventional gas fields, such as fields developed in tight sands, shales, and coal beds. Coalbed methane accounted for 10 percent of proved dry gas reserves and 8 percent of dry natural gas production. Crude oil proved reserves increased for the first time in 3 years, rising by nearly 2 percent to 21.8 billion barrels. Reserve additions of crude oil replaced 122 percent of the 2005 production.
Natural Gas Transportation Update:
Southern California Gas Company declared a high-linepack Operational Flow Order (OFO) Friday, September 22, which was in effect until Saturday, September 23. The OFO carried a 10 percent tolerance for positive daily imbalances.

Questar Pipeline Company issued a notice requesting that all interruptible storage service (ISS) holders are to bring their working gas inventory to zero by October 7, 2006. The company announced that for gas day September 26, 2006, ISS holders with a negative account balance will be required to make an injection and corresponding transportation nomination on either Questar Pipeline or Northwest Pipeline in order to bring the working gas balance to zero.

Florida Gas Transmission Company (FGT) ended a series of overage alert day (OAD) notices on Tuesday, September 26. The initial OAD was issued on Monday, September 18, and more followed as a result of forecasts of 90-degree weather and related causes. FGT also announced that the maintenance is ongoing at the FGT/Transco St. Helena interconnect, resulting in zero volumes being scheduled at the Louisiana interconnect.Normally, FGT schedules up to 60,000 MMBtu per day at that location.

Northern Natural Gas Company declared a force majeure for the Matagorda Offshore Pipeline system (MOPS) starting on September 23, 2006, until further notice. This was the result of a fire that broke out at the Tivoli, Texas, liquids separation plant.It is believed the fire was started by an early morning lightning strike at the liquid storage facilities located at the Tivoli plant. All receipts into and deliveries out of MOPS must remain shut-in until further notice.Northern will provide updates to this notice as information becomes