Overview: Thursday, March 2 (next release 2:00 p.m. on March 9, 2006)
Since Wednesday, February 22, natural gas spot prices have decreased at all market locations in the Lower 48 States, with decreases exceeding $1 per MMBtu at most locations. On Wednesday, March 1, the spot price at the Henry Hub averaged $6.62 per MMBtu, declining about 92 cents per MMBtu or about 12 percent during the week (Wednesday–Wednesday). The futures contract for April delivery at the Henry Hub settled at $6.733 per MMBtu yesterday (March 1), falling about 70 cents per MMBtu or about 9 percent since the previous Wednesday. Natural gas in storage was 1,972 Bcf as of February 24, which is about 48 percent above the 5-year average. Since February 22, the spot price for West Texas Intermediate (WTI) crude oil increased $2.98 per barrel, or about 5 percent to $62.01 per barrel or $10.691 per MMBtu.
<![if !vml]>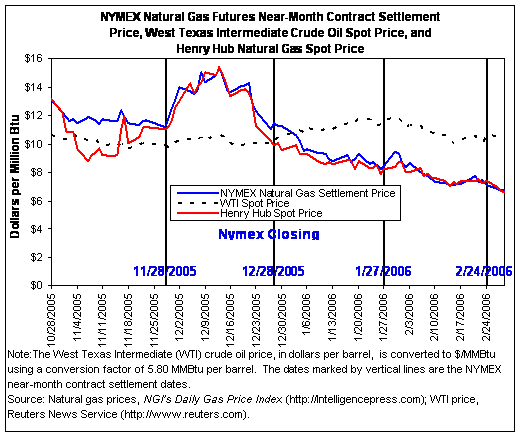 <![endif]>
Natural gas prices decreased by more than $1 per MMBtu at most market locations in the Lower 48 States as temperatures moderated following the weekend. Another factor that likely contributed to the lower prices was increasing reliance on withdrawals of natural gas from storage, as mandatory withdrawal provisions in many storage contracts loom with less than a month remaining in the 2005-2006 heating season. These mandatory withdrawal provisions provide incentives for owners of natural gas in storage to draw down their working gas inventories to avoid financial penalties for failing to reduce gas in storage to stipulated volumes. The price declines were geographically widespread, with prices falling by at least 99 cents per MMBtu on average in each region outside the Northeast. The only price increases since last Wednesday, February 22, occurred in New England, where prices climbed between 8 and 39 cents per MMBtu.Nevertheless, prices in the Northeast region, which includes New England, declined by 39 cents per MMBtu on average. The largest declines occurred in the West Texas region where prices fell by $1.35 per MMBtu on average. The widespread price decreases continues the trend of declining prices that has prevailed in natural gas markets since mid-December 2005, when the price at the Henry Hub hit $15.40 per MMBtu. At $6.62 per MMBtu as of Wednesday, March 1, prices at the Henry Hub are at their lowest level since June 1 2005, and 2 cents below last year's level. During the nomination period for natural gas for March 2006 (February 22 -28), bidweek prices decreased by 5 to 20 percent relative to the preceding month at most market locations, with the bidweek price falling about $1.34 per MMBtu or 16 percent at the Henry Hub.
<![if !vml]>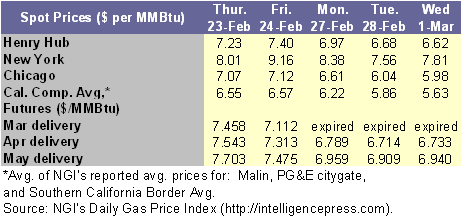 <![endif]>
At the NYMEX, the price of the futures contract for April delivery at the Henry Hub settled at $6.733 per MMBtu yesterday, decreasing about 70 cents per MMBtu or about 9 percent since Wednesday, February 22. The March 2006 futures contract expired on February 24, closing at 7.112 per MMBtu, which is a decline of about $2.28 per MMBtu since January 30, when it became the near-month contract. The 12-month futures strip (April 2006 through March 2007) traded at a premium of $1.73 per MMBtu relative to the Henry Hub spot price, averaging about $8.35 per MMBtu as of Wednesday, March 1, with contracts ranging between $6.73 and $10.44 per MMBtu.
Recent Natural Gas Market Data
Estimated Average Wellhead Prices

Sept-05

Oct-05

Nov-05

Dec-05

Jan-06

Feb-06

Price ($ per Mcf)

9.76

10.97

9.54

10.02

8.66

7.28

Price ($ per MMBtu)

9.50

10.68

9.29

9.76

8.43

7.09

Note: Prices were converted from $ per Mcf to $ per MMBtu using an average heat content of 1,027 Btu per cubic foot as published in Table A4 of the Annual Energy Review 2002.

Source:Energy Information Administration, Office of Oil and Gas.
Working gas in storage decreased to 1,972 Bcf as of Friday, February 24, 2006, according to EIA's Weekly Natural Gas Storage Report (See Storage Figure). Storage levels are 641 Bcf, or 48 percent, above the 5-year average, and 344 Bcf, or 21 percent, above the storage level at this time last year. The implied net withdrawal of 171 Bcf is 45 percent above the 5-year average net withdrawal of 118 Bcf, and 64 percent above last year's net withdrawal of 105 Bcf. This week's net withdrawal is the second largest of the heating season (November 2005 through March 2006). The relatively large withdrawal likely resulted from colder-than-normal temperatures in each of nine Census Divisions in the Lower 48 States during the report week (See Temperature Maps). Temperatures along the East Coast showed the smallest deviations from normal as New England, the Middle Atlantic, and South Atlantic divisions experienced temperatures 4, 2, and 4 percent colder-than-normal, respectively, as measured by the National Weather Service heating degree days for the week ending February 23, 2006. Temperatures in the East and West North Central divisions were about 15 and 25 percent, respectively, above average. Overall, heating degree days were 17 percent above normal for the Lower 48 States. Despite the relatively large net withdrawal, only 1,222 Bcf has been withdrawn from storage since the beginning of the heating season on November 1. If withdrawals from storage over the remaining weeks of the heating season match the 5-year average, then cumulative net withdrawals for the heating season will be slightly above 1,500 Bcf. This is about 25 percent below the 5-year average withdrawal of 2,018 Bcf, and the smallest cumulative seasonal withdrawal since 1989.
<![if !vml]>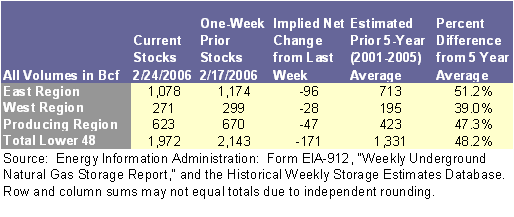 <![endif]>
Other Market Trends:
EIA Reports Financial Results for Major Energy Companies: Twenty-one of the nation's major energy companies reported overall net income of $28.7 billion on revenues of $298.4 billion during the fourth quarter of 2005, according to information released by the Energy Information Administration (EIA). (EIA defines major energy companies as ". . . U.S.-based publicly-owned companies or U.S.-based subsidiaries of publicly-owned foreign companies that had at least 1 percent of either production or reserves of oil or gas in the United States, or 1 percent of either refining capacity or petroleum product sales in the United States.") The 43 percent increase in net income in the fourth quarter of 2005 over the fourth quarter of 2004 primarily resulted from higher crude oil and natural gas prices, higher refining margins, and higher foreign refinery throughput. The report (Financial News for Major Energy Companies), prepared from data compiled from the companies' press releases, attributes the significantly higher results primarily to a 72 percent rise in natural gas wellhead prices and a 32 percent increase in crude oil prices as measured by the refiner acquisition cost of imported crude oil for the year. Worldwide downstream natural gas and power earnings increased by 76 percent largely owing to the absence of large losses, higher natural gas liquids (NGL) prices, and reduced operating costs. Mixed results were reported by the majors' chemical operations, which noted a 3 percent earnings increase during the fourth quarter of 2005 relative to the fourth quarter of 2004. Four of the nine companies with chemical operations reported increases, while the rest reported decreases primarily owing to lower margins, higher feedstock costs, reduced sales volumes, and outages resulting from Hurricanes Katrina and Rita.
Natural Gas Transportation Update:
Targa Midstream, the operator of the Lowry gas processing plant, has announced to Tennessee Gas Pipeline that it will begin compressor maintenance late Friday night, which is expected to last 5 or 6 days. Additionally, scheduled volumes at the Lac Blanc/Seahawk meter will be limited to 80,000 decatherms (Dth) per day until the work is complete.
Natural Gas Pipeline Company of America (NGPL) reminded delivered firm storage service (DSS) shippers that they are required to cycle 50 percent of their DSS inventory by April 30 each year. NGPL added it has determined that the physical requirements of its storage reservoirs will not be met to the extent required to waive the cycling requirement. A charge equal to the unauthorized inventory cycling rate will be applied to any remaining inventory as of April 30 that exceeds 50 percent of a DSS customer's contract maximum storage volume. In addition, any balance remaining in a DSS account on April 30 will decrease the customer's injection rights between May 1 and Oct. 31. Based on operating conditions, NGPL has elected to permit DSS shippers to withdraw in excess of the 20 percent maximum net withdrawal parameter for the month of March. No overrun charge will be assessed for DSS withdrawals in excess of the 20 percent net withdrawal parameter.
Matagorda Offshore Pipeline System (MOPS) announced today that it declared a force majeure when Northern Natural Gas detected a leak upstream of the Matagorda 686 platform, which affects 13 receipt points. Those points will be unavailable for service until further notice.
Northern Natural Gas declared a force majeure on March 2, 2006, on the Jal-to-Pinnacle-Lea portion of the Hobbs 26, owing to a leak that was detected downstream of the Pinnacle Lea delivery point. The affected pipeline segment containing the leak has been inaccessible. A total of four delivery points and eight receipt points were affected.Until further notice, these points will be unavailable for service.