Overview: Thursday, August 12 (next release 2:00 p.m.on June 19)
Natural gas spot and futures prices moved lower on the week (Wednesday to Wednesday, August 4-11), as unseasonably cool temperatures prevailed in most high gas-consuming regions of the nation. At the Henry Hub, the spot price declined 6 cents on the week, or just over 1 percent, to yesterday's (Wednesday, August 11) level of $5.64 per MMBtu. On the NYMEX, the futures contract for September delivery edged down nearly 5 cents per MMBtu, or about 1 percent, to settle yesterday at $5.614. EIA reported that inventories were 2,452 Bcf as of Friday, August 6, which is 5.0 percent greater than the average for the previous 5 years (1999-2003). The spot price for West Texas Intermediate (WTI) crude oil rose sharply in last Thursday's (August 5) trading to top $44 per barrel and stayed above that level for 4 of the 5 trading days in the week. The WTI spot price ended trading yesterday at $44.72 per barrel, or $7.71 per MMBtu, which is $1.99 per barrel, or almost 5 percent, higher than last Wednesday's (August 4) price.
Spot prices continued their downward trend for the third consecutive week, as cooler-than-normal temperatures lingered throughout the week in most major gas-consumption centers, suppressing swing demand for air conditioning load. Despite a warming trend in the West beginning over the weekend (August 7-8), spot prices at Rockies and California locations fell an average of 14 and 11 cents per MMBtu, respectively, on the week. The West Texas market area (with a decline of 13 cents) joined these markets with the largest average price declines for the week. Prices at other market locations got a boost on Monday and Tuesday in anticipation of possible disruptions of Gulf of Mexico (GOM) production owing to Tropical Storm Bonnie and Hurricane Charley. While the two storms did engender the evacuation of some production assets and the shut-in of some gas production (see "Other Market Trends," below), by Wednesday the storms' projected tracks were east of most Gulf production activity. Despite the impact on GOM production, spot prices on Wednesday reversed their previous trend, declining between 10 and 20 cents at nearly all market locations east of the Rockies except points in Florida. For the week, price declines averaged 3 to 9 cents in markets other than in the West. In the Midwest, the Chicago citygate price dropped 4 cents, to $5.65 per MMBtu, while in the Northeast, the spot price for delivery to New York citygates moved down 7 cents, to $6.06 per MMBtu.
<![if !vml]>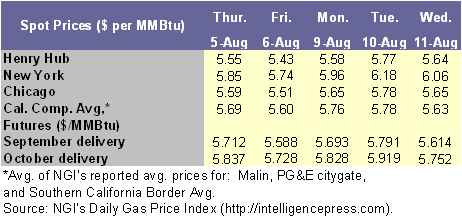 <![endif]>
Futures trading roughly mirrored developments in spot markets. Two days of storm-related price increases, coupled with a modest increase last Thursday (August 5), could not overcome price declines of last Friday (August 6) and yesterday, as the near-month contract (for September delivery) declined $0.047 per MMBtu on the week, settling yesterday at $5.614. Thursday's price increase coincided with the (then) all-time high near-month crude oil contract settlement price of $44.41 per barrel. The petroleum markets have been unsettled as the conditions in Iraq and the Russian government's involvement with Russia's largest oil producer continue to foster uncertainty in world oil supply prospects. However, despite another record-setting session in crude futures prices on Tuesday (August 10), natural gas futures prices generally moved lower on the week. Wednesday's relatively sharp decline seems to indicate that futures prices are reacting more to the near-term weather forecasts, which predict the continuing of cool temperatures throughout most of the nation east of the Rockies until late August. Nonetheless, the current differentials between the spot price and futures prices for the heating season months, which ranged from more than $1 to nearly $1.26, continue to provide incentive for storage injections.
Recent Natural Gas Market Data
Estimated Average Wellhead Prices

Nov-03

Dec-03

Jan-04

Feb-04

Mar-04

Apr-04

Price ($ per Mcf)

4.34

5.08

5.53

5.15

4.97

5.20

Price ($ per MMBtu)

4.22

4.94

5.38

5.01

4.83

5.06

Note: Prices were converted from $ per Mcf to $ per MMBtu using an average heat content of 1,027 Btu per cubic foot as published in Table A4 of the Annual Energy Review 2002.

Source: Energy Information Administration, Office of Oil and Gas.
Working gas inventories stood at 2,452 Bcf as of Friday, August 6, according to the Energy Information Administration's Weekly Natural Gas Storage Report released August 12. This is 5.0 percent above the previous 5-year (1999-2003) average for the week (See Storage Figure). The implied net injection of 72 Bcf is 18 Bcf, or 33.3 percent, greater than the previous 5-year average. Cooler-than-normal weather, as measured by cooling degree day (CDD) data published by the National Weather Service (NWS), in 7 of 9 Census Divisions and for the nation as a whole during the 7-day period ending Saturday, August 7, dampened demand for natural gas-fired electricity generation and thereby freed up gas for injection into storage. (See Temperature Map) (See Deviations Map) According to the latest NWS data, CDDs for the entire nation were about 12 percent below normal. With more than 12 full weeks remaining until the end of the traditional refill season (October 31), average weekly net injections of 44 Bcf would bring stock levels to 3,000 Bcf for the traditional beginning of the heating season.
<![if !vml]>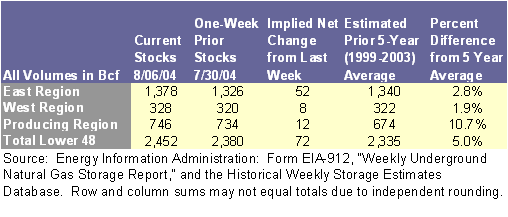 <![endif]>
Other Market Trends:
Well Closures in the Gulf of Mexico Owing To Storm Activity: Tropical Storm Bonnie and the approaching Hurricane Charley have led a number of major Gulf of Mexico (GOM) producers to evacuate employees and shut in production. According to the Minerals and Management Service, as of Wednesday, August 11, the shut-in natural gas and oil production were equivalent to more than 2 billion cubic feet and 419 thousand barrels per day, respectively. A total of 108 platforms and 37 rigs have been evacuated. According to trade reports, the reaction to the storms has varied among the companies. As of Tuesday, August 10, Shell Oil Company shut in 80 million cubic feet per day of gas production along with 49 thousand barrels a day of oil output in its Princess and Crosby fields in the Gulf. ExxonMobil evacuated an unknown number of nonessential workers, while shutting in 27 million cubic feet per day of gas and 3 thousand barrels per day of oil production. Marathon removed about 12 nonessential workers from the GOM and shut in 90 million cubic feet per day of gas and 2 thousand barrels per day of oil. Other companies had removed some personnel and shut in little or none of their Gulf production by Tuesday. The entire Gulf produces about 12 billion cubic feet per day of gas and 1.6 million barrels per day of oil.
Bureau of Land Management (BLM) Clarifies Policy on Issuing Leases: The BLM released on July 27, 2004, an Instruction Memorandum (IM) to clarify policies and procedures for State Offices when issuing competitive and noncompetitive leases and when approving assignments of record title or approving transfers of operating rights when entities are in violation of the Mineral Leasing Act (MLA). The MLA requires that no individual, association, or corporation shall take hold, own, or control more than 246,080 acres of public land or acquired lands from a Federal lease in any one state at any one time, with the exception of Alaska, where limits are 300,000 acres in the northern and southern districts. In certain circumstances that cause an entity to exceed the acreage limit, the entity may have a maximum of 180 days to comply. The period may be extended by a State Director if the entity files a petition providing sufficient justification. Any entity that exceeds the acreage limitation shall not be allowed to acquire additional lease acreage until it has complied with the acreage limitation. This restriction on acquiring new leases or lease interests applies even if the entity is operating within the divestiture period, which may extend up to 180 days. During the first two weeks in January, each state (except Alaska) is required to perform an annual acreage review. Any review reporting an entity with chargeable acreage exceeding 200,000 acres will cause that entity to be subjected to a full audit of its oil and gas lease interest holdings for that type of land in that geographic area.
Summary:
Spot prices declined for the third consecutive week, and futures prices also declined, as cooler-than-normal temperatures continued to dominate most of the nation east of the Rockies, more than offsetting the impact through Wednesday of consecutive tropical storms in the eastern Gulf of Mexico. Storage injections continued to exceed the 5-year average by significant amounts, and total stocks reached 5 percent above the 5-year average.