Spot and futures prices surged upward as two tropical storms in close succession made their presence felt in gas markets over the past week. At the Henry Hub, the average spot price rose 47 cents week-to-week (Wednesday, September 11 to Wednesday, September 18) to $3.79 per MMBtu, which is at its highest level since May 1. In addition to some production shut-ins from Tropical Storm Hanna's arrival in the Gulf of Mexico on Friday (September 13), spot prices were also bolstered somewhat by warmer-than-normal temperatures in most regions since last Wednesday, as well as by outages of a number of nuclear-fired electric plants for routine maintenance. On the NYMEX, the settlement price of the futures contract for October delivery rose in five consecutive trading sessions, reaching a 4-month high yesterday at $3.787 per MMBtu. Natural gas in storage increased by 69 Bcf to 2,924 Bcf, 12 percent above the 5-year average. After falling 82 cents on Thursday (September 12) to dip below $29 per barrel, the spot price of West Texas Intermediate (WTI) crude oil rebounded strongly on Friday and remained above the $29 per barrel mark for the rest of the week, ending trading yesterday at $29.57 per barrel, or $5.10 per MMBtu. This is a decline of 20 cents per barrel from the WTI spot price of last Wednesday.
<![if !supportEmptyParas]> <![endif]>
<![if !vml]>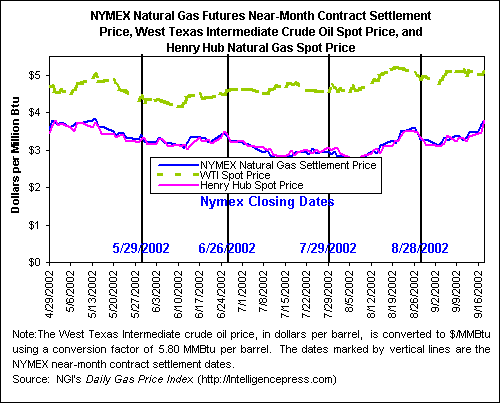 <![endif]>
<![if !supportEmptyParas]> <![endif]>
<![if !supportEmptyParas]> <![endif]>
After Thursday's drop of 9 to 14 cents at most market locations, spot prices have generally moved upward, as first Tropical Storm Hanna caused some production shut-downs on Friday and over the weekend, and then Tropical Storm Isidore materialized on a path to enter the Gulf of Mexico. According to the Minerals Management Service, Hanna's effects included the evacuation of 190 production platforms and 28 drilling rigs, temporarily curtailing about 2.1 Bcf per day of production. Spot prices at most market locations rose Friday by up to 14 cents per MMBtu, then rose even more on Monday, as the effects of the production shut-ins were more evident, particularly in Northeast markets. The spot price at TRANSCO Zone 6 for New York delivery rose a cumulative 31 cents to $3.80 per MMBtu on those two days, while Midwest and Midcontinent increases were smaller. The price surge experienced yesterday, as Tropical Storm Isidore threatened to increase to hurricane strength and moved north by northwest into the Gulf of Mexico, was fairly uniform in most markets, ranging from about 35 to 40 cents per MMBtu. The TRANSCO Zone 6 price jumped to $4.16 per MMBtu; the Chicago citygate spot price rose 36 cents to $3.80 per MMBtu. California prices were also on the rise, partially from concerns about the storm, but also because of relatively strong weather-related demand and some maintenance-related supply constraints in the San Juan production basin. For the week, the Southern California Border average price increased 46 cents, to $3.57 per MMBtu.
<![if !supportEmptyParas]> <![endif]>
On the NYMEX, futures prices moved up steadily, spurred last Friday by anticipation of Hanna's effects on supply, then gaining more upward momentum on Tuesday and Wednesday with the growing threat of Isidore. For the week, the near-month contract (for October delivery) gained $0.537 per MMBtu from last Wednesday's (September 11) settlement price to settle yesterday at $3.787. This is October's highest settlement price since Friday, May 17 ($3.788). Weekly gains for the contracts for November and December delivery were $0.425 and $0.345 per MMBtu, respectively, while gains for the balance of winter delivery months ranged from $0.25 to $0.32 per MMBtu. The highest-priced gas for delivery in the upcoming heating season as of yesterday was for the month of January, which settled at $4.370 per MMBtu. This is also a 4-month high settlement price for the January 2003 futures contract.
Spot Prices ($ per MMBtu)

Thur.

Fri.

Mon.

Tues.

Wed.

12-Sep

13-Sep

16-Sep

17-Sep

18-Sep

Henry Hub

3.22

3.36

3.44

3.46

3.79

New York

3.49

3.59

3.80

3.80

4.16

Chicago

3.23

3.33

3.45

3.44

3.80

Cal. Comp. Avg,*

3.11

3.22

3.36

3.39

3.57

Futures ($/MMBtu)

Oct delivery

3.329

3.467

3.507

3.679

3.787

Nov delivery

3.720

3.842

3.866

3.977

4.070

*Avg. of NGI's reported avg. prices for: Malin, PG&E citygate,

and Southern California Border Avg.

Source: NGI's Daily Gas Price Index (http://intelligencepress.com).
<![if !supportEmptyParas]> <![endif]>
<![if !supportEmptyParas]> <![endif]>
Storage:
Working gas in underground storage was 2,924 Bcf for the week ended Friday, September 13, according to the EIA Weekly Natural Gas Storage Report. While the inventory differential with respect to the 5-year average has been declining, total stocks of 2,924 Bcf were nonetheless 304 Bcf, or nearly 12 percent, greater than the average. (See Storage Figure) The implied net injection for the week was 69 Bcf, which is about 12 percent below the previous 5-year (1997-2001) average. It is 22 Bcf, or about 24 percent, below the estimated net injection recorded during the same week last year. During the week covered by the storage report, temperatures in much of the Midwest and New England were at least 5 degrees above normal, while the Mid-Atlantic and Southeastern seaboard states also saw slightly above average temperatures. (See Temperature Map) (See Deviation Map) According to the latest data from the National Weather Service, air-conditioned home-weighted heating degree days were over three times normal in the New England Census division, twice normal in the East North Central, and 65 percent greater in the Middle Atlantic. The higher-than-normal temperatures in these high-gas-consuming areas likely kept demand for air conditioning relatively strong, diverting gas that might otherwise have been injected into storage to gas-fired electrical plants. The storage levels for the Producing and West Consuming regions continued to register double-digit percentages above their respective 5-year averages. At 1,687 Bcf, East Consuming region stocks were nearly 6 percent greater than average and 71 Bcf above the level of last year. In its most current Short-Term Energy Outlook, EIA projects natural gas inventories will be 3,220 Bcf at the beginning of the heating season (November 1).
<![if !supportEmptyParas]> <![endif]>
All Volumes in Bcf

Current Stocks 9/13/2002

Estimated Prior 5-Year (1997-2001) Average

Percent Difference from 5 Year Average

Implied Net Change from Last Week

One-Week Prior Stocks 9/6/02

<![if !supportMisalignedRows]>
<![endif]>

East Region

1,687

1,597

5.6%

45

1,642

<![if !supportMisalignedRows]>
<![endif]>

West Region

394

330

19.4%

4

390

<![if !supportMisalignedRows]>
<![endif]>

Producing Region

843

692

21.8%

20

823

<![if !supportMisalignedRows]>
<![endif]>

Total Lower 48

2,924

2,620

11.6%

69

2,855

<![if !supportMisalignedRows]>
<![endif]>

Source: Energy Information Administration: Form EIA-912, "Weekly Underground Natural Gas Storage Report," and the Historical Weekly Storage Estimates Database.

<![if !supportMisalignedRows]>
<![endif]> <![if !supportMisalignedRows]>
<![endif]> <![if !supportMisalignedRows]>
<![endif]>


Other Market Trends:
Natural Gas Rig Counts: The number of rigs drilling for natural gas climbed by 13 to 746 for the week ending September 13, according to Baker-Hughes Incorporated. This is the highest rig count since the week ended December 28, 2001. After falling to 713 for the week ended August 23, the number of rigs drilling for natural gas has increased in each successive week, climbing over 1 percent per week on average. Still, natural gas rigs are almost 24 percent below last year at this time, however that was when they numbered a near-record high of 981. Natural gas rigs remain over 5 percent above the 5-year average for the report week. The share of rigs drilling for natural gas has been consistently above 80 percent since early last year. Since the week ended May 17, 2002, rigs drilling for natural gas have comprised roughly 84 percent of total rigs drilling, which is close to a record for the split between gas and oil rigs. Last week, rigs drilling for natural gas constituted 86.4 percent of rigs drilling in the United States. This is the highest share of rigs drilling for natural gas in the 15 years that Baker-Hughes has separately reported gas and oil drilling rigs. The emphasis on gas prospects undoubtedly reflects a relative advantage in the economics of natural gas prospects compared with domestic crude oil prospects.
<![if !supportEmptyParas]> <![endif]>
Summary:
Spot and futures prices rose significantly on the strength of two tropical storms and concerns about production shutdowns in the Gulf of Mexico. Market prices are relatively high despite the continuing high level of storage inventories, which remain more than 300 Bcf higher than the 5-year average.
<![if !supportEmptyParas]> <![endif]>