---
In the News:
Russia's Yamal LNG ships first cargo
Russia's second liquefied natural gas (LNG) project, Yamal LNG, located in the Arctic region on the Yamal peninsula, loaded its first LNG cargo in early December. Yamal's first LNG shipment was sold to a subsidiary of Malaysia's state-owned oil and natural gas company Petronas, and was loaded onto a specialized ice-class LNG tanker, Christophe de Margerie, at the port of Sabetta.
Yamal LNG is being developed by a Russian company Novatek and consists of three liquefaction trains, each with a capacity of 0.7 billion cubic feet per day (Bcf/d). The first train began producing LNG in December 2017, while the second and the third trains are scheduled to come online in October 2018 and July 2019. Output from Train 1 will be sold on a spot basis before the official start of contract deliveries in April 2018. Yamal LNG was built using modular designed liquefaction trains, most of which were constructed in China and Southeast Asia and then shipped to the project site.
Yamal LNG is a partnership owned by Novatek (50.1%), China National Petroleum Corporation (CNPC) (20%), Total (20%), and China's Silk Road Fund (9.9%). The project—with an estimated cost of $27 billion—was financed primarily by loans from the Chinese banks. Sanctions imposed on Russia in 2014 prohibited U.S. and European Union banks from extending financing to the project.
More than 90% of the output from Yamal LNG is contracted long-term primarily to markets in Asia. CNPC's contracted volume of 0.4 Bcf/d is the only contract with a fixed destination, with cargoes destined for China. The rest of the volumes (1.56 Bcf/d) have flexible destinations. The remaining 9% of the output—0.2 Bcf/d of the 2.17 Bcf/d total—are uncontracted volumes that will be marketed by a subsidiary of Yamal LNG, and some uncontracted volume may be used for bunkering and other transport fuel.
Yamal LNG has some of the lowest natural gas feedstock costs in the world (at $0.38 per million British thermal units (MMBtu)), according to project developer Novatek. The project also benefits from the Russian government's support, including a 12-year exemption from the mineral extraction tax, no export taxes on LNG, and government-subsidized construction of the port of Sabetta.
However, because of the remoteness of Yamal LNG and its location in harsh Arctic conditions, transportation of LNG may be challenging and costly. Yamal LNG will use more expensive ice-class LNG carriers and will ship LNG eastward via the Northern Sea Route between May and November, and westward to transshipment centers in Zeebrugge (Belgium) and Montoir (France) for storage and re-load onto conventional LNG carriers for the remainder of the year. The Northern Sea Route will allow LNG from Yamal to reach Asian markets in 15 days via the Bering Strait compared to 30 days on a westward voyage via the Suez Canal, according to Total.
Overview:
(For the Week Ending Wednesday, December 20, 2017)
Natural gas spot prices rose at most locations this report week (Wednesday, December 13 to Wednesday, December 20). The Henry Hub spot price rose from $2.67 per million British thermal units (MMBtu) last Wednesday to $2.70/MMBtu yesterday.
At the New York Mercantile Exchange (Nymex), the January 2018 contract price fell 8¢ from $2.715/MMBtu last Wednesday to $2.637/MMBtu yesterday.
Net withdrawals from working gas totaled 182 billion cubic feet (Bcf) for the week ending December 15. Working natural gas stocks are 3,444 Bcf, which is 5% lower than the year-ago level and 2% lower than the five-year (2012–16) average for this week.
The natural gas plant liquids composite price at Mont Belvieu, Texas, fell by 20¢, averaging $7.81/MMBtu for the week ending December 20. The price of natural gasoline, propane, butane, and isobutane fell by 1%, 5%, 3%, and 3%, respectively. The price of ethane rose by 5%.
According to Baker Hughes, for the week ending Tuesday, December 12, the natural gas rig count increased by 3 to 183. The number of oil-directed rigs fell by 4 to 747. The total rig count decreased by 1, and it now stands at 930.
Prices/Supply/Demand:
Prices generally rise across the country. This report week (Wednesday, December 13 to Wednesday, December 20), the Henry Hub spot price rose 3¢ from $2.67/MMBtu last Wednesday to $2.70/MMBtu yesterday, with a weekly high of $2.74/MMBtu on Tuesday. At the Chicago Citygate, prices increased 2¢ from $2.62/MMBtu last Wednesday to $2.64/MMBtu yesterday. Prices at PG&E Citygate in Northern California fell 2¢, down from $2.91/MMBtu last Wednesday to $2.89/MMBtu yesterday. The price at SoCal Citygate increased 85¢ from $4.12/MMBtu last Wednesday to $4.97/MMBtu yesterday, reaching a high of $5.25/MMBtu on Monday. That same day, SoCalGas issued an alert for a leak at Aliso Canyon, which occurred because of routine maintenance, and was resolved within an hour. At the end of the report week, SoCalGas issued a notice of cold weather for the coming report week.
Prices mixed in the Northeast. At the Algonquin Citygate, which serves Boston-area consumers, prices went up $1.59 from $9.28/MMBtu last Wednesday to the weekly high of $10.87/MMBtu yesterday with forecasts of colder temperatures through the end of the month. A possible shortage of LNG at the terminal in Everett, Massachusetts may have also contributed to high Citygate prices, according to PointLogic Energy. At the Transcontinental Pipeline Zone 6 trading point for New York, prices decreased 98¢ from $4.42/MMBtu last Wednesday to $3.44/MMBtu yesterday after posting day over day gains since Monday, likely in response to the weather forecasts.
Tennessee Zone 4 Marcellus spot prices increased 11¢ from $2.01/MMBtu last Wednesday to $2.12/MMBtu yesterday. Prices at Dominion South in northwest Pennsylvania rose 14¢ from $2.12/MMBtu last Wednesday to $2.26/MMBtu yesterday. According to Natural Gas Intelligence, Phase 1B of the Rover Pipeline—which will bring natural gas from the Marcellus and Utica Shale production region to markets across the United States and Canada—entered service on Monday.
Nymex prices fall. At the Nymex, the price of the January 2018 contract decreased 8¢, from $2.715/MMBtu last Wednesday to $2.637/MMBtu yesterday. On Friday, the January contract reached a new week over week low, $2.612/MMBtu, the lowest price for a front-month contract since February 2017. The price of the 12-month strip averaging January 2018 through December 2018 futures contracts declined 8¢ to $2.646/MMBtu.
Supply rises slightly. According to data from PointLogic Energy, the average total supply of natural gas rose by 1% compared with the previous report week and averaged 83.1 Bcf/d. Dry natural gas production grew by 1% compared with the previous report week. Average net imports from Canada increased by 7% from last week.
Demand declines. Total U.S. consumption of natural gas fell by 8% compared with the previous report week, according to data from PointLogic Energy. Natural gas consumed for power generation declined by 8% week over week, while industrial sector consumption decreased by 3%. In the residential and commercial sectors, consumption declined by 10% with warmer-than normal-temperatures for most of the country and temperatures close to normal for most of the eastern seaboard. Natural gas exports to Mexico increased 2%.
U.S. LNG exports are flat week over week. Four LNG vessels (LNG-carrying capacity 14.7 Bcf combined) departed the Sabine Pass liquefaction facility last week (Thursday to Wednesday) and one tanker (LNG-carrying capacity 3.6 Bcf) was loading at the terminal on Wednesday.
Cheniere Energy filed a monthly construction status report in November on the Corpus Christi liquefaction terminal it is developing in Corpus Christi Bay, Texas. The report stated that the project is 77.4% complete against the scheduled plan of 80.8%. The project involves two liquefaction trains currently under construction with a total baseload nameplate capacity of 1.2 Bcf/d. A third train is fully approved but is not yet under construction. The first train at the facility is expected to come online in early 2019.
Storage:
Higher-than-normal withdrawals result in larger five-year average deficit levels. Net withdrawals from storage totaled 182 Bcf for the week ending December 15, compared with the five-year (2012–16) average net withdrawal of 125 Bcf and last year's net withdrawals of 200 Bcf during the same week. Working gas stocks totaled 3,444 Bcf, which is 84 Bcf less than the five-year average and 183 Bcf less than last year at this time.
The deficit to the five-year average increased this week after decreasing three weeks in a row. Most of the deficit to the five-year average can be attributed to the Pacific region, where working gas stocks were 39 Bcf lower than their five-year average levels this week. With a very strong withdrawal this week in the South Central Nonsalt region, the South Central region as a whole went from being very close to five-year average levels to a 33 Bcf deficit.
Falling temperatures result in increased withdrawals of natural gas from storage. Colder weather throughout the Lower 48 states during the storage week resulted in increased consumption of natural gas. Substantial increases in natural gas consumption in the power and residential/commercial sectors during this storage week resulted in withdrawals from storage in every region of the Lower 48 states, with an especially strong one in the South Central region. The East South Central and West South Central Census divisions showed temperatures 6 degrees Fahrenheit (°F) and 3°F lower than normal, respectively.
The January 2018 futures price is in line with current spot price. During the most recent storage week, the average natural gas spot price at the Henry Hub was $2.74/MMBtu, the same as the front-month futures price at the Nymex. A year ago, the spot price was 3¢ higher than the front-month contract.
Reported net implied flows out of storage were near the upper end of analysts' expectations. According to the Desk survey of natural gas analysts, estimates of the weekly net change in working natural gas storage ranged from net withdrawals totaling 163 Bcf to 183 Bcf, with a median net withdrawal of 175 Bcf. Prices for the futures contract for January delivery rose about 2¢/MMBtu, averaging $2.65/MMBtu, at the release of the Weekly Natural Gas Storage Report, with 460 contracts traded. The price increased a few cents later on in the hour.
Temperatures were slightly lower than normal during the storage week. Temperatures fell substantially this storage week compared to last week, though cumulative heating degree days (HDDs) this heating season are still well below normal. Temperatures in the Lower 48 states averaged 37°F this storage week, 1°F lower than the normal and 1°F higher than last year at this time. HDDs in the Lower 48 states totaled 199, compared with 207 last year and a normal of 192.
See also: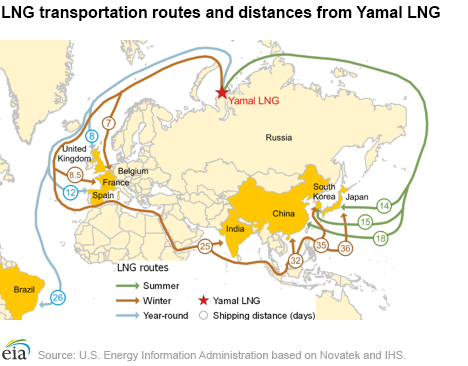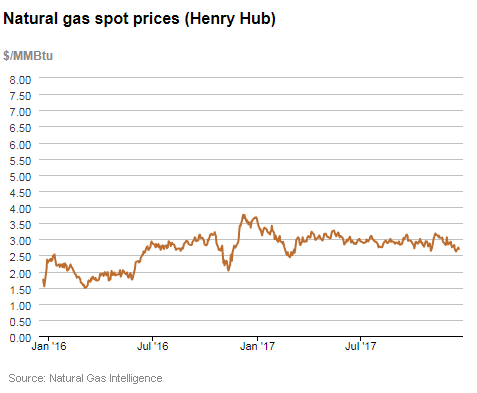 Spot Prices ($/MMBtu)

Thu,
14-Dec

Fri,
15-Dec

Mon,
18-Dec

Tue,
19-Dec

Wed,
20-Dec

Henry Hub

2.67

2.62

2.71

2.74

2.70

New York

5.07

3.22

2.87

3.14

3.44

Chicago

2.61

2.55

2.66

2.71

2.64

Cal. Comp. Avg.*

2.78

2.74

2.85

2.87

3.02

Futures ($/MMBtu)
January Contract

2.684

2.612

2.745

2.692

2.637

February Contract

2.704

2.635

2.755

2.697

2.636

*Avg. of NGI's reported prices for: Malin, PG&E Citygate, and Southern California Border Avg.
Source: NGI's Daily Gas Price Index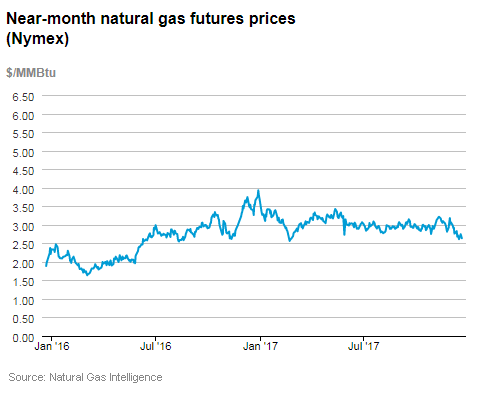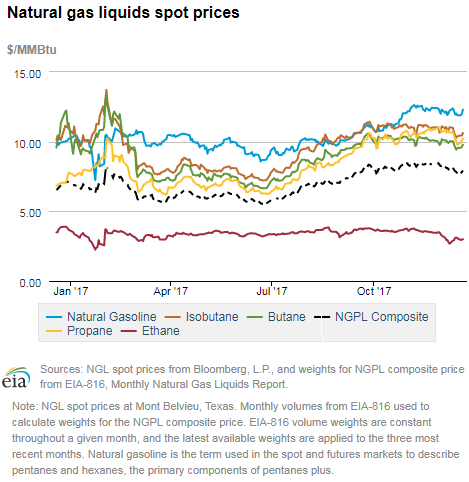 U.S. natural gas supply - Gas Week: (12/14/17 - 12/20/17)

Average daily values (Bcf/d):

this week

last week

last year

Marketed production

85.6

84.8

77.2

Dry production

76.8

76.1

69.1

Net Canada imports

6.1

5.7

6.5

LNG pipeline deliveries

0.3

0.2

0.3

Total supply

83.1

82.0

75.9

Source: OPIS PointLogic Energy, an IHS Company
Note: LNG pipeline deliveries represent gas sendout from LNG import terminals.
U.S. natural gas consumption - Gas Week: (12/14/17 - 12/20/17)

Average daily values (Bcf/d):

this week

last week

last year

U.S. consumption

84.8

91.7

102.8

Power

25.3

27.6

27.3

Industrial

22.6

23.3

24.2

Residential/commercial

36.8

40.8

51.2

Mexico exports

4.6

4.5

3.6

Pipeline fuel use/losses

7.3

7.9

8.9

LNG pipeline receipts

3.0

3.1

1.4

Total demand

99.7

107.2

116.6

Source: OPIS PointLogic Energy, an IHS Company
Note: LNG pipeline receipts represent pipeline deliveries to LNG export terminals.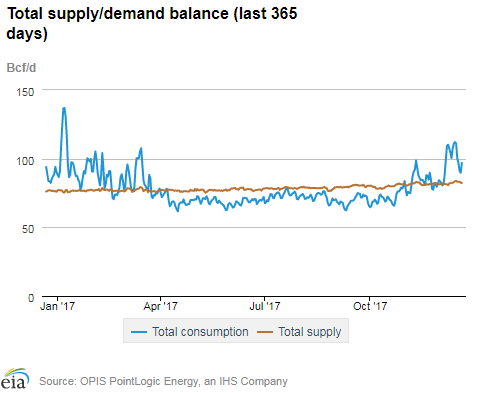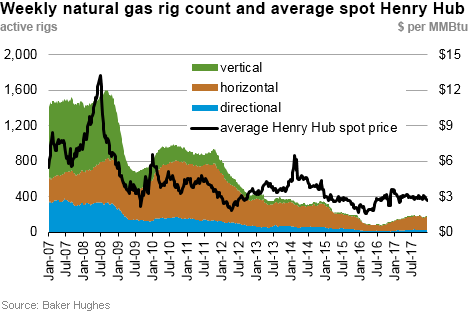 Rigs

Fri, December 15, 2017

Change from

last week

last year

Oil rigs

747

-0.5%

46.5%

Natural gas rigs

183

1.7%

45.2%

Note: Excludes any miscellaneous rigs
Rig numbers by type

Fri, December 15, 2017

Change from

last week

last year

Vertical

60

-6.3%

-15.5%

Horizontal

801

0.6%

56.4%

Directional

69

-2.8%

27.8%

Source: Baker Hughes Inc.
Working gas in underground storage

Stocks
billion cubic feet (Bcf)

Region

2017-12-15

2017-12-08

change

East

811

855

-44

Midwest

980

1,033

-53

Mountain

204

213

-9

Pacific

294

305

-11

South Central

1,155

1,220

-65

Total

3,444

3,626

-182

Source: U.S. Energy Information Administration
Working gas in underground storage

Historical comparisons

Year ago
(12/15/16)

5-year average
(2012-2016)

Region

Stocks (Bcf)

% change

Stocks (Bcf)

% change

East

818

-0.9

831

-2.4

Midwest

1,016

-3.5

975

0.5

Mountain

232

-12.1

201

1.5

Pacific

303

-3.0

333

-11.7

South Central

1,257

-8.1

1,188

-2.8

Total

3,627

-5.0

3,528

-2.4

Source: U.S. Energy Information Administration
Temperature – heating & cooling degree days (week ending Dec 14)

HDD deviation from:

CDD deviation from:

Region

HDD Current

normal

last year

CDD Current

normal

last year

New England

243

17

5

0

0

0

Middle Atlantic

248

33

25

0

0

0

E N Central

279

33

2

0

0

0

W N Central

245

-27

-78

0

0

0

South Atlantic

187

36

24

2

-6

-7

E S Central

198

42

23

0

-1

0

W S Central

130

15

5

0

-2

-1

Mountain

188

-34

-37

0

0

0

Pacific

68

-50

-40

0

0

0

United States

199

7

-8

0

-2

-1

Note: HDD = heating degree day; CDD = cooling degree day

Source: National Oceanic and Atmospheric Administration
Average temperature (°F)
7-Day Mean ending Dec 14, 2017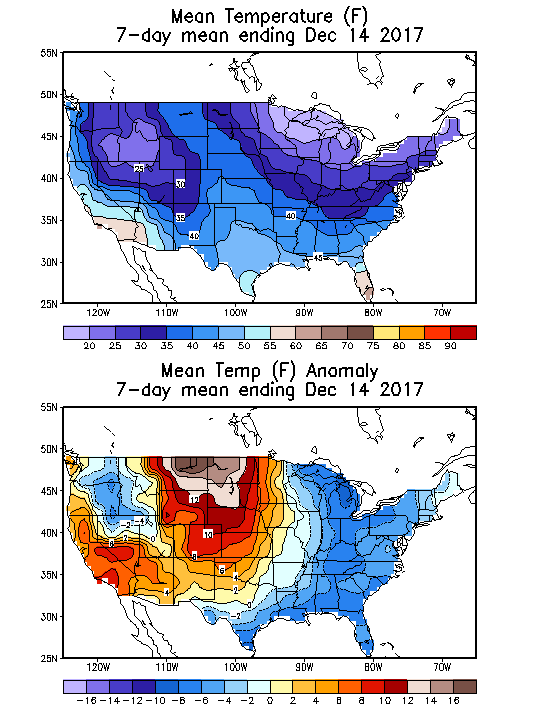 Source: NOAA National Weather Service
Deviation between average and normal (°F)
7-Day Mean ending Dec 14, 2017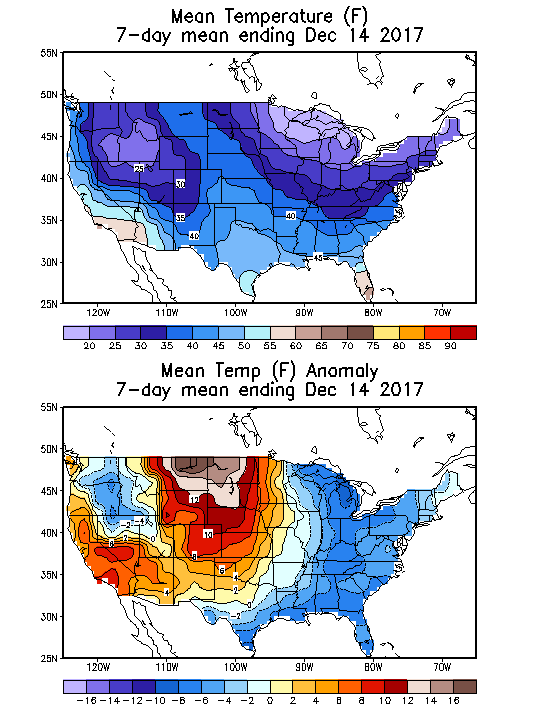 Source: NOAA National Weather Service