---
In the News:
Sabine Pass liquefaction terminal begins commercial operations
On May 3, Train 1 of the Sabine Pass liquefaction terminal—the first liquefied natural gas (LNG) export facility in the Lower 48 states—received authorization to begin commercial operations, although the terminal had already begun exporting LNG in a commissioning, or pre-commercial, stage. Meanwhile, on May 5, Sabine Pass's Train 2 began its commissioning process.
Train 1 began the commissioning process with its first export cargo on February 25, and was authorized to export LNG in a commissioning stage to test systems for full-time commercial operations. The Sabine Pass terminal has three more trains under construction, each with a capacity of 0.55 billion cubic feet per day (Bcf/d), scheduled to come online in 2017-18. The sixth train at the facility has obtained permits, but is not currently under construction.
LNG exports are carried by specially designed ships with onboard cryogenic tanks. A typical LNG ship has a carrying capacity of 2.0-3.7 Bcf. Such ships account for 77% of the global LNG shipping fleet of 449 vessels, according to the International Group of Liquefied Natural Gas Importers. Larger ships with a carrying capacity of 3.8-5.7 Bcf account for 15% of the global fleet. The 45 largest of these ships, called Q-flex and Q-max tankers, range in capacity between 4.5 Bcf and 5.7 Bcf and exclusively serve exports from Qatar. The remaining smaller ships range in size between 0.1 Bcf and 1.9 Bcf and primarily serve markets with shorter transport distances.
To date, the Sabine Pass terminal has exported nine LNG cargoes totaling 31.9 Bcf. Four of these cargoes, including a commissioning cargo, went to Brazil and Argentina, carrying a total of 14 Bcf of LNG. Other cargoes went to India (3.4 Bcf), Portugal (3.8 Bcf), and Dubai (3.5 Bcf), while two other ships are currently en route to unannounced destinations. At the same time, natural gas pipeline receipts to Sabine Pass terminal averaged 0.5 Bcf/d since mid-February. In general, liquefaction terminals will increase their intake several days before a ship is to be loaded, as well as while the ship is loading.
Currently, there are five LNG export facilities under construction in the United States, with a total liquefaction capacity of 9.2 Bcf/d. Most of the U.S. liquefaction capacity has been fully or partially contracted, with more than half of volumes contracted to countries in Asia Pacific and Europe, and the rest of volumes to flexible destinations.
Overview:
(For the Week Ending Wednesday, May 18, 2016)
Natural gas spot prices fell at virtually all locations this report week (Wednesday, May 11, to Wednesday, May 18). The Henry Hub spot price fell by a dime, from $2.01 per million British thermal unit (MMBtu) last Wednesday to $1.91/MMBtu yesterday.
At the New York Mercantile Exchange (Nymex), the June 2016 contract price fell significantly, from $2.173/MMBtu last Wednesday to $2.001/MMBtu yesterday.
Net injections to working gas totaled 73 Bcf for the week ending May 13. Working gas stocks are 2,754 Bcf, which is 40% above the year-ago level and 41% above the five-year (2011-15) average for this week.
According to Baker Hughes data, for the week ending May 13, the natural gas rig count increased by 1 to 87, and oil-directed rigs fell by 10 to 318. The total rig count fell by 9, and now stands at 406. The oil rig count has been falling consistently since late 2014, when it exceeded 1,600.
The natural gas plant liquids (NGPL) composite price at Mont Belvieu, Texas, rose by 1.8% to $5.06/MMBtu for the week ending Friday, May 13. The price of ethane fell by 0.8%, whereas the prices of propane, butane, isobutane, and natural gasoline increased by 2.2%, 2.5%, 2.6%, and 2.4%, respectively.
Prices/Supply/Demand:
Henry Hub spot price falls. The Henry Hub spot price fell by a dime, from $2.01/MMBtu last Wednesday to $1.91/MMBtu yesterday. On warm spring weather and unusually high storage levels, most other market locations saw similar movements. At the Chicago Citygate, prices fell substantially, from $2.01/MMBtu to $1.83/MMBtu Wednesday to Wednesday. At the PG&E Citygate in California, the spot price fell by a similar increment, from $2.12/MMBtu to $1.94/MMBtu over the period.
Northeast prices fall. At the Algonquin Citygate, which serves Boston-area consumers, prices fell sharply over the report period, from $2.06/MMBtu last Wednesday to $1.75/MMBtu yesterday, falling below the Henry Hub Price. At Transcontinental Pipeline's Zone 6 trading point for New York, prices fell from $1.56/MMBtu last Wednesday to $1.40 yesterday.
Marcellus prices also fall. Marcellus-area prices fell over the week. The Tennessee Zone 4 Marcellus price fell slightly from $1.38/MMBtu last Wednesday to $1.32/MMBtu yesterday. The price at Dominion South in northwest Pennsylvania fell by 18&cent, ending the week at $1.36/MMBtu.
Nymex near-month prices down. At the New York Mercantile Exchange (Nymex), the June 2016 contract price fell significantly, from $2.173/MMBtu last Wednesday to $2.001/MMBtu yesterday. Similarly, the 12-month strip, which averages the June 2016 through May 2017 Nymex contracts, fell from $2.691/MMBtu to $2.525/MMBtu over the report week.
Open season announced for large pipeline project in the Northeast. Williams has announced an open season on the Transco Northeast Supply Enhancement Project, which would send up to 0.4 Bcf/d of natural gas from York County, Pennsylvania, to the Rockaway Transfer Point near New York City. The company is targeting the 2019-20 heating season for completion.
Supply and demand data source changes. EIA's supply and demand information in the Natural Gas Weekly Update will be based on a different data source starting this week. With this new source of information EIA can share estimates of volumetric levels for natural gas supply and demand each week, rather than just percentage differences from the previous week and for the same time a year ago.
Supply flat. According to data from PointLogic, average total supply for the report period remained flat at 82 Bcf/d. Dry production averaged 74 Bcf/d for the week, while net imports from Canada accounted for 6 Bcf/d of supply.
Consumption up. Data from PointLogic also show that average consumption for the period increased by 2%. Residential/commercial consumption increased 4% week on week. This week, power burn rose 3%, industrial consumption rose 1%, and exports to Mexico rose 2%.
U.S. LNG exports. Natural gas pipeline receipts to the Sabine Pass liquefaction terminal averaged 0.6 Bcf/d this report week, 5% higher than last week. Since Sabine Pass terminal began commercial operations on May 3, two cargoes were exported from the terminal, on May 10 and May 13. There is one inbound cargo en route to dock at the terminal on May 28.
Storage:
Working gas stocks continue to climb. Working gas in the Lower 48 states posted its fifth consecutive week of net injections, at 73 Bcf for the week ending May 13. Net injections into storage this week are significantly lower than the five-year average and lower than last year's injections. The five-year average net injections into storage is 91 Bcf, while last year's net injection was 98 Bcf. Working gas stocks could finish the cooling season near the record high, which was in 2015, when working gas stocks totaled 3,931 Bcf, following a summer with normal temperatures. Working gas stocks are 795 Bcf above the five-year average and 791 Bcf above last year at this time.
The 2016 refill season remains well behind the pace of recent injection seasons. Cumulative net injections into working gas total 274 Bcf thus far in the 2016 refill season, compared with the five-year average (2011-15) of 353 Bcf and last year's tally of 491 Bcf during the same period. Despite the slow start to the refill season, working gas stocks remain near record-highs for this time of year because they ended the 2016 withdrawal season at a record high. Working gas stocks as of last Friday were 65 Bcf above the previous five-year (2011-15) maximum of 2,689 Bcf for this time of year, which occurred in 2012. This surplus over the 2012 refill season record level increased for the fourth consecutive week.
January futures price continues to trade at more than $1 above the current spot price. Decisions about whether to inject gas into storage during the refill season are often made with an eye toward the upcoming January, because it is typically the coldest winter month. During the most recent storage week, the average natural gas spot price at the Henry Hub was $1.99/MMBtu, while the Nymex futures price of natural gas for delivery in January 2017 averaged $3.08/MMBtu, a difference of $1.09/MMBtu. A year ago, the premium was 56&cent/MMBtu, suggesting there is more financial incentive this year to buy and store natural gas in the summer for sale in the winter. The average Henry Hub price so far in the injection season this year, from April 1 to May 13, is $1.92/MMBtu, 27% lower than the average value of $2.64/MMBtu for the same period last year.
Stock change is within the range of analyst expectations, but at the bottom. Expected net injections for the week generally ranged from 73 to 83 Bcf, with a median of 78 Bcf. At the release of the Weekly Natural Gas Storage Report, the price for the natural gas futures contract on the Nymex for June delivery at the Henry Hub increased by about 2&cent/MMBtu to $2.00/MMBtu.
Temperatures are above norms in most of the Lower 48 states. Temperatures for the storage week averaged 61.3&degF for the week across the country, 1.1&deg higher than normal. Cumulative cooling degrees-days during this period are 6% higher than normal.
See also: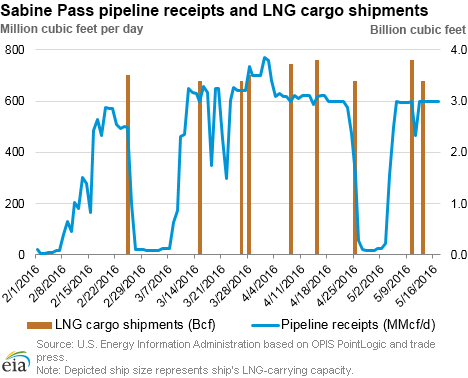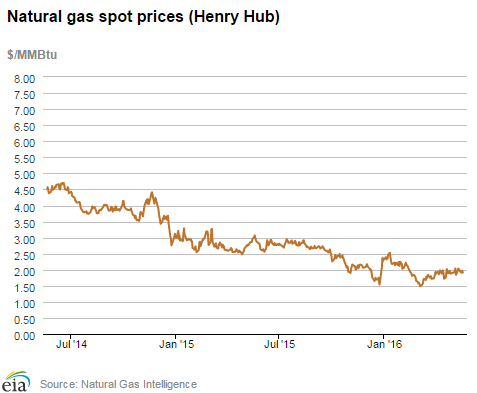 Spot Prices ($/MMBtu)

Thu,
12-May

Fri,
13-May

Mon,
16-May

Tue,
17-May

Wed,
18-May

Henry Hub

2.00

1.95

1.91

1.97

1.91

New York

1.55

1.48

1.61

1.53

1.40

Chicago

2.02

1.97

1.91

1.95

1.83

Cal. Comp. Avg.*

2.01

1.85

1.87

1.88

1.83

Futures ($/MMBtu)
June contract

2.155

2.096

2.029

2.048

2.001

July contract

2.299

2.244

2.177

2.185

2.131

*Avg. of NGI's reported prices for: Malin, PG&E Citygate, and Southern California Border Avg.
Source: NGI's Daily Gas Price Index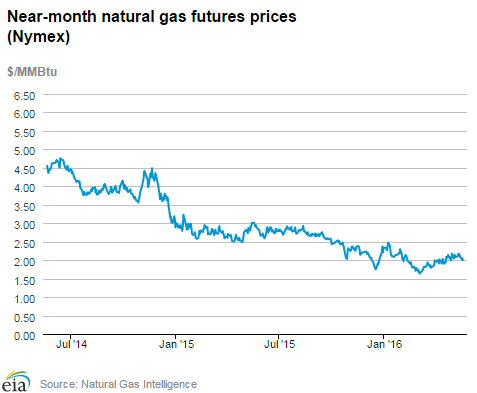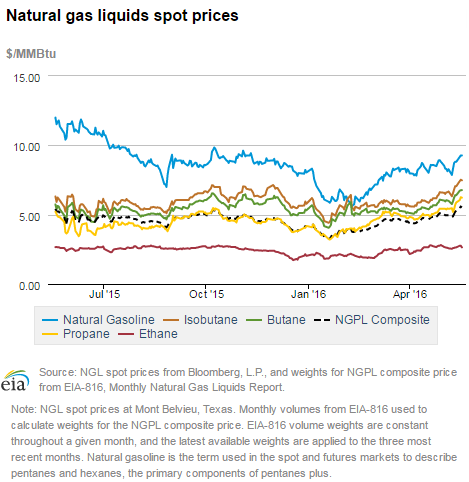 U.S. natural gas supply - Gas week: (5/12/16 - 5/18/16)

Average daily values (Bcf/d):

last year

last week

this week

Marketed production

81.9

81.9

82.1

Dry production

73.8

73.9

74.1

Net Canada imports

5.8

5.9

6.0

LNG pipeline deliveries

0.2

0.2

0.2

Total supply

79.8

80.1

80.2

Source: OPIS PointLogic Energy, an IHS Company
Note: LNG pipeline deliveries represent gas sendout from LNG import terminals.
U.S. natural gas consumption - Gas week: (5/12/16 - 5/18/16)

Average daily values (Bcf/d):

last year

last week

this week

U.S. consumption

56.6

58.5

59.9

Power

23.9

24.3

25.0

Industrial

19.8

20.1

20.3

Residential/commercial

12.9

14.1

14.7

Mexico exports

2.8

3.2

3.3

Pipeline fuel use

1.9

2.0

2.0

LNG pipeline receipts

-

0.6

0.6

Total demand

61.4

64.3

65.9

Source: OPIS PointLogic Energy, an IHS Company
Note: LNG pipeline receipts represent pipeline deliveries to LNG export terminals.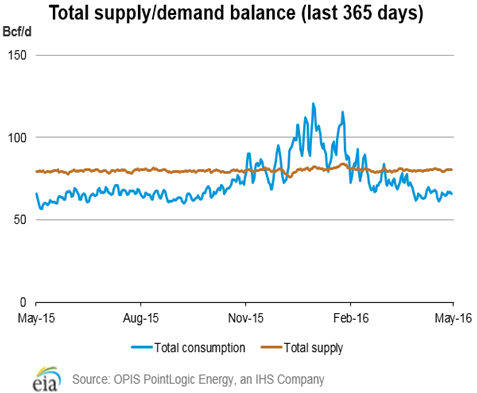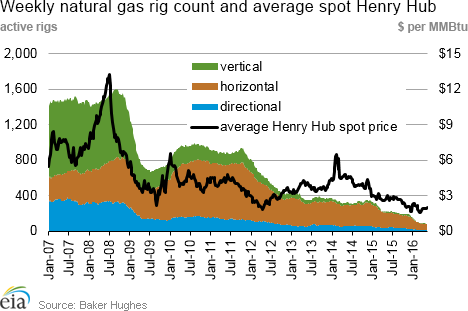 Rigs

Fri, May 13, 2016

Change from

last week

last year

Oil rigs

318

-3.05%

-51.82%

Natural gas rigs

87

1.16%

-60.99%

Miscellaneous

1

0.00%

-80.00%
Rig numbers by type

Fri, May 13, 2016

Change from

last week

last year

Vertical

53

0.00%

-53.51%

Horizontal

315

-0.94%

-54.01%

Directional

38

-13.64%

-57.30%

Source: Baker Hughes Inc.
Working gas in underground storage

Stocks
billion cubic feet (bcf)

Region

2016-05-13

2016-05-06

change

East

490

468

22

Midwest

606

582

24

Mountain

166

161

5

Pacific

293

288

5

South Central

1,199

1,182

17

Total

2,754

2,681

73

Source: U.S. Energy Information Administration
Working gas in underground storage

Historical comparisons

Year ago
(5/13/15)

5-year average
(2011-2015)

Region

Stocks (Bcf)

% change

Stocks (Bcf)

% change

East

362

35.4

404

21.3

Midwest

357

69.7

410

47.8

Mountain

124

33.9

118

40.7

Pacific

296

-1.0

242

21.1

South Central

823

45.7

785

52.7

Total

1,963

40.3

1,959

40.6

Source: U.S. Energy Information Administration
Temperature -- heating & cooling degree days (week ending May 12)

HDD deviation from:

CDD deviation from:

Region

HDD Current

normal

last year

CDD Current

normal

last year

New England

77

1

58

0

0

-13

Middle Atlantic

66

4

55

0

-2

-24

E N Central

52

-15

16

1

-6

-17

W N Central

41

-17

-24

7

-1

1

South Atlantic

28

3

26

34

3

-31

E S Central

15

-8

11

34

12

-17

W S Central

5

-1

-2

56

10

-1

Mountain

65

-7

-20

12

-3

5

Pacific

32

-13

-23

3

-3

3

United States

43

-7

9

17

1

-13

Note: HDD = heating degree-day; CDD = cooling degree-day

Source: National Oceanic and Atmospheric Administration
Average temperature (°F)
7-Day Mean ending May 12, 2016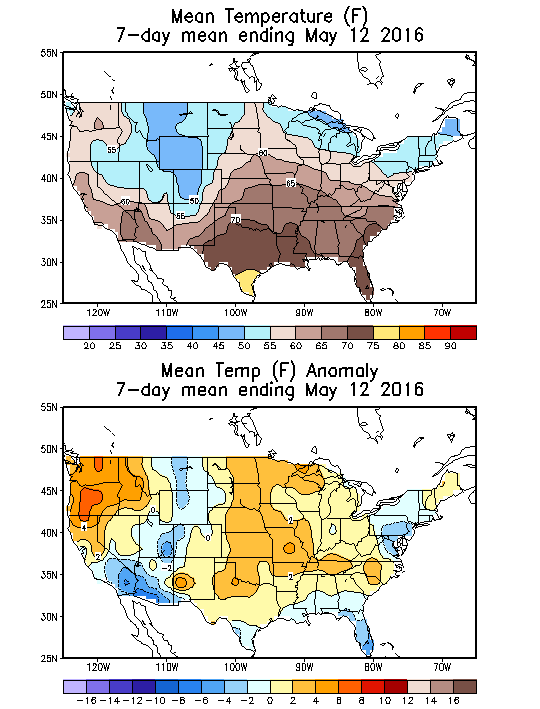 Source: NOAA/National Weather Service
Deviation between average and normal (°F)
7-Day Mean ending May 12, 2016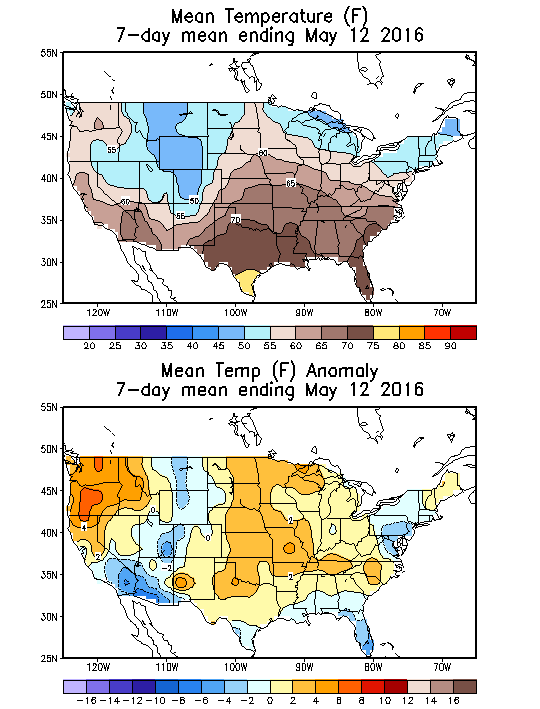 Source: NOAA/National Weather Service