---
In the News:
Algonquin expansion in New York on target for service next winter
Spectra Energy Partners continues a pipeline expansion on Algonquin Gas Transmission (AGT) for firm transportation service to deliver Marcellus-sourced natural gas (largely transported via Tennessee Gas, Texas Eastern Transmission, and Millennium pipelines) from New Jersey and New York into New England markets in time for this coming winter. The Algonquin Incremental Market (AIM) project, currently under construction, will provide an additional 342 million cubic feet per day (MMcf/d) of firm transportation service on the existing 2,740 MMcf/d system. The AIM project is supported by long-term contracts from eight investor-owned local distribution companies (LDC) and two municipal gas utilities in Connecticut, Massachusetts, and Rhode Island and is scheduled for completion in November 2016, despite failed attempts by New York earlier this year to block the project.
This project might help alleviate pipeline constraints into New England, which has previously experienced price spikes during the very coldest days of the winter. However, this past winter was less severe than some previous years, with the January 2016 Algonquin City Gate price averaging $4.49/MMBtu compared to $25.55 in January 2014. These price premiums typically affect nonfirm shippers such as some independent power producers. The project has been designed to support LDC market growth in southern New England, and will not be used to transport natural gas for export, according to Spectra. Nonfirm shippers should also benefit from the greater capacity and flexibility that the AIM expansion provides through expanded capacity-release potential.
On March 25, FERC denied a request by the New York State Department of Environmental Conservation (NYSDEC) to halt an expansion of the Algonquin Gas Transmission pipeline. In February, Gov. Andrew Cuomo asked NYSDEC to request a stay in the construction of the AIM project. This request came almost a full year after AIM was approved by FERC and cited concerns that the construction would endanger the Indian Point nuclear power plant. FERC denied the NYSDEC request in March, saying that it was not raising any issues that had not been previously considered by FERC and the U.S. Nuclear Regulatory Commission during the two-year application process. Spectra Energy continued with construction as planned in order to meet the target in-service date.
Overview:
(For the Week Ending Wednesday, April 20, 2016)
Natural gas spot prices increased at most locations this report week outside of the Northeast (Wednesday, April 13, to Wednesday, April 20). The Henry Hub spot price rose during the week, from $1.98 per million British thermal units (MMBtu) last Wednesday to $2.02/MMBtu yesterday.
At the New York Mercantile Exchange (Nymex), the May 2016 contract price also rose slightly over the report week, from $2.036/MMBtu last Wednesday to $2.069/MMBtu yesterday.
Net injections to working gas totaled 7 billion cubic feet (Bcf) for the week ending April 15. Working gas stocks are 2,484 Bcf, which is 55% above the year-ago level and 49% above the five-year (2011-15) average for this week.
For the week ending April 15, the natural gas rig count remained flat at 89, according to Baker Hughes data, and oil-directed rigs fell by 3 to 351. The total rig count fell by 3, and now stands at 440.
The natural gas plant liquids (NGPL) composite price at Mont Belvieu, Texas, rose by 6.7% to $4.69/MMBtu for the week ending Friday, April 15. The prices of all components of the NGPL price rose. Isobutane, propane, butane, natural gasoline, and ethane rose by 5.7%, 5.9%, 6.2%, 7.9%, and 8.1%, respectively.
Prices/Supply/Demand:
Henry Hub spot prices rise above $2/MMBtu. Henry Hub spot prices rose slightly this week from $1.98/MMBtu to $2.02/MMBtu yesterday. Yesterday's price was the first time the Henry Hub spot price has settled at more than $2/MMBtu since February. Wednesday's closing price was 30¢ higher than the low for the report week, which was $1.72/MMBtu on Friday heading into a weekend with mild weather. Around the country, outside of the Northeast, price movements were similar. At the Chicago Citygate, prices rose week over week from $1.92/MMBtu to $1.98/MMBtu. At the PG&E Citygate in California, the spot price rose from $1.97/MMBtu last Wednesday to $2.09/MMBtu yesterday.
Northeast prices down. At the Algonquin Citygate, which serves Boston-area consumers, prices fell week over week from $3.57/MMBtu last Wednesday to $2.28/MMBtu yesterday. While the Boston price fell week over week, there is maintenance on Algonquin's system that is anticipated to continue in the coming weeks, including inline inspections that could periodically reduce capacity. Prices at Transcontinental Pipeline's Zone 6 trading point for New York fell this week from $1.65/MMBtu to $1.46/MMBtu.
Marcellus prices down. At Dominion South in northwest Pennsylvania, prices fell from $1.47/MMBtu to $1.36/MMBtu week over week. The Tennessee Zone 4 Marcellus price dropped from $1.41/MMBtu last Wednesday to $1.28/MMBtu yesterday.
Nymex prices rise. At the Nymex, the May 2016 contract rose over the report week from $2.036/MMBtu last Wednesday to $2.069/MMBtu yesterday. The 12-month strip, which is the average of the 12 Nymex contracts from May 2016 through April 2017, rose from $2.511/MMBtu to $2.580/MMBtu from Wednesday to Wednesday.
Supply down. Total supply fell by 0.6% for the report period, and was driven by a 0.5% week-over-week decline in dry production, according to data from Bentek Energy. April is typically a month for pipeline maintenance because overall demand is low from both the heating and cooling sectors, and seasonal maintenance may be affecting production. In addition to Algonquin, several other major northeastern area pipelines have been conducting maintenance, including Rockies Express, Columbia Gas Pipeline, and ANR. Imports from Canada this week increased 0.6%, with increases in the West offsetting declines in imports to the Midwest and Northeast. The sendout from terminals of imported liquefied natural gas (LNG), a proxy for imports of LNG, declined, but is a minor contributor to overall supply.
Consumption falls. Overall consumption this week fell by 12.1% because of mild spring weather. Residential and commercial consumption fell by 30.6%. Consumption of natural gas for electric power generation rose 2.1%, and industrial consumption fell 4.1%. Pipeline exports to Mexico increased by 3.2%.
Storage:
Net injections significantly below historical levels. Net injections into storage totaled 7 Bcf during the storage report week. These injections contrast with the five-year (2011-15) average net injection of 45 Bcf, and last year's net injection of 82 Bcf during the same week. In the first two weeks of the 2016 injection season, which began on April 1, net injections into storage have totaled 4 Bcf, compared with the five-year average of 67 Bcf for the same period. As a result, the surplus in storage compared with the five-year average declined from the previous week by 38 Bcf to 811 Bcf, and the surplus compared with year-ago levels decreased by 75 Bcf to 881 Bcf.
Winter futures trading at a premium to the current spot price. Decisions about whether to inject gas into storage during the refill season are often made with an eye towards the upcoming January, because it is typically the coldest winter month. During the most recent storage week, the average natural gas spot price at the Henry Hub was $1.94/MMBtu, while the Nymex futures price of natural gas for delivery January 2017 averaged $2.92/MMBtu, a difference of 98&cent/MMBtu. A year ago, the premium was 55&cent/MMBtu, suggesting there is more financial incentive this year to buy and store natural gas in the summer for sale in the winter. The average Henry Hub price through the injection season from April 1 to April 15 this year was $1.90/MMBtu, 27% lower than the average value of $2.60/MMBtu for the same two weeks last year.
Injection activity off to a slow start in the Northeast. The East and Midwest storage regions still have not posted a week with net injections. During the first two weeks of the injection season, the East region had reported net withdrawals totaling 26 Bcf and the Midwest had net withdrawals of 10 Bcf, compared with the five-year average net injections of 17 Bcf and 10 Bcf, respectively, during the same period.
Stock change within the range of analyst expectations. Market expectations for the week generally ranged between net withdrawals of 5 Bcf to net injections of 16 Bcf, with a median net injection of 3. At the release of the Weekly Natural Gas Storage Report, the price for the natural gas futures contract on the Nymex for May delivery at the Henry Hub exhibited some minor volatility, drifting down about 1¢/MMBtu to $2.07/MMBtu within a minute of the release of the WNGSR. Trading on the May contract was light, with 209 trades executed at release.
Temperatures below normal in most of the Lower 48 states. Temperatures in the Lower 48 states averaged 50&degF during the storage report week, 4% below normal and 12% below last year at this time. The exceptions to this pattern occurred in the Pacific, Mountain, and West South Central U.S. Census regions, where temperatures were above normal.
See also: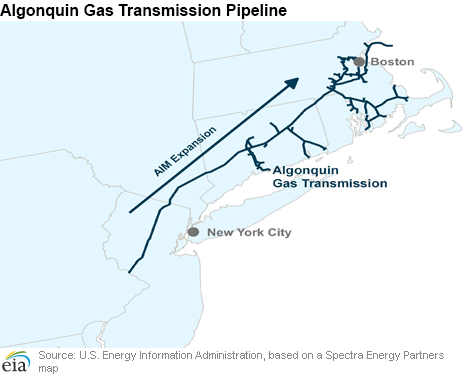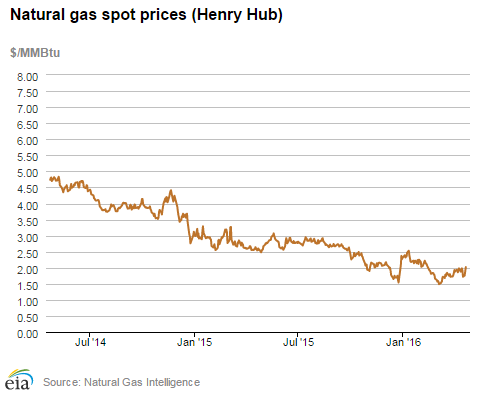 Spot Prices ($/MMBtu)

Thu,
14-Apr

Fri,
15-Apr

Mon,
18-Apr

Tue,
19-Apr

Wed,
20-Apr

Henry Hub

1.91

1.72

1.76

1.90

2.02

New York

1.48

1.31

1.40

1.54

1.46

Chicago

1.86

1.68

1.71

1.92

1.98

Cal. Comp. Avg,*

1.81

1.69

1.71

1.88

1.97

Futures ($/MMBtu)
May contract

1.970

1.902

1.940

2.088

2.069

June contract

2.063

1.997

2.045

2.188

2.180

*Avg. of NGI's reported prices for: Malin, PG&E Citygate, and Southern California Border Avg.
Source: NGI's Daily Gas Price Index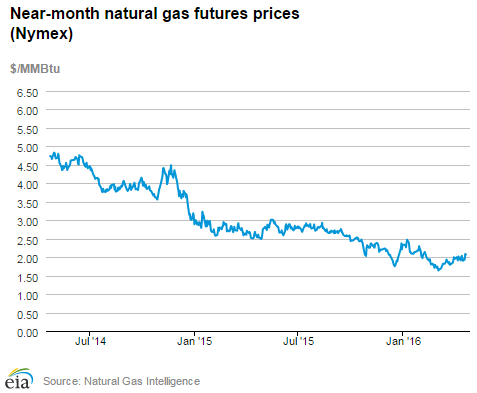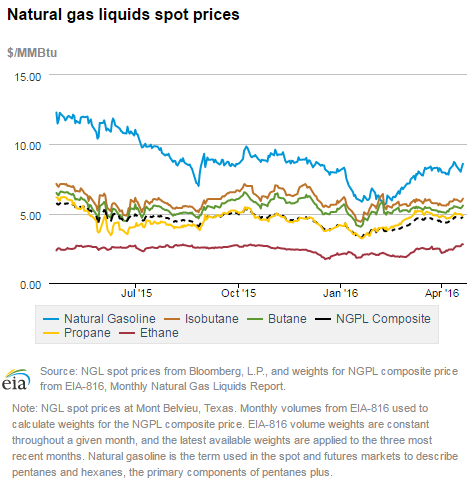 U.S. natural gas supply - Gas Week: (4/13/16 - 4/20/16)

Percent change for week compared with:

last year

last week

Gross production

-1.9%

-0.5%

Dry production

-1.9%

-0.5%

Canadian imports

7.8%

0.6%

West (net)

4.7%

7.6%

Midwest (net)

-0.5%

-3.7%

Northeast (net)

-197.3%

-46.8%

LNG imports

260.6%

-38.1%

Total supply

-1.0%

-0.6%

Source: BENTEK Energy LLC
U.S. consumption - Gas Week: (4/13/16 - 4/20/16)

Percent change for week compared with:

last year

last week

U.S. consumption

2.0%

-12.1%

Power

2.0%

2.1%

Industrial

0.0%

-4.1%

Residential/commercial

0.8%

-30.6%

Total demand

3.7%

-11.4%

Source: BENTEK Energy LLC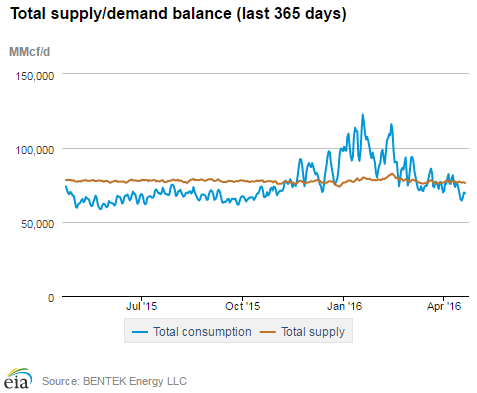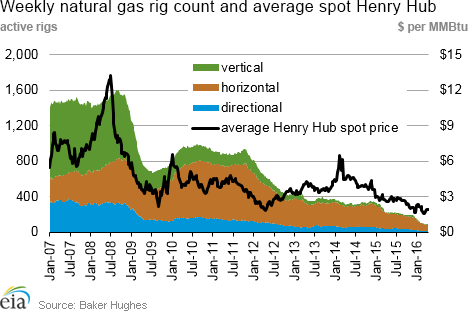 Rigs

Fri, April 15, 2016

Change from

last week

last year

Oil rigs

351

-0.85%

-52.18%

Natural gas rigs

89

0.00%

-58.99%

Miscellaneous

0

0.00%

-100.00%
Rig numbers by type

Fri, April 15, 2016

Change from

last week

last year

Vertical

54

8.00%

-55.74%

Horizontal

335

-1.76%

-54.79%

Directional

51

-1.92%

-43.96%

Source: Baker Hughes Inc.
Working gas in underground storage

Stocks
billion cubic feet (bcf)

Region

2016-04-15

2016-04-08

change

East

408

419

-11

Midwest

538

538

0

Mountain

152

150

2

Pacific

271

269

2

South Central

1,115

1,101

14

Total

2,484

2,477

7

Source: U.S. Energy Information Administration
Working gas in underground storage

Historical comparisons

Year ago
(4/15/15)

5-year average
(2011-2015)

Region

Stocks (Bcf)

% change

Stocks (Bcf)

% change

East

265

54.0

315

29.5

Midwest

277

94.2

341

57.8

Mountain

118

28.8

112

35.7

Pacific

275

-1.5

213

27.2

South Central

668

66.9

692

61.1

Total

1,603

55.0

1,673

48.5

Source: U.S. Energy Information Administration
Temperature -- heating & cooling degree days (week ending Apr 14)

HDD deviation from:

CDD deviation from:

Region

HDD Current

normal

last year

CDD Current

normal

last year

New England

151

8

30

0

0

0

Middle Atlantic

157

31

52

0

0

0

E N Central

174

44

92

0

0

0

W N Central

138

16

54

0

-1

-1

South Atlantic

90

26

53

14

1

-25

E S Central

79

21

56

0

-5

-17

W S Central

27

-1

9

23

5

-10

Mountain

79

-41

-20

4

-3

-2

Pacific

54

-16

-3

0

-2

0

United States

112

15

42

5

0

-7

Note: HDD = heating degree-day; CDD = cooling degree-day

Source: National Oceanic and Atmospheric Administration
Average temperature (°F)
7-Day Mean ending Apr 14, 2016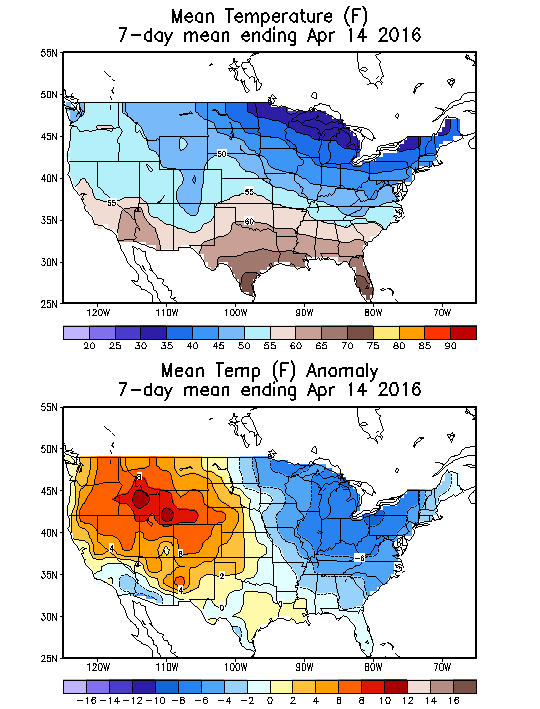 Source: NOAA/National Weather Service
Deviation between average and normal (°F)
7-Day Mean ending Apr 14, 2016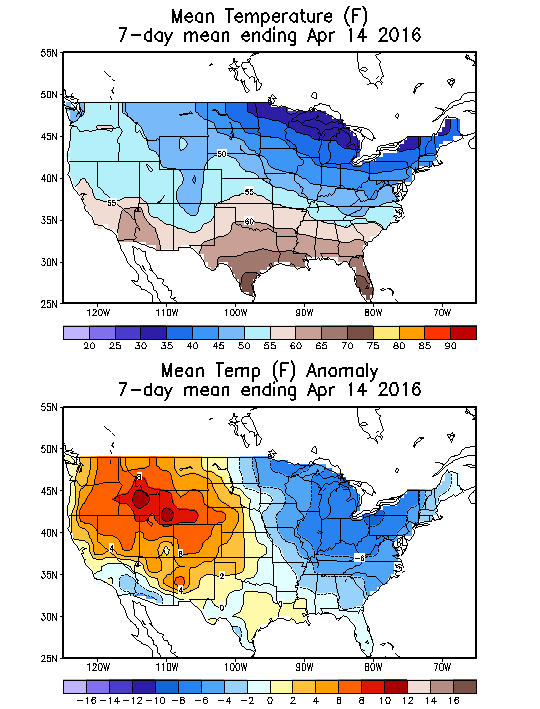 Source: NOAA/National Weather Service