---
In the News:
Canada's Pacific NorthWest LNG export project moves closer to a final decision, possibly next month
On May 20, the sponsors of one of the proposed Canadian liquefied natural gas (LNG) export projects—Pacific NorthWest LNG—reached a set of agreements with the government of British Columbia, which moved the project a step closer to reaching a final investment decision (FID) targeted for next month. The agreements define long-term royalty rates, minimum natural gas production output targets, government assistance on infrastructure and aboriginal consultation, and measures to assure that the project will not be subject to tax or fee increases through the project's term.
The project includes a two-train, 1.6 billion cubic feet per day (Bcf/d) facility, located on Lelu Island in Prince Rupert, British Columbia, in western Canada. In April 2014, the project received authorization from the Canadian National Energy Board to export up to 2.6 Bcf/d of LNG per year for 25 years starting in 2019. It also has secured an Environmental Assessment Certificate issued by the British Columbia Environmental Assessment Office. The project is currently undergoing environmental review by the Canadian Environmental Assessment Agency, expected to be completed this year, which would complete the permitting requirements of the liquefaction facility.
The Pacific NorthWest LNG project was originally proposed in 2011 by the Malaysian company Petronas and Progress Energy Canada Ltd, one of the largest natural gas producers in the North Montney Shale in Canada. In 2012, Petronas acquired Progress Energy and continued to expand its upstream position by acquiring additional acreage in the North Montney Shale, which is targeted to provide natural gas for the project. Since acquiring Progress Energy, Petronas brought onboard additional partners, including Japan Petroleum Exploration Company, PetroleumBRUNEI, Indian Oil Corporation, Sinopec, and Huadian Corporation. All partners have acquired a stake in the integrated project, including the upstream acreage and the associated pipeline, and agreed to purchase liquefaction output equal to their equity stake, although Petronas is looking for other offtakers for 12% of the capacity that would come out of Petronas' 62% equity stake. The project has secured 1.4 Bcf/d in offtake sales, with Petronas being the largest holder at 0.8 Bcf/d.
Pacific NorthWest LNG is projected to cost $36 billion (US dollars). A significant portion of this capital cost would be used for the construction of an $11 billion liquefaction facility and the 559-mile, 48-inch-diameter, $5.0 billion Prince Rupert Gas Transmission pipeline (PRGT) connecting Montney Shale resources with the liquefaction project site at Prince Rupert. The project also requires investments to expand the existing infrastructure in the Montney Shale play. For this purpose, a proposed project—the North Montney Mainline—would increase capacity on Nova Gas Transmission System, connecting Montney and other Western Canadian Sedimentary Basin supply to PRGT. Project sponsors have made significant investments in upstream assets in North Montney, securing 19 trillion cubic feet of proved and probable reserves, which will support 2 Bcf/d of natural gas feedstock for the project's liquefaction for 25 years.
Despite significant progress made on the project to-date, some challenges remain. Initially, project sponsors planned to make a final decision by the end of 2014, but postponed the decision to mid-2015 because of concerns about the economic viability of the project. These concerns include declining crude oil prices and uncertainties associated with a new income tax structure in British Columbia for LNG export projects, as well as environmental concerns raised by the First Nations during the environmental review. Additionally, competing projects in Canada (as of May 2015, there were 28 proposed liquefaction projects, with at least two projects other than Pacific NorthWest LNG expected to make final decisions in the next two years) and the United States (with four projects under construction) have contributed to uncertainties about the future of the project.
Overview:
(For the Week Ending Wednesday, May 20, 2015)
The prices of natural gas at most market locations fell over the report week (Wednesday, May 20 — Wednesday, May 27). The Henry Hub spot price began the week at $2.99 per million British thermal units (MMBtu) last Wednesday, fell through the week, and ended at $2.82/MMBtu.
At the New York Mercantile Exchange (Nymex), the June contract, which expired yesterday as the near-month contract, fell from $2.915/MMBtu last Wednesday to settle at expiration at $2.815/MMBtu yesterday.
Working natural gas in storage increased to 2,101 Bcf as of Friday, May 22, according to the U.S. Energy Information Administration (EIA) Weekly Natural Gas Storage Report (WNGSR). A net injection into storage of 112 Bcf for the week resulted in storage 54.0% above a year ago and 0.8% below the five-year average for this week.
The total oil and natural gas rig count fell by 3 units to 885 for the week ending Friday, May 22, according to data from Baker Hughes Inc. The oil rig count fell 1 unit to 659 rigs, and the natural gas rig count fell by 1 unit to 222. Miscellaneous rigs also fell by 1.
The natural gas plant liquids composite price fell by 26&cent per MMBtu to $5.16/MMBtu for the week ending May 22. With the exception of ethane, which rose 0.3%, all of the other Mont Belvieu, Texas, liquids prices fell this week. Natural gasoline, propane, butane, and isobutane fell by 1.5%, 7.6%, 8.3%, and 7.7%, respectively.
Prices/Demand/Supply:
Prices fall modestly through the week at most locations. Prices at most market locations outside of the Northeast fell this week, generally by less than 10%. The Henry Hub spot price began the week at $2.99/MMBtu, fell through the week, and settled yesterday at $2.82/MMBtu. Prices at other major trading hubs moved in a similar pattern; the PG&E Citygate price, serving Northern California, fell from $3.34/MMBtu last Wednesday to $3.19/MMBtu yesterday. Prices at the Chicago Citygate fell from $3.01/MMBtu last Wednesday to close the week at $2.76/MMBtu yesterday.
Weather shifting from mild to warmer overall. Temperatures this week started out relatively mild, but warmed nationwide through the week. The cooler start held demand in check but the report week closed with warmer-than-normal temperatures in several regions, putting upward pressure on prices. EIA's Short-Term Energy Outlook, May 2015, expects prices to rise somewhat through the summer as demand picks up, but still remain relatively low.
Northeast prices mixed. Pricing for Transcontinental Pipeline's Zone 6, serving New York City, began the week at $2.59/MMBtu, dropped to below $2.00/MMBtu for the holiday weekend, before increasing to end the week at $2.86/MMBtu. At the Algonquin Citygate, which serves Boston, prices started the report week at $1.81/MMBtu, went lower with mild weather for the Memorial Day weekend to $1.62/MMBtu, but then rose 88&cent across Tuesday and Wednesday to close at $2.50/MMBtu yesterday. In general, Northeast pricing remained at or below the Henry Hub benchmark through the report week, though the Transco Zone 6 spot price, along with Tennessee Zone 6 200L (New York and New England) price, both rose higher than the Henry Hub price to close the week.
Marcellus prices fall. Marcellus-area prices fluctuated through the week, with trading points down at the close on Wednesday. At Tennessee's Zone 4 Marcellus location, prices fell from the starting point of $1.40/MMBtu on May 20 to $1.35/MMBtu yesterday. On the Transco Leidy Line, prices dropped from $1.56/MMBtu last Wednesday to $1.48/MMBtu yesterday, after dropping to $1.33/MMBtu on Friday. At Dominion South, which serves customers in portions of Pennsylvania, Ohio, Maryland, West Virginia, and Virginia, prices fell from $1.59/MMBtu a week ago to $1.55/MMBtu yesterday.
Nymex prices fall. The Nymex June 2015 contract started the report week at $2.915/MMBtu last Wednesday, falling to $2.815/MMBtu yesterday as it expired as the prompt month. The 12-month strip (the average of the 12 contracts between June 2015 and May 2016) fell from $3.120/MMBtu last Wednesday to $3.026/MMBtu yesterday.
Maintenance outages continue to slow production. Both scheduled and unscheduled maintenance occurred this week, which contributed to production levels falling 0.6%, according to Bentek Energy. Production in the Northeast was affected by the continued outage on Dominion's LN 280, located in Tioga County, Pennsylvania. Maintenance on that line concluded yesterday. Additional constraints were noted by Bentek Energy for the Southeast and Texas, where maintenance at the Mobil Bay processing plant in Alabama limited delivery to the Gulf South, Gulf Stream, and Transco pipelines. Additionally, Louisiana offshore production declined, likely caused by unplanned maintenance on the Discovery Pipeline located in the Gulf. Despite the drop in production this week, production was 5.9% greater than last year's level for the same week. Imports of natural gas from Canada rose 1.1% for the week, a 10.1% increase year over year, while LNG sendout remained at minimal levels. Overall, supply was flat week over week, decreasing just 0.5%.
Demand declines across all sectors. Total U.S. consumption fell this week by 4.3% compared with last week, though it remained slightly above (0.3%) consumption for this week last year. The largest decline was in the power sector, where consumption of natural gas fell 9.2% week over week, with cooler temperatures in the first half of the report week. Residential and commercial consumption fell by 2.0%, and industrial consumption was down 0.6%. Exports to Mexico dropped 1.6% from last week but were up by 28.5% year over year.
Storage
Net storage injection is larger than the five-year average build but lower than last year. The net injection reported for the week ending May 22 was 112 Bcf, up from 92 Bcf the previous week. This compares with the five-year average net increase of 95 Bcf for that week and last year's net increase of 113 Bcf. Working gas inventories for the storage week totaled 2,101 Bcf, 737 Bcf (54.0%) higher than last year at this time and 18 Bcf (0.8%) lower than the five-year (2010-14) average.
Storage injections are larger than market expectations. Market expectations, on average, called for a build of 99 Bcf. When the EIA storage report was released at 10:30 a.m. on May 28, the price for the July natural gas futures contract, on its first day of trading as the prompt month, decreased 5¢ to $2.74/MMBtu in trading on the Nymex. In the next hour, prices oscillated between $2.71 and $2.74.
From the week ending April 3 (the beginning of the injection season) through the week ending May 22, net storage injections totaled 640 Bcf, or 21% more than the 531 Bcf injected during the same eight weeks in 2014. During these weeks for the years 2010 to 2014, net injection into storage averaged 468 Bcf. The estimated average unit value of the natural gas storage holders put into storage from April 3 to May 22 this year was $2.73/MMBtu, 41% lower than the average value of $4.63/MMBtu for the same eight weeks last year. The highest winter-month Nymex price (for the January 2016 contract) in trading for the week ending May 22 averaged $3.39/MMBtu. This price is 43&cent/MMBtu more than the June Nymex contract price. A year ago, the difference was 15&cent/MMBtu, suggesting there is more financial incentive this year to buy and store natural gas in the summer for sale in the winter.
There are currently 23 more weeks in the injection season, which traditionally runs from April 1 through October 31, although in many years injections continue into November. EIA forecasts that the end-of-October working natural gas inventory level will be 3,890 Bcf, which, as of May 22, would require an average injection of 78 Bcf per week through the end of October. EIA's forecast for the end-of-October inventory level is above the five-year (2010-14) average peak storage value of 3,813 Bcf. To reach the five-year average peak value, average weekly injections through the end of October would need to be 74 Bcf.
All three regions report net injections for the week. Net injections for the week in the East were 64 Bcf (11 Bcf larger than its five-year average injection). They were 13 Bcf in the West (1 Bcf smaller than its five-year average), and 35 Bcf in the Producing region (7 Bcf larger than its five-year average). The East region's inventory is below its five-year average by 135 Bcf (14.3%). In contrast, stock levels in the West and Producing regions are above their five-year averages for the week, by 60 Bcf (17.9%) and 57 Bcf (6.8%), respectively. Storage levels for the East, West, and Producing regions are above their year-ago levels by 229 Bcf, 148 Bcf, and 360 Bcf, respectively.
Temperatures during the storage report week are close to normal. Temperatures in the Lower 48 states averaged 63.6&deg Fahrenheit for the storage report week, 0.6&deg warmer than the 30-year normal temperature and 2.1&deg warmer than the average temperature during the same week last year. There were 39 population-weighted heating degree days (HDD) during the storage report week, 11 HDD more than the five-year average and 5 HDD fewer than during the same period last year. There were also 29 population-weighted cooling degree days (CDD) this report week, 7 CDD more than the five-year average and 10 CDD more than during this week last year.
See also: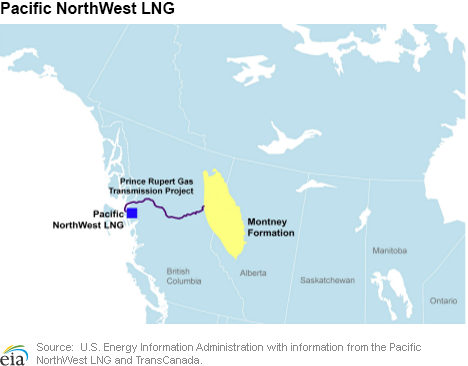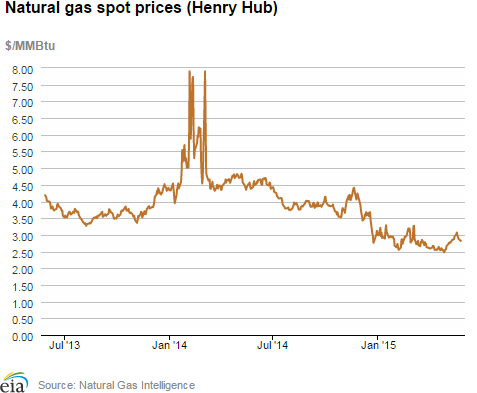 Spot Prices ($/MMBtu)

Thu,
21-May

Fri,
22-May

Mon,
25-May

Tue,
26-May

Wed,
27-May

Henry Hub

2.93

2.88

Holiday

2.82

2.82

New York

2.12

1.97

Holiday

2.93

2.86

Chicago

2.94

2.83

Holiday

2.78

2.76

Cal. Comp. Avg,*

2.96

2.86

Holiday

2.79

2.85

Futures ($/MMBtu)
June Contract

2.949

2.887

Holiday

2.822

2.815

July Contract

2.994

2.919

Holiday

2.849

2.847

*Avg. of NGI's reported prices for: Malin, PG&E citygate, and Southern California Border Avg.
Source: NGI's Daily Gas Price Index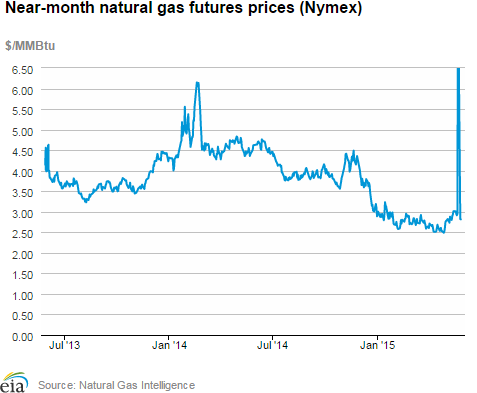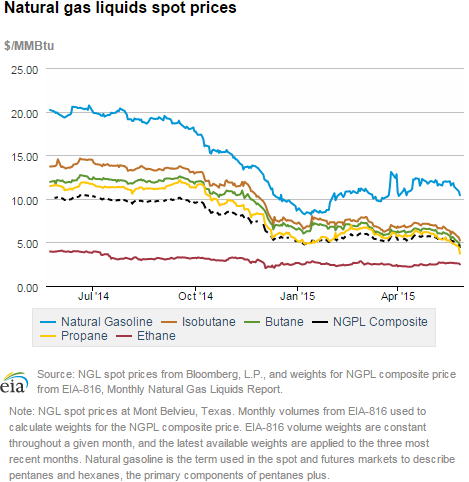 U.S. natural gas supply - Gas Week: (5/20/15 - 5/27/15)

Percent change for week compared with:

last year

last week

Gross production

5.96%

-0.62%

Dry production

5.91%

-0.61%

Canadian imports

10.05%

1.09%

West (net)

30.80%

-1.98%

Midwest (net)

-7.23%

3.36%

Northeast (net)

6.81%

-12.33%

LNG imports

12.01%

14.53%

Total supply

6.19%

-0.48%

Source: BENTEK Energy LLC
U.S. consumption - Gas Week: (5/20/15 - 5/27/15)

Percent change for week compared with:

last year

last week

U.S. consumption

-0.8%

-4.5%

Power

-5.0%

-9.2%

Industrial

-0.6%

-0.6%

Residential/commercial

5.8%

-2.0%

Total demand

0.3%

-4.3%

Source: BENTEK Energy LLC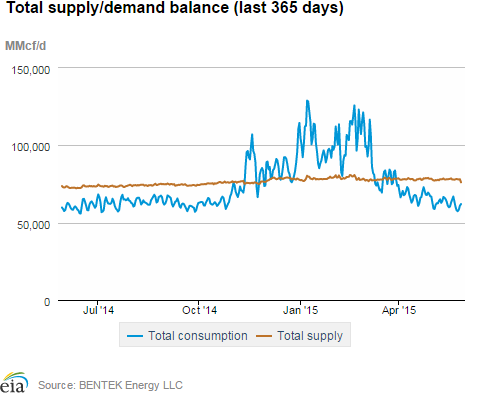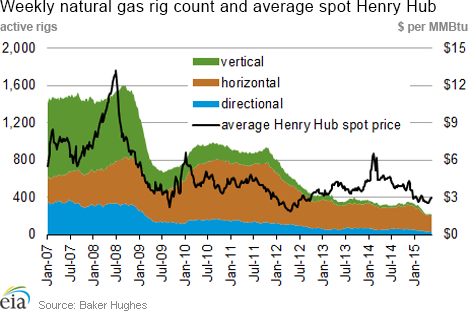 Rigs

Fri, May 22, 2015

Change from

last week

last year

Oil rigs

659

-0.15%

-56.87%

Natural gas rigs

222

-0.45%

-31.69%

Miscellaneous

4

-20.00%

0.00%
Rig numbers by type

Fri, May 22, 2015

Change from

last week

last year

Vertical

117

2.63%

-71.39%

Horizontal

683

-0.29%

-45.05%

Directional

85

-4.49%

-58.54%

Source: Baker Hughes Inc.
Working gas in underground storage

Stocks
billion cubic feet (bcf)

Region

2015-05-22

2015-05-15

change

East

806

742

64

West

395

382

13

Producing

900

865

35

Total

2,101

1,989

112

Source: U.S. Energy Information Administration
Working gas in underground storage

Historical comparisons

Year ago
(5/22/14)

5-year average
(2010-2014)

Region

Stocks (Bcf)

% change

Stocks (Bcf)

% change

East

577

39.7

941

-14.3

West

247

59.9

335

17.9

Producing

540

66.7

843

6.8

Total

1,364

54.0

2,119

-0.8

Source: U.S. Energy Information Administration
Temperature -- heating & cooling degree days (week ending May 21)

HDD deviation from:

CDD deviation from:

Region

HDD Current

normal

last year

CDD Current

normal

last year

New England

46

-10

10

2

1

2

Middle Atlantic

28

-15

-14

13

7

12

E N Central

48

-1

-27

15

2

9

W N Central

64

21

-6

10

-6

-2

South Atlantic

7

-10

-22

69

27

39

E S Central

8

-7

-30

50

17

32

W S Central

4

1

-9

68

8

19

Mountain

81

25

41

7

-15

-23

Pacific

49

14

31

1

-7

-20

United States

39

2

-5

29

6

10

Note: HDD = heating degree-day; CDD = cooling degree-day

Source: National Oceanic and Atmospheric Administration
Average temperature (°F)
7-Day Mean ending May 21, 2015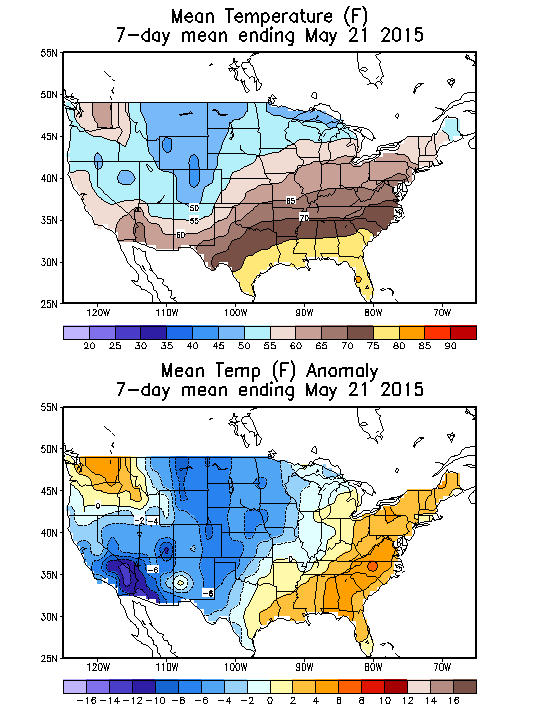 Source: NOAA/National Weather Service
Deviation between average and normal (°F)
7-Day Mean ending May 21, 2015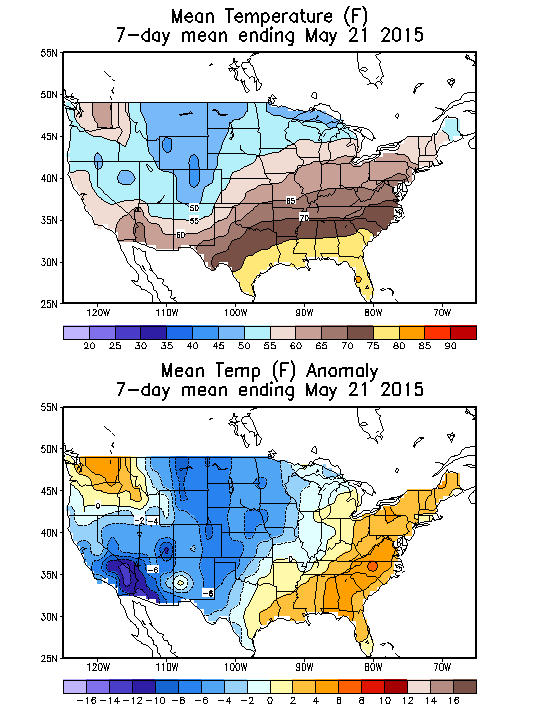 Source: NOAA/National Weather Service