---
In the News:
Higher prices, Marcellus development lead to increase in proved natural gas reserves in 2013
Total dry natural gas proved reserves reached a new record of 354 trillion cubic feet (Tcf) in 2013, according to EIA's recently published report, U.S. Crude Oil and Natural Gas Proved Reserves, 2013. Proved reserves are the volumes of oil and natural gas that can be recovered with reasonable certainty under existing economic and operating conditions. Reserves increased 10%, or about 31 Tcf, from the previous year. Increases were the result of extensions to new fields and new discoveries, as well as higher prices, which make gas recovery more economical. In the Marcellus Shale area, the reserves increases were largely the result of new discoveries and continued development. In the Barnett Shale, which has been in development much longer, increases in reserves were mainly attributable to price increases.
Pennsylvania and West Virginia reported the largest year-over-year increases, representing continued development of the Marcellus shale in the Appalachian Basin. Pennsylvania added 13.5 Tcf of proved reserves, while West Virginia added 8.3 Tcf. The Eagle Ford Shale in Texas has also seen strong growth over the past few years; Texas added 4.4 Tcf of reserves in 2013.
The largest declines were in Alaska, the Gulf of Mexico, and Louisiana. Alaska's decline was consistent with a decline in oil reserves, since most of its gas production is associated with oil production. Additionally, production in Louisiana's Haynesville Shale and the Gulf of Mexico has declined over the past several years as producers moved to more profitable areas.
As a result of their large proved reserve increases in 2013, the major producing Appalachian basin states (Pennsylvania, Ohio, and West Virginia) now account for 21.6% of total U.S. proved reserves. The state of Texas alone has 27.7% of the total.
Changes in reserves reflect both geological and financial factors. In 2012, low natural gas prices led to significant downward revisions to the reserves of existing natural gas fields. As natural gas prices increased in 2013, a portion of those reserves from existing fields were restored by positive net revisions. Other increases in natural gas reserves came from extensions of existing natural gas fields and new field discoveries.
Overview:
(For the Week Ending Wednesday, December 10, 2014)
Outside of the Northeast, spot prices at market locations across the country remained relatively flat during the report week (Wednesday to Wednesday), with closer-to-average temperatures in many locations. The Northeast saw colder, seasonal weather and a coastal storm that generated rain, heavy winds, and snow from Monday through Wednesday, supporting higher prices in that region during the second half of the report week. The Henry Hub spot price decreased slightly from $3.63 per million British thermal units (MMBtu) last Wednesday, December 3, to $3.61/MMBtu yesterday, December 10.
At the New York Mercantile Exchange (Nymex), the January 2015 contract fell $0.099/MMBtu from Wednesday-to-Wednesday, beginning the report week at $3.805/MMBtu last Wednesday and ending at $3.706/MMBtu yesterday.
Working natural gas in storage decreased to 3,359 Bcf as of Friday, December 5, according to the U.S. Energy Information Administration (EIA) Weekly Natural Gas Storage Report (WNGSR). A net withdrawal from storage of 51 Bcf for the week resulted in storage levels 5.2% below year-ago levels and 9.5% below the five-year average for this week.
The total U.S. rotary rig count for the week ending December 5 increased by 3 units to 1,920 rigs, according to data from Baker Hughes Inc. The natural gas rig count remained the same at 344 units, while oil rigs increased by 3 units to 1,575. One miscellaneous rig remained in service.
The Mont Belvieu natural gas plant liquids composite price fell by 9.9% to $6.70/MMBtu for the week ending December 5. All NGL component prices fell this week; prices declined as follows: natural gasoline -9.1%, ethane -16.7%, propane -8.8%, butane -8.6% and isobutane by -8.4%.
Prices/Demand/Supply:
Prices stayed generally flat at most market locations, with some gains in the Northeast. Natural gas prices at most market locations had small fluctuations during the week, but showed little change Wednesday-to-Wednesday. These small price fluctuations were the result of temperatures in most regions that were near or above normal, and continuing forecasts of more moderate temperatures. The price at the Henry Hub in Louisiana started the week at $3.63/MMBtu, then after trading down by $0.20 on Friday, it increased to close the week yesterday at $3.61/MMBtu.
Northeast spot prices volatile at key locations. Guided by seasonal temperature changes and heavy coastal storms from Washington, DC to Boston, spot prices showed daily volatility at locations in the Northeast. Algonquin Citygate, with service into Boston, had large price movements during the report week. After starting the report week at $5.92/MMBtu, the price at that location fell to $4.56/MMBtu last Thursday. Prices then more than doubled to $12.14/MMBtu in Friday trading. The prices at Algonquin Citygate closed yesterday at $9.97/MMBtu, up nearly 70% for the week. Ice and snow in New England, and the expectation that the storm would continue through today, have kept prices higher in the Northeast compared to other regions, which is not outside the normal winter price patterns for the Northeast. Prices at Transcontinental Pipeline's Zone 6 New York (Transco Z6 NY) increased 20%, or $0.76/MMBtu, over the report week, but did not have the large daily swings seen at Algonquin Citygate. Prices at Transco Z6 NY opened the week at $3.74/MMBtu and closed at $4.50/MMBtu yesterday.
Most Marcellus-area prices decrease during the week. At Transcontinental's Leidy Line trading point in northeastern Pennsylvania, prices opened the report week at $2.40/MMBtu last Wednesday, closed below $2/MMBtu on Friday, then rebounded to $2.29/MMBtu on Monday. Yesterday, prices at that location closed at $2.04/MMBtu, down 36 cents for the week. Price movements at Tennessee's Zone 4 Marcellus location and Dominion South were mixed, with Tennessee Zone 4 Marcellus decreasing 8 cents and Dominion South rising 13 cents/MMBtu from Wednesday to Wednesday. Prices at Tennessee's Zone 4 Marcellus closed the week at $2.05/MMBtu, and Dominion South ended at $2.98/MMBtu.
January futures contract price falls over the report week. The January futures contract price fluctuated during the trading week, ending the report week down 10 cents at yesterday's close. The 12-month strip, the average of January 2015 through December 2015 futures contracts, ended the week down 4 cents, at $3.583/MMBtu.
Dry gas production sets single-day record during the report week. According to data from Bentek Energy, dry gas production exceeded 73 billion cubic feet per day (Bcf/d) on Sunday, December 7. Production gains occurred in the Midcontinent, Northeast, and Southeast. Dry gas production during all days of the report week was more than 72.6 Bcf/d, an increase of 1.7% from the previous week and 13% more than (or above) the same week in 2013. Northeast production rose to an all-time high of 19.2 Bcf/d on Sunday, surpassing 19.1 Bcf/d for the four days preceding Sunday's record, according to data from Bentek. Imports of natural gas from Canada increased by 13.9% week-to-week, led by a 62.5% increase in imports to the Northeast. LNG sendout remained minimal.
Demand increases with seasonal temperatures. Seasonal temperatures and storm conditions during the second half of the report week led to a 1.8% increase in total natural gas consumption week-over-week. While consumption decreased slightly for the industrial and residential/commercial sectors, a 14.5% increase in natural gas consumed in the power sector (power burn) moved overall demand up for the week. The largest percentage gains in power burn occurred in the Northeast, Midwest, and Southeast. U.S. exports of natural gas to Mexico increased 1.4%.
Storage
Net withdrawal is lower than the five-year average and last year's withdrawal. The net withdrawal reported for the week ending December 5 was 51 Bcf, 21 Bcf lower than the five-year average net withdrawal of 72 Bcf and 41 Bcf lower than last year's net withdrawal of 92 Bcf. Working gas inventories as of December 5 totaled 3,359 Bcf, 186 Bcf (5.2%) lower than last year at this time and 351 Bcf (9.5%) lower than the five-year (2009-13) average.
Storage withdrawals are larger than market expectations. Market expectations called for an average pull of 45 Bcf. When the EIA storage report was released at 10:30 a.m. on December 11, the price for the January natural gas futures contract increased 8 cents to $3.76/MMBtu in trading on the Nymex.
The Producing region posts an injection. The East and West regions had net withdrawals of 50 Bcf (8 Bcf larger than its five-year average withdrawal) and 8 Bcf (5 Bcf smaller than its five-year average withdrawal), respectively. The Producing region had a net injection of 7 Bcf (compared with its five-year average withdrawal of 17 Bcf). Storage levels for all three regions remain below their year-ago and five-year average levels.
Temperatures during the storage report week are about a degree warmer than normal. Temperatures in the Lower 48 states averaged 41.7° for the storage report week, 1.1° warmer than the 30-year normal temperature and 0.9° warmer than the temperatures during the same week last year. There were 165 population-weighted heating degree days during the storage report week, 8 fewer than the 30-year normal temperature and 6 fewer than during the same period last year.
See also: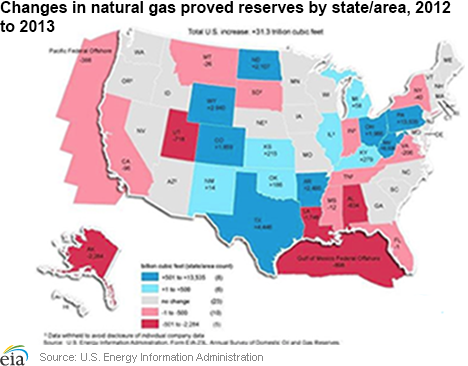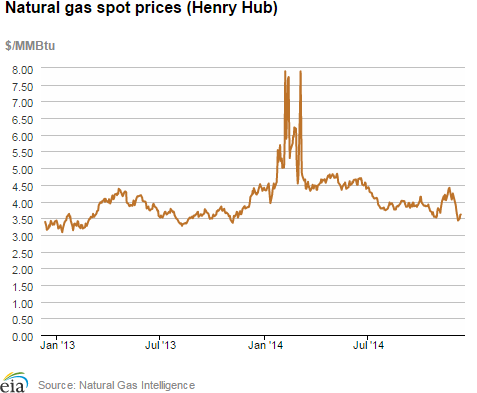 Spot Prices ($/MMBtu)

Thu,
04-Dec

Fri,
05-Dec

Mon,
08-Dec

Tue,
09-Dec

Wed,
10-Dec

Henry Hub

3.55

3.43

3.49

3.60

3.61

New York

3.53

3.54

3.72

4.07

4.50

Chicago

3.60

3.54

3.60

3.66

3.64

Cal. Comp. Avg,*

3.70

3.56

3.64

3.69

3.69

Futures ($/MMBtu)
January Contract

3.649

3.802

3.595

3.652

3.706

February Contract

3.661

3.823

3.623

3.681

3.736

*Avg. of NGI's reported prices for: Malin, PG&E citygate, and Southern California Border Avg.
Source: NGI's Daily Gas Price Index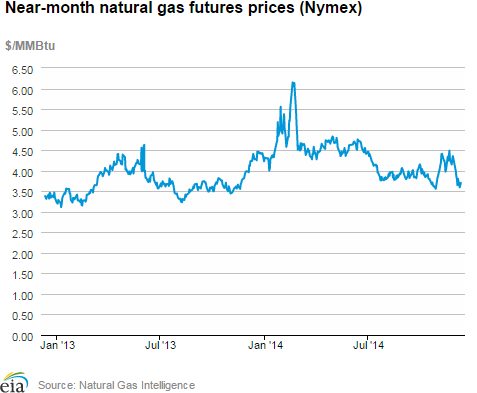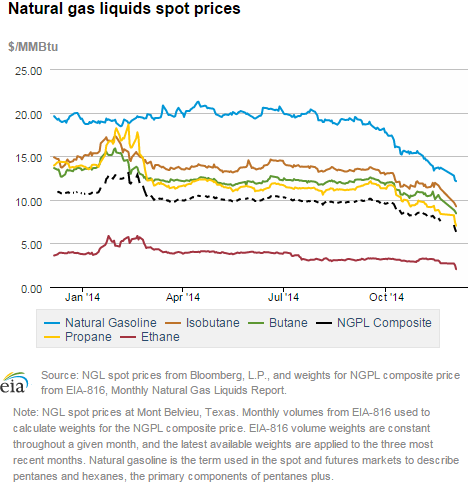 U.S. Natural Gas Supply - Gas Week: (12/3/14 - 12/10/14)

Percent change for week compared with:

last year

last week

Gross Production

13.16%

1.69%

Dry Production

13.03%

1.68%

Canadian Imports

-9.99%

13.88%

West (Net)

5.28%

9.95%

MidWest (Net)

-32.05%

2.62%

Northeast (Net)

6.95%

62.54%

LNG Imports

-26.62%

10.58%

Total Supply

10.84%

2.51%

Source: BENTEK Energy LLC
U.S. Consumption - Gas Week: (12/3/14 - 12/10/14)

Percent change for week compared with:

last year

last week

U.S. Consumption

-21.3%

1.8%

Power

-20.8%

14.5%

Industrial

-2.2%

-1.2%

Residential/Commercial

-29.8%

-2.2%

Total Demand

-20.4%

1.8%

Source: BENTEK Energy LLC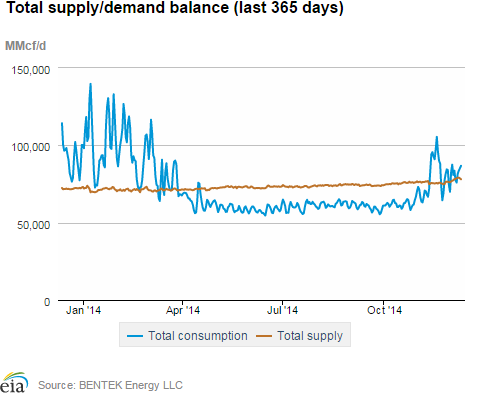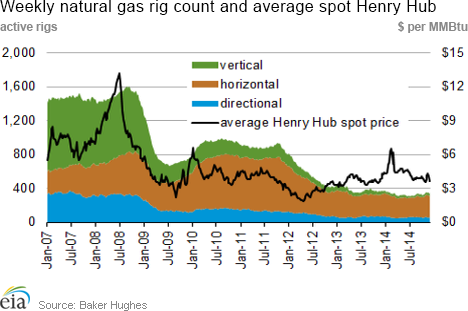 Rigs

Fri, December 05, 2014

Change from

last week

last year

Oil Rigs

1,575

0.19%

12.74%

Natural Gas Rigs

344

0.00%

-8.27%

Miscellaneous

1

0.00%

-66.67%
Rig Numbers by Type

Fri, December 05, 2014

Change from

last week

last year

Vertical

354

0.57%

-14.70%

Horizontal

1,368

-0.22%

20.32%

Directional

198

2.06%

-11.21%

Source: Baker Hughes Inc.
Working Gas in Underground Storage

Stocks
billion cubic feet (bcf)

Region

2014-12-05

2014-11-28

change

East

1,780

1,830

-50

West

470

478

-8

Producing

1,109

1,102

7

Total

3,359

3,410

-51

Source: U.S. Energy Information Administration
Working Gas in Underground Storage

Historical Comparisons

Year ago
(12/5/13)

5-year average
(2009-2013)

Region

Stocks (Bcf)

% change

Stocks (Bcf)

% change

East

1,822

-2.3

1,971

-9.7

West

508

-7.5

509

-7.7

Producing

1,215

-8.7

1,230

-9.8

Total

3,545

-5.2

3,710

-9.5

Source: U.S. Energy Information Administration
Temperature -- Heating & Cooling Degree Days (week ending Dec 04)

HDD deviation from:

CDD deviation from:

Region

HDD Current

normal

last year

CDD Current

normal

last year

New England

197

-4

-28

0

0

0

Middle Atlantic

198

7

-18

0

0

0

E N Central

233

14

18

0

0

0

W N Central

269

23

45

0

0

0

South Atlantic

122

-10

-33

8

-2

2

E S Central

112

-25

-29

0

-1

-1

W S Central

80

-21

-8

6

2

-1

Mountain

153

-55

-22

0

0

0

Pacific

77

-31

-17

0

-1

0

United States

165

-8

-6

2

0

0

Note: HDD = heating degree-day; CDD = cooling degree-day

Source: National Oceanic and Atmospheric Administration
Average temperature (°F)
7-Day Mean ending Dec 04, 2014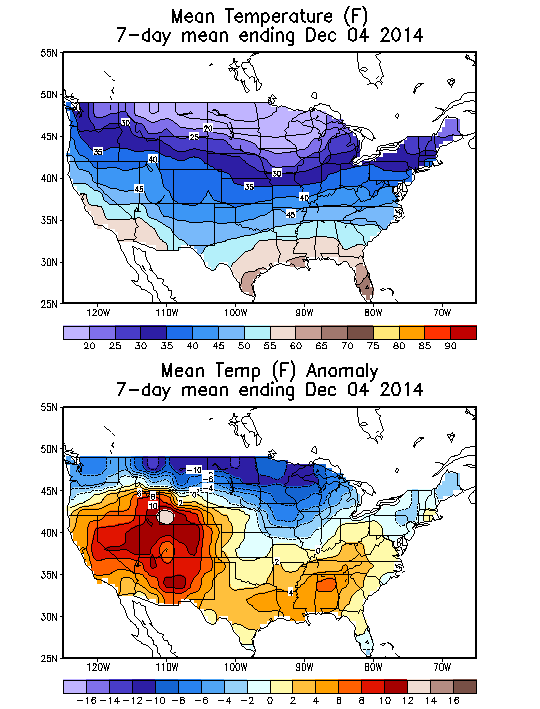 Source: NOAA/National Weather Service
Deviation between average and normal (°F)
7-Day Mean ending Dec 04, 2014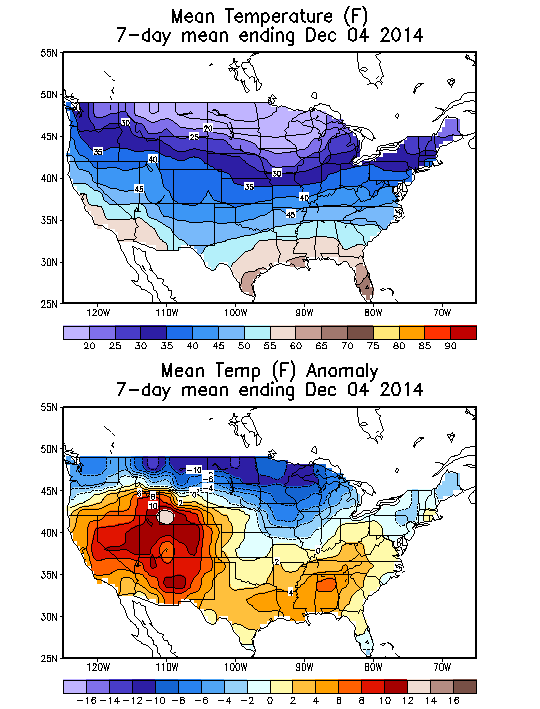 Source: NOAA/National Weather Service