---
In the News:
Mid-November cold spell boosts some natural gas prices in the Northeast
As snow and temperatures fell this week, natural gas prices rose at many locations across the nation. Of particular note, spot prices at Algonquin Citygate, which serves Boston, and Transcontinental Pipeline Zone 6 (Transco Z6 NY), serving New York City, both reached their highest levels so far this winter.
With nearly half of the United States blanketed in snow, and temperatures 15° to 30° F below normal in many states, the recent weather pattern appeared reminiscent of the 2013-14 winter, one of the coldest in recent years. Prices at Algonquin Citygate surpassed $10 per million British thermal units (MMBtu) twice during the report week (Wednesday to Wednesday), on November 13 and November 17. Prices fell 50% in trading on Friday, November 14, despite a colder-than-normal weather forecast for the weekend. Friday trades represent a three-day over-the-weekend package. This trend was followed to a lesser degree by prices at Transco Z6 NY and other Northeast hubs.
Natural gas transportation into New York and New England is highly constrained during times of peak demand. Prices rose on increased demand for heating in the residential and commercial sector, along with demand from gas-fired generators, which represent nearly 50% of New England's electric generation capacity. The competition for constrained resources has accounted for significant natural gas price spikes in past winter seasons, and is likely contributing to the rise in prices now. Although there are pipeline expansion projects nearing completion that will increase the capacity to flow additional natural gas into New England and the Northeast region by 0.7 billion cubic feet per day (Bcf/d), delays have pushed the project in-service dates back to December or later. Other new and expansion pipeline projects, as noted in the EIA Natural Gas Weekly Update (October 30 and November 6), have come online recently in the Northeast to move Marcellus production to markets in the Southeast, Gulf Coast, and Midwest, as well as other parts of the Northeast, though not directly north to the New York City or New England areas.
Consumption in the Northeast reached its third-highest recorded November level yesterday when it exceeded 27 Bcf, 10 Bcf above normal, according to data from Bentek Energy. Residential, commercial, and industrial consumption in the Northeast accounted for more than 22 Bcf of this, as temperatures struggled to get above freezing. Total mid-November demand for natural gas in the Northeast normally ranges from 15 to 17 Bcf/d. Since November 13, when the cold spell began, demand has remained above 18 Bcf/d. On average, heating degree days (HDD), a measure of how cold a location is over a period of time relative to a base temperature, in the Northeast have increased more than 50% since November 13, compared to the first 12 days of the month.
Although most of the supply in the Northeast comes from domestic sources, natural gas imports from Canada into the Northeast topped 1 Bcf for the first time since March. Pipeline imports increased to 1.3 Bcf/d on Tuesday and averaged 0.7 Bcf/d for the report week, close to three times more than the previous week. Liquefied natural gas sendout contributed only marginally to increased supply.
Overview:
(For the Week Ending Wednesday, November 19, 2014)
Colder-than-normal temperatures across most of the country prompted higher prices at market locations across the country during the report week (Wednesday to Wednesday). The Henry Hub spot price rose from $4.20/ MMBtu last Wednesday, November 12, to $4.39/MMBtu yesterday, November 19.
At the New York Mercantile Exchange (Nymex), the December 2014 contract rose over the week, beginning at $4.185/MMBtu last Wednesday and ending at $4.371/MMBtu yesterday.
Working natural gas in storage decreased to 3,594 Bcf as of Friday, November 14, according to the U.S. Energy Information Administration (EIA) Weekly Natural Gas Storage Report (WNGSR). A net decrease in storage of 17 Bcf for the week resulted in storage levels 5.3% below year-ago levels and 6.4% below the five-year average for this week.
The total U.S. rotary rig count for the week ending November 14 increased by 3 units to 1,928 rigs, according to data from Baker Hughes Inc. The oil rig count increased by 10 units to 1,578, while the number of gas rigs fell by 6 units to 350. The natural gas rig count is now 20 less than a year ago.
The Mont Belvieu natural gas plant liquids composite price fell by 2.3% to $8.11/MMBtu for the week of November 10–14. All other component prices fell this week as well. The price of natural gasoline, ethane, propane, butane, and isobutane declined by 4.9%, 0.9%, 2.3%, 0.6% and 0.5%, respectively.
Prices/Demand/Supply:
Gas prices reflect early winter weather at market locations across the country. With the exception of natural gas traded in the Marcellus area, natural gas prices rose at all U.S. market locations over the report week (Wednesday-to Wednesday). Temperatures were unseasonably cold across the nation, including deep into the South. Snow blanketed the Great Lakes and continued through the report week in upstate New York. Prices at the Algonquin Citygate, serving customers in Boston, the Tennessee Zone 6 200 Line, located outside of Connecticut, and Dracut, located in Massachusetts, exceeded $10/MMBtu during the report week. Mid-Atlantic hubs also reflected the colder weather and higher demand, with prices at Transcontinental Pipeline's Zones 5 and 6, which span South Carolina through New York, ranging from $7.53/MMBtu to $9.40/MMBtu on Monday, November 17. As temperatures moderated through the week, Northeast prices began coming down on Tuesday, with Algonquin Citygate ending the week at $5.84/MMBtu, down $2.20 for the week, and Transco Zone 6-NY at $4.79/MMBtu, up 80 cents for the week, though down from its Monday $9.40 high.
Prices increased on a smaller scale at trading locations in the Midwest. Natural gas prices at the Chicago Citygate started the week at $4.48/MMBtu and increased to $5.05/MMBtu to close the report week. Temperatures remained cold in and around the Great Lakes, not breaking 40° F yesterday in Chicago, keeping demand high along with prices.
The Henry Hub spot price also increased during the report week. Prices at that location started the week at $4.20/MMBtu and closed at $4.39 yesterday.
Prices at most Marcellus area locations decrease, remain low. From Wednesday-to-Wednesday, prices at both Tennessee Zone 4 (Marcellus) and Transcontinental Pipeline's Leidy Line fell, ending the week below $3/MMBtu. Although there was some day-to-day variation in prices at these two locations, they did not reflect the stronger changes in prices that other Northeast and Mid-Atlantic pricing points exhibited.
December futures contract price increases over the report week. The December contract started the report week at $4.185/MMBtu, moving up to $4.341 on Monday. After dipping on Tuesday to $4.244, the December futures price ended at its high for the report week at $4.371 yesterday, a gain for the week of nearly 19 cents. The 12-month strip, the average of December 2014 through November 2015, ended the week up by more than a dime, ending the report week at $4.066/MMBtu.
Driven by the cold, consumption outpaced supply for the week. Dry production fell during the week, down 1.5% from the previous week, though still 4.7% greater than the same period last year. Imports of natural gas from Canada increased by 5.6% overall, with the largest increase found in the Northeast, where average daily imports rose from below 0.5 Bcf/d to more than 1.2 Bcf/d on Tuesday, November 18. This represented a 154% increase week-over-week, and a 32% increase over the previous year, while LNG sendout remained minimal.
Total demand increased more than 35% from the week before, largely driven by residential and commercial consumption, which grew 68.2% week-over-week. There were also strong levels of growth in the level of natural gas consumed in the electric power sector (power burn). Nationally, power burn grew 23%, with growth shown in all regions, with the exception of the Rockies. In the Southeast, which uses more gas for power generation than any other region, power burn rose 28% this week compared to last week. Freezing temperatures during the last half of the report week extended as far south as Florida. The Southeast region relies more on electric power to satisfy space heating needs, which increases power burn in that region during periods of cold weather. Natural gas consumed in the industrial sector also increased this week, rising 6% over last week's consumption.
Storage
This week marks the first net withdrawal of the 2014-15 heating season. After a record inventory build of 2,789 Bcf from March 28 to November 7, working natural gas inventories for the week ending November 14 declined 17 Bcf. The inventory build in 2014 was 244 Bcf more than the previous record set in 2003, and also significantly higher than both last year's net injections of 2,131 Bcf and the five-year average net injections of 2,034 Bcf over the same time period.
Although this week's net withdrawal exceeded the five-year average net withdrawal by 7 Bcf, it was lower than last year's net withdrawal by 19 Bcf, for the same week. Working gas inventories as of November 14 totaled 3,594 Bcf, 201 Bcf (5.3%) lower than last year at this time and 244 Bcf (6.4%) lower than the five-year (2009-13) average.
Storage withdrawals are larger than market expectations. Market expectations called for an average pull of 13 Bcf. When the EIA storage report was released at 10:30 a.m. on November 20, the price for the December natural gas futures contract rose six cents to $4.47/MMBtu in trading on the Nymex.
Two of the three regions post larger-than-average pulls. The East and West regions had net withdrawals of 11 Bcf (2 Bcf larger than its five-year average) and 7 Bcf (6 Bcf larger than its five-year average). The Producing region had a net injection of 1 Bcf (1 Bcf larger than its five-year average). Storage levels for all three regions remain below their year-ago and five-year average levels.
Temperatures during the storage report week are slightly cooler than normal. Temperatures in the Lower 48 states averaged 46.4° for the week, 1.3° cooler than the 30-year normal temperature and similar to the temperatures during the same week last year. There were also 132 population-weighted heating degree days during the storage report week, 7 more than the 30-year normal and 1 less than during the same period last year.
See also: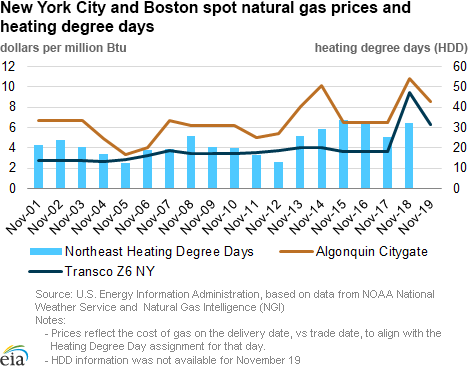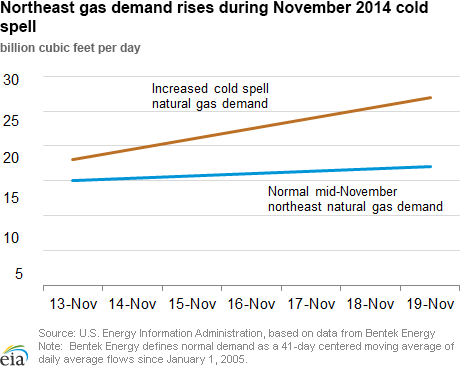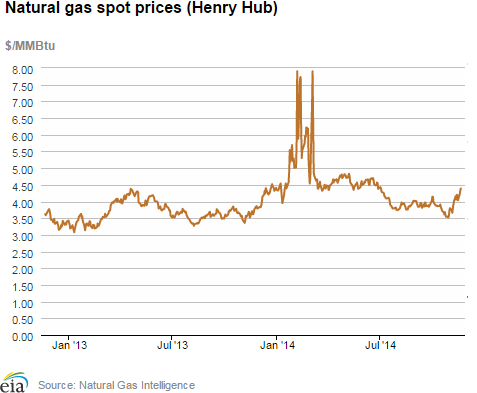 Spot Prices ($/MMBtu)

Thu,
13-Nov

Fri,
14-Nov

Mon,
17-Nov

Tue,
18-Nov

Wed,
19-Nov

Henry Hub

4.18

4.04

4.22

4.32

4.39

New York

4.00

3.60

9.40

6.33

4.79

Chicago

4.43

4.37

4.77

4.80

5.05

Cal. Comp. Avg,*

4.29

4.26

4.44

4.50

4.68

Futures ($/MMBtu)
December Contract

3.977

4.020

4.341

4.244

4.371

January Contract

4.089

4.129

4.444

4.365

4.516

*Avg. of NGI's reported prices for: Malin, PG&E citygate, and Southern California Border Avg.
Source: NGI's Daily Gas Price Index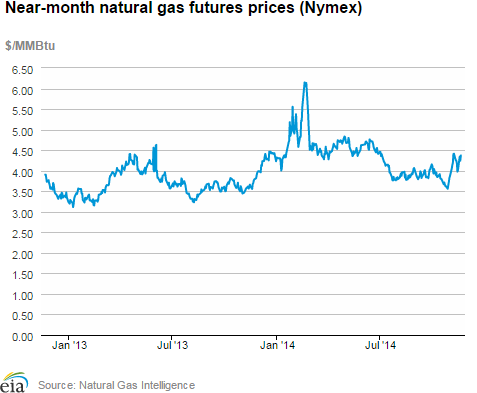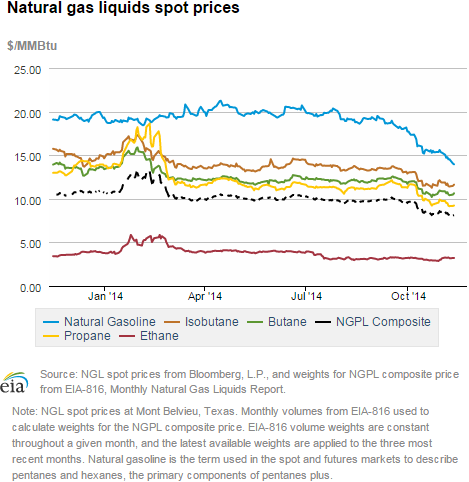 U.S. Natural Gas Supply - Gas Week: (11/12/14 - 11/19/14)

Percent change for week compared with:

last year

last week

Gross Production

4.76%

-1.54%

Dry Production

4.72%

-1.53%

Canadian Imports

17.53%

5.61%

West (Net)

27.93%

0.29%

MidWest (Net)

3.06%

-4.62%

Northeast (Net)

31.65%

154.23%

LNG Imports

-52.08%

77.92%

Total Supply

5.50%

-0.95%

Source: BENTEK Energy LLC
U.S. Consumption - Gas Week: (11/12/14 - 11/19/14)

Percent change for week compared with:

last year

last week

U.S. Consumption

33.5%

36.3%

Power

18.6%

23.1%

Industrial

7.3%

6.0%

Residential/Commercial

62.5%

68.2%

Total Demand

33.0%

35.4%

Source: BENTEK Energy LLC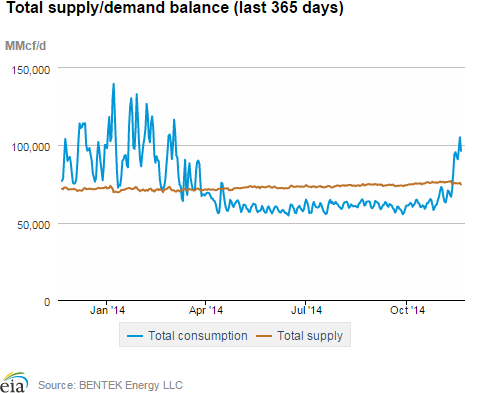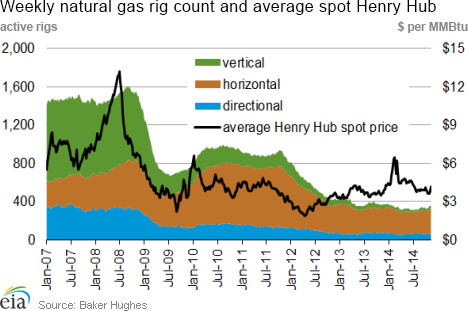 Rigs

Fri, November 14, 2014

Change from

last week

last year

Oil Rigs

1,578

0.64%

13.94%

Natural Gas Rigs

350

-1.69%

-5.41%

Miscellaneous

0

-100.00%

-100.00%
Rig Numbers by Type

Fri, November 14, 2014

Change from

last week

last year

Vertical

354

-1.67%

-17.29%

Horizontal

1,369

0.51%

22.89%

Directional

205

0.99%

-6.82%

Source: Baker Hughes Inc.
Working Gas in Underground Storage

Stocks
billion cubic feet (bcf)

Region

2014-11-14

2014-11-07

change

East

1,953

1,964

-11

West

495

502

-7

Producing

1,146

1,145

1

Total

3,594

3,611

-17

Source: U.S. Energy Information Administration
Working Gas in Underground Storage

Historical Comparisons

Year ago
(11/14/13)

5-year average
(2009-2013)

Region

Stocks (Bcf)

% change

Stocks (Bcf)

% change

East

1,957

-0.2

2,057

-5.1

West

552

-10.3

530

-6.6

Producing

1,286

-10.9

1,251

-8.4

Total

3,795

-5.3

3,838

-6.4

Source: U.S. Energy Information Administration
Temperature -- Heating & Cooling Degree Days (week ending Nov 13)

HDD deviation from:

CDD deviation from:

Region

HDD Current

normal

last year

CDD Current

normal

last year

New England

144

-7

-23

0

0

0

Middle Atlantic

139

-4

-27

0

0

0

E N Central

182

21

-10

0

0

0

W N Central

214

37

17

0

0

0

South Atlantic

100

8

-15

9

-5

-6

E S Central

128

33

1

0

-2

0

W S Central

98

38

20

2

-7

-1

Mountain

152

-6

35

5

4

-1

Pacific

44

-32

7

2

1

2

United States

132

7

-1

2

-2

-1

Note: HDD = heating degree-day; CDD = cooling degree-day

Source: National Oceanic and Atmospheric Administration
Average temperature (°F)
7-Day Mean ending Nov 13, 2014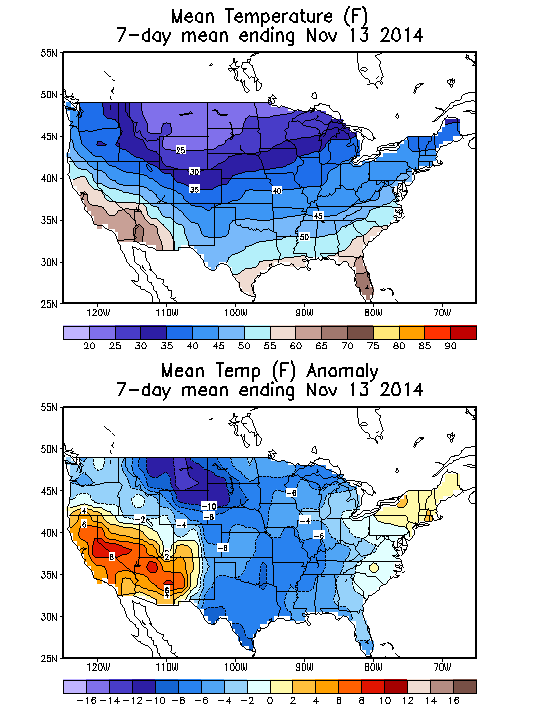 Source: NOAA/National Weather Service
Deviation between average and normal (°F)
7-Day Mean ending Nov 13, 2014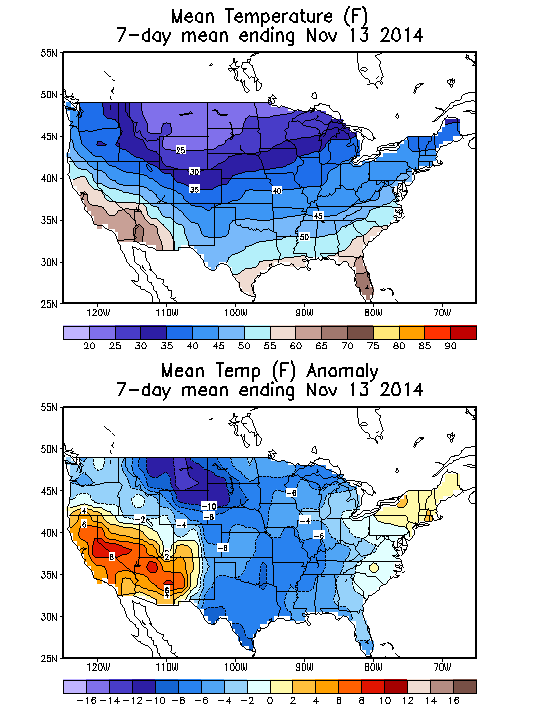 Source: NOAA/National Weather Service